St. Joseph's Day- and Old Fashioned Spaghetti and Meatballs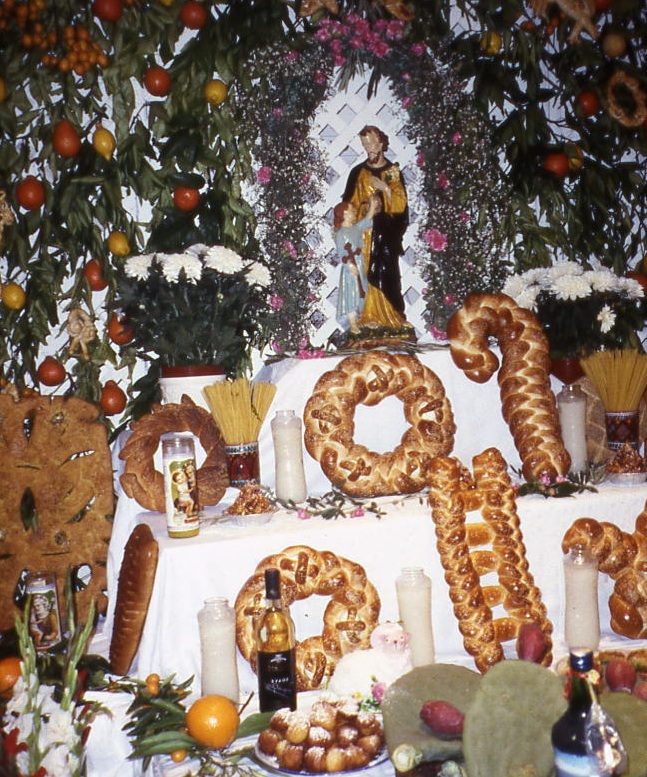 St.Joseph's Day Altar
The many Sicilian immigrants to New Orleans brought with them the celebration of the Feast Day of St. Joseph (the patron saint of Sicily) observed on March 19th. The feast was readily embraced by the predominantly Catholic city that loves a good party. My mother said it gave New Orleanians an excuse to party right in the middle of Lent, and indeed, many who vow to fast during Lent, break their fast on St. Joseph's Day. 
Early on, there were three tiered altars, set up in people's homes, elaborately decorated with statues of St. Joseph, and with a huge array of fancy breads, cucidatti, biscotti, amaretti and other Italian pastries, as well as fruits and vegetables which were distributed to the poor after the feasting was over. My uncle tells me he would peek into his Italian neighbors' homes, when he was a child, to get a look at the altars, and was rewarded with a "lucky bean"- a dried fava bean, in the Sicilian tradition. Now the altars are mostly set up in churches, where a feast of stuffed artichokes, olive salads, and pasta with tomato sauce, and all those delectable pastries, is served after Mass. 
The Mardi Gras Indians break out their costumes, and gather in an uptown park on what has become their second most important day of the year. after Mardi Gras Day.
John Besh, in his book My New Orleans: The Cookbook
, tells a story of his son, who loves the 3 day run of St. Patrick's Day, St. Joseph's Day and his birthday, all of which allow him and his brothers to break their fast, and eat as many cookies as they like.
And even our expat community here in Los Angeles set up an altar and celebration, for many years, in a nearby church where freshly fried calás and spaghetti with "tomato gravy", as the old timers called it, were served. 
So on a dreary and cool day in Los Angeles, I decided to break out one of those old comfort food dishes from a pre-"California cuisine" childhood, spaghetti and meatballs – just in case you want to celebrate.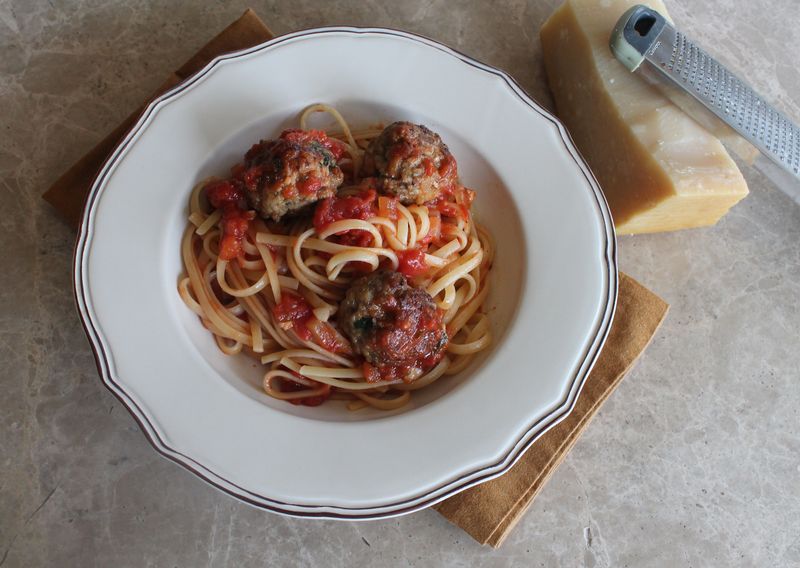 Spaghetti and Meatballs
Meatballs
8 ounces each ground beef,veal and pork

3/4 cup dried bread crumbs

1/4 cup milk

2 tablespoons onion, finely diced

2 (or more to taste) large cloves garlic, minced

1/4 cup freshly grated Parmegianno Regianno

3 tablespoons flat leaf parsley, chopped

1 egg

Freshly ground black pepper and sea salt to taste

1/4 cup olive oil
Stir the milk into the breadcrumbs and let them stand until the milk is absorbed.

Mix together, in a large bowl, the meat, onion, garlic, parsley, parmesan, bread crumbs, salt and pepper. Add the egg, and mix well. 

Fry a tiny piece of the meat to taste it, then correct the seasoning accordingly.

Shape the meat into balls and fry in the olive oil. 
Yield: @ 32 3/4 ounce meatballs
Tomato Sauce
1- 28 ounce can San Marzano style tomatoes, diced

1 cup onion, diced

@ 1/4 cup extra virgin olive oil

3 large cloves garlic, minced

3/4 teaspoon fennel seeds, toasted and lightly crushed

2 tablespoons Garden Gourmet Basil Blend*

1/2 teaspoon dried oregano

A healthy pinch of red pepper flakes and/or cayenne- depending on your taste

3/4 cup tomato juice**
Heat the olive oil over medium heat in a large saucepan, then add the onion and fry until they are softened, about 3 minutes. Stir in the minced garlic, fennel seeds, red pepper flakes and oregano, and fry for about 1 more mintue.

Add the tomatoes and the basil blend, and heat, stirring occasionally, for about a half hour, adding tomato juice as needed.

Correct the seasoning with sea salt and pepper.
* Since it's winter still, my basil plant is dead, so I was very happy to have a tube of Garden Gourmet Basil Blend in the fridge, one of many wonderful herb blend seasonings, and a great substitute. I have a Garden Gourmet coupon and recipe bokklet to send to the first two people who leave a comment here, so you can try it, too. If you happen to have a healthy basil plant, julienne 2-3 large leaves and add to the sauce.
** My tomatoes were quite chunky, so I kept adding tomato juice a couple of table spoons at a time, until I reached about 3/4 cups. You may need more or less.