The Krewes of Tucks and Iris, Renee the Stray and Brandy Milk Punch
I am so happy to share a guest post on this Mardi Gras Day, written by kindred spirit and southern food blogger, Lynn Stallworth. I met Lynn at IFBC NOLA two summers ago. We hit it off right away (tittering and gossiping away about some of the presentations), shared a post conference lunch at Cochon Butcher, and kept in touch. Lynn was raised on the Gulf Coast (in Mississippi), went to Ole Miss, and moved to New Orleans when she graduated from college. It was there, she told me, while dating a member of the Galatoire family (of the famed and venerable restaurant), that she learned to dine- you know-with a capital "D". She now lives in North Carolina, post-Katrina. Lynn is in transition from her first blog, Another Marvelous Meal, and plans to start blogging soon at Carolina Bon Vivant. Hey- I'll drink to that!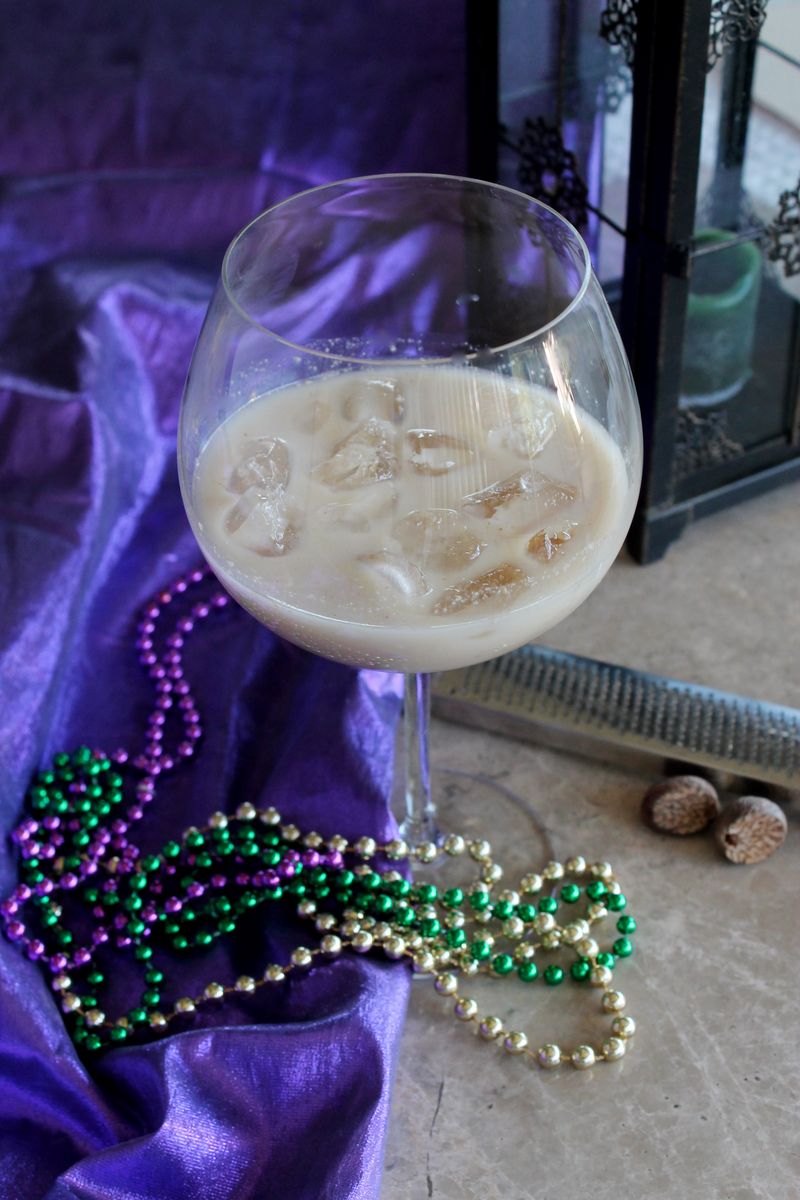 The Saturday morning parades the weekend before Mardi Gras are my favorites – the Krewe of Iris, followed by the Krewe of Tucks.  Iris, the oldest of the all female Krewes, rolls down St. Charles Avenue at 11:00 on Saturday morning, late enough that paradegoers can sleep in a bit after Friday night's carousing, then roll out of bed and find something to eat before starting all over again. The ladies of Iris follow traditional Carnival custom and are masked – perhaps because they value tradition, perhaps because they desire anonymity. Tucks, a less traditional, rowdy co-ed Krewe, rolls down St. Charles on its heels.  
When I was in college at Ole Miss, I could never afford to extend my long Mardi Gras weekend road trip through Fat Tuesday so the Saturday before was my Mardi Gras day. And my affinity for the Saturday parades stuck when I moved to New Orleans after graduating in the mid-eighties. In the light of Saturday morning, the crowds might have been a little thinner and a little calmer than the night before, but the laissez le bon temps roulet attitude carried over. In my college days, we gathered at Fat Harry's bar on the corner of St. Charles and Napoleon. Later, we'd start off at the homes of friends who lived on the parade route then migrate in the direction of Que Sera, a bar which had established itself as a vital part of the Uptown singles' scene by hosting Wednesday afternoon three-for-one happy hours. In addition to providing cocktails and a place to congregate, Que Sera offered bathrooms, albeit with long lines.
Not surprisingly, I usually had visitors for Mardi Gras – my sisters and my best friend, along with a revolving cast of former sorority sisters and boyfriends. And one year, Renee the Stray… 
My sister Sharon was visiting that Mardi Gras. We'd gotten up mid-morning on Saturday and walked down to the Garden District home of the baddest of my bad boy party friends, Rudy. After mixing up various morning-appropriate cocktails, we walked the couple of blocks from his house to Que Sera to enjoy Iris and Tucks. After that, we debated going to friends' big annual block party, but I had been out especially late – and had overindulged the night before – so opted to go home for a nap.  
I lived alone in a small studio apartment at the far end of St. Charles Avenue, past Audubon Park and Tulane University, almost to the turn where St. Charles becomes Carrollton. My sister and I had anticipated getting separated, so had hidden my one house key on the tire of my car parked out front. Arriving back at the car, though, exhausted, I couldn't find where we had put the key. And while I was standing there glaring at my car in frustration, down the sidewalk came a bedraggled woman in her late twenties.
In town for Mardi Gras from Texas, Renee had been at Cooter Brown's, a bar down the street, the night before and had lost track of her friends. She did not know at which hotel they were staying although she was fairly certain it was on St. Charles. She asked to come in and use my phone. I agreed if she would help me find my key. A few minutes later, we were in my apartment. I wanted nothing more than to sleep but first needed to dispense with my guest. Renee used my phone, but was unable to connect with her friends. Then my guest wanted a drink. I offered her a Diet Coke. She helped herself to a bourbon. I excused myself and abandoned her to her drink in the apartment's small living area to go to bed. Ten minutes later, I had just fallen asleep when I heard her yanking on my bathroom door. Earlier that morning, while squabbling on the phone with one of my current love interests, I had slammed the bathroom door shut in annoyance. There was a towel draped over the corner which lodged in the door frame and jammed the door closed. Renee wanted to take a shower. Would I help her get the bathroom door open? I was stunned at her audacity but way too tired to care. I helped jimmy the door open, loaned her a hair dryer and collapsed back into bed.
An hour or so later, my sister and her friend Sara arrived. I awkwardly tried to explain why I had apparently invited this rather ballsy random person off the street to hang out in my apartment. My sister looked concerned for my sanity. Sara suggested that we drive down to the several hotels on lower St. Charles and help Renee figure out where she was staying. We piled in Sara's car, ready to be rid of Renee. But no, she could not figure out which hotel was hers. Besides, she was happy to go with us to the French Quarter – maybe she could find her friends there? I began to question whether there was a hotel or friends.
We eventually ditched Renee several hours later at a bar in the Quarter, running out giggling like middle school girls while she was in the bathroom. Cold? Yes, but she might otherwise still be hanging out on my couch drinking my bourbon.
My morning appropriate cocktail of choice for Saturday A.M. Mardi Gras parades and various other occasions is Brandy Milk Punch.  This recipe for one cocktail is from In the Land of Cocktails
, a handy little drink book by New Orleans mavens Ti Adelaide Martin and Lally Brennan. You may want to multiply exponentially and make a pitcher. Click to the next page for the recipe …
Brandy Milk Punch
Ingredients:
For the Brandy Milk Punch:
• 1 ounce simple syrup
• 2 ounces brandy
• 1/2 teaspoon best quality vanilla extract
• 1 1/2 ounces milk
•  Freshly grated nutmeg
Directions:
Pour the sugar into a small saucepan, add the boiling water and stir until the sugar dissolves. 

Let the simple syrup cool to room temperature. The simple syrup can be stored covered in the refrigerator for up to a month

Combine one ounce of the simple syrup with the brandy, vanilla and milk in a cocktail shaker. Shake vigorously,

Wash and rinse the plastic cup that you caught at the parade the night before thoroughly, fill it with ice, then pour in the punch.

 Grate or grind a dusting of fresh nutmeg over the top.
Yield: One cocktail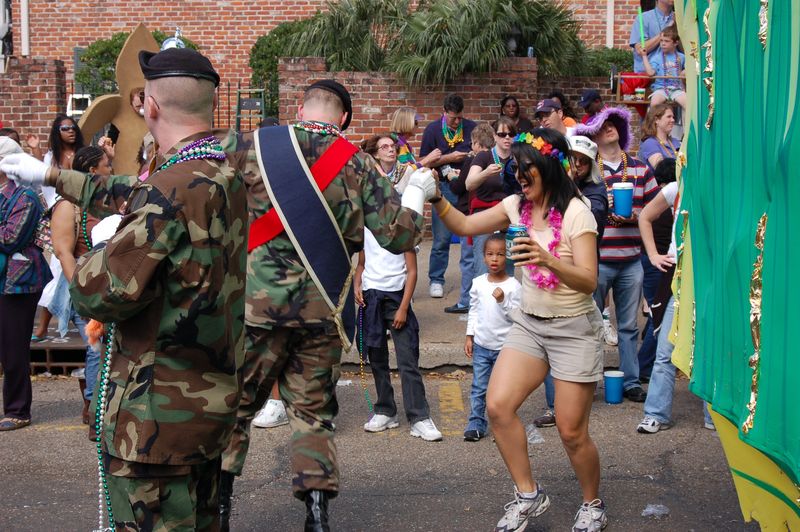 Laissez les bon temps roulet!