Salads for a Holiday Dinner Part 1- Roasted Beets with Burrata and Pickled Onions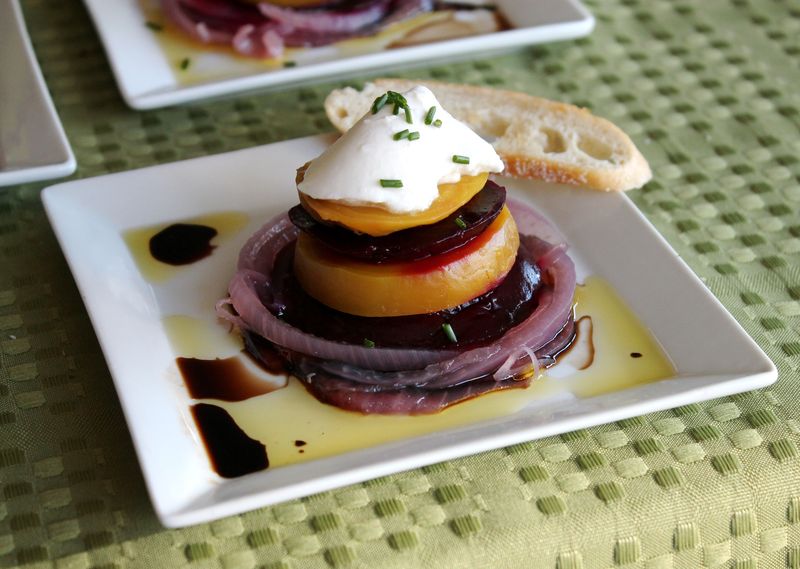 I heard a radio feature on NPR shortly before Thanksgiving where a gentleman shared the opinion that Thanksgiving dinner should not start with a salad. He also said there should be no appetizers (yikes!), but that's for another time. Suffice it to say, I could not disagree with him more. We are salad eaters in my family. All holiday dinners always begin with salad, and this Christmas, there were two, because I just couldn't make up my mind which I wanted.
I had been invited to a holiday party, not long before, at a fancy Beverly Hills hotel, where the meal opened with a Caprese Salad. As you may know, serving Caprese Salad (with hard pink tomatoes) in winter is a big pet peeve of mine! Even in southern California where our growing seasons are much longer than most places, tomatoes are never good enough to be showcased in a Caprese salad in December.
I did like their presentation, though- tomato slices stacked with a sort of quenelle of Burrata (the wonderful cream enhanced mozzarella) topping it. When one of my dining companions asked what I thought of the salad, I gave her my little rant about tomatoes in winter, and then out of my mouth popped the idea of doing it with roasted beets (so much better suited to a winter salad) for Christmas dinner. And I'm so glad of it. I served it as an overgrown amuse bouche  set at the table, before we went on to the second salad on the buffet. It's a lovely presentation, and we all very much enjoyed it. Hope you will, too.
BTW, some folklore about beets – they're considered an aphrodisiac – an "old wive's tale" says that if a man and a woman eat from the same beet, they'll fall in love. Beets were also favored by Aphrodite, Greek goddess of love, as a means of maintaining her beauty. Finally, they are said to symbolize love. Well, I can't swear to any of that, but all of this suggests this little salad would make a great starter course at an intimate sit down wedding.
Roasted Beet Salad with Burrata and Red Onions
1 small bunch each of red and yellow beets

1 pound of 

Burrata

1/2 recipe of Pickled Red Onions (recipe below)

Extra virgin olive oil

Balsamic vinegar

Chives for garnish

Sea salt and freshly ground black pepper for garnish
Cut the beet roots from their stems and tops. Please save the green tops for another use- they are great! Rinse the beets and wrap them in foil.

Roast for about 1 hour at 325 degrees. Remove from the oven, cool them, peel off the skin,then slice them thinly.

Arrange a few slices of the pickled red onion on an appetizer plate. Stack the red and yellow beets alternately. Then top with spoonful of the burrata. If you like, you can shape the cheese into a little egg shape with two teaspoons.

Drizzle extra virgin olive oil, balsamic vinegar. Sprinkle with snipped chives, sea salt and pepper.
Pickled Red Onions
1 medium red onion, thinly sliced

1/3 cup sugar

1/4 teaspoon black peppercorns

1/4 teaspoon cumin seeds

1 clove garlic

1/4 teaspoon salt

1/3 cup cider vinegar
Place the onion slices in a small pot with salted water to cover. Bring to a boil for one minute, then remove from the heat and drain.

Coarsely grind the peppercorns and cumin (I use a mortar and pestle), then add to the pot with the rest of the ingredients. Pour in just enough water to cover, bring to a boil over medium heat for 3 minutes. 

Remove the onions from the heat and pour into a stainless steel bowl. Let them stand until cool before using, or refrigerate for later use.