Salads for a Holiday Dinner Part 1- Roasted Beets with Burrata and Pickled Onions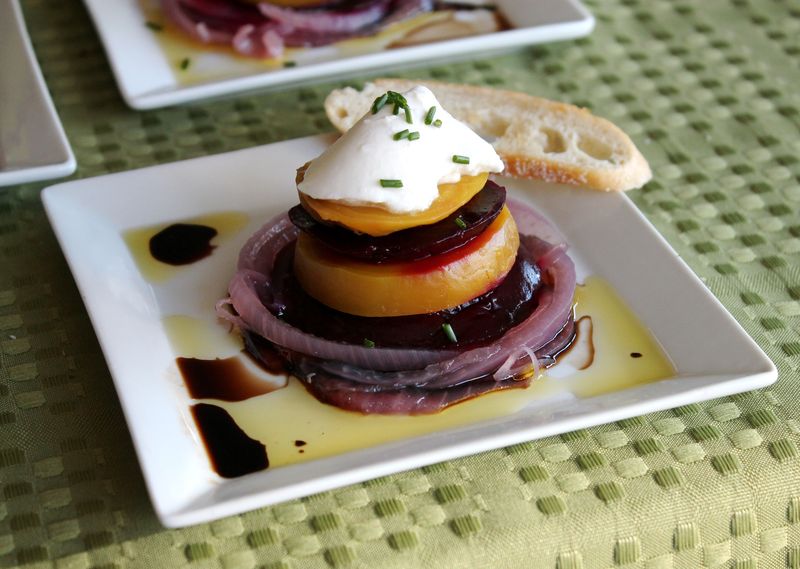 I heard a radio feature on NPR shortly before Thanksgiving where a gentleman shared the opinion that Thanksgiving dinner should not start with a salad. He also said there should be no appetizers (yikes!), but that's for another time. Suffice it to say, I could not disagree with him more. We are salad eaters in my family. Holiday dinners always begin with salad, and this Christmas, there were two, because I just couldn't make up my mind which I wanted.
I had been invited to a holiday party, not long before, at a fancy Beverly Hills hotel, where the meal opened with a Caprese Salad. As you may know, serving Caprese Salad (with hard pink tomatoes) in winter is a big pet peeve of mine! Even in southern California where our growing seasons are much longer than most places, tomatoes are never good enough to be showcased in a Caprese sald in December.
I did like their presentation, though- tomato slices stacked with a sort of quenelle of Burrata (the wonderful cream enhanced mozzarella) topping it. When one of my dining companions asked what I thought of the salad, I gave her my little rant about tomatoes in winter, and then out of my mouth popped the idea of doing it with roasted beets (so much better suited to a winter salad) for Christmas dinner. And I'm so glad of it. I served it as an overgrown amuse bouche  set at the table, before we went on to the second salad on the buffet. It's a lovely presentation, and we all very much enjoyed it. Hope you will, too.
BTW, some folklore about beets-they're considered an aphrodisiac- an "old wive's tale" says that if a man and a woman eat from the same beet, they'll fall in love. Beets were also favored by Aphrodite, Greek goddess of love, as a means of maintaining her beauty. Finally, they are said to symboize love. Well, I can't swear to any of that, but all of this suggests this little salad would make a great starter course at an intimate sit down wedding.
Recipe follows…