Mushroom Bread Pudding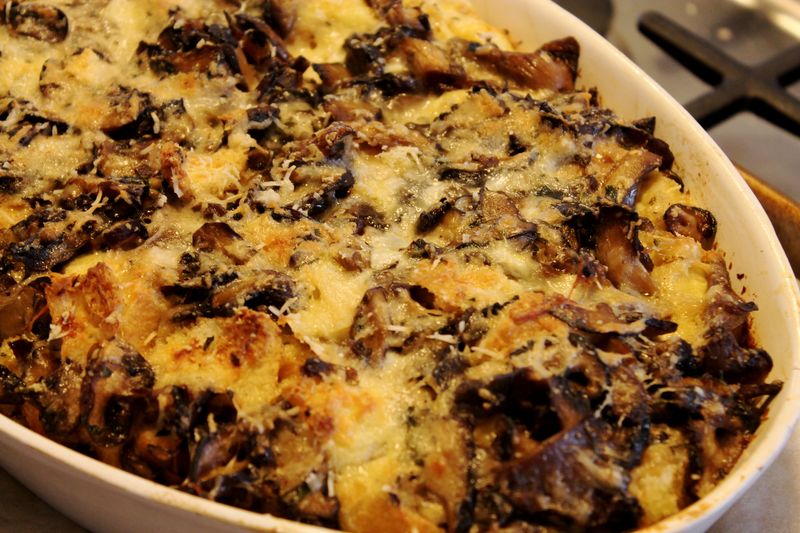 Mushroom Bread Pudding
As I've said here before, Bread Pudding is a dessert much beloved by New Orleanians. It was hand's down my father's favorite dessert, and the only dish I remember my maternal grandmother making on a regular basis. I doubt, though, that either of them would have imagined a savory bread pudding, and much less a mushroom bread pudding, as so many older New Orleanians disdained mushrooms, calling them "the devil's bread" – an outgrowth of the sometimes precarious safety status of wild mushrooms.
I think it's appropriate, however, that the first time I taste Mushroom Bread Pudding, was in New Orleans, at Commander's Palace, over 10 years ago. After all, New Orleanians are thrifty people who live to eat well, and loathe to waste good French bread, even if it is a day or so old. Since discovering the dish, it's become a favorite of mine to serve at holiday meals- Christmas dinner, New Year's brunch, Easter lunch- it's quite versatile. And never mind "the devil's bread"- my family and I have grown to love mushrooms of all kinds.
This pudding is light and airy, full of eggs and cream, so it can serve as a main dish for my vegetarian family members, as well as a side dish. It's filled with shiitake, oyster and cremini mushrooms, and given an extra punch of mushroom flavor with an essence of mushroom made of reconstituted dried porcinis. Add a healthy handful of fresh herbs, and lots of Parmesan cheese- well, what's not to love? I'm sure it'll become a favorite of yours, too.
Oh- and here are some links, in case you'd like to check out some of my dessert bread pudding recipes, too:
A Little Bread Pudding for Lundi Gras
Mushroom Bread Pudding
For the Mushrooms:
2-3 tablespoons olive oil

2-3 tablespoons unsalted butter

8 ounces each shiitake, cremini and oysters mushrooms, sliced

1 heaping tablespoon garlic, minced

1 tablespoon each fresh rosemary, thyme and  sage, chopped

2 tablespoons flat leaf parsley, chopped

Mushroom Essence (recipe below)

Freshly ground pepper and salt, to taste

Heat the oil and butter in a large sauté pan over medium high heat until bubbly. Add the mushrooms, first and after a couple of minutes add the garlic, and sauté until they are lightly browned. If your pan is not large enough, you may sauté the mushrooms in 2 or 3 steps. They will steam rather than brown if overcrowded in the pan.

When the mushrooms are brown (add all the mushrooms back into the pan, if you have sautéed them in more than one step), stir in the Mushroom Essence and the minced dried porcinis, and cook until the Mushroom Essence liquid is reduced and absorbed into the mushrooms. Remove from the heat and stir in the herbs, salt and pepper.
For the Pudding:
6 cups cubed stale French bread

6 large eggs

2 1/4 cups heavy cream

1 1/4 cups whole milk

1/4 cup freshly grated Parmesan, plus another 2-3 tablespoons for topping the pudding

1 teaspoon coarse salt

1/2 teaspoon freshly ground white pepper

Butter for baking dish
Preheat the oven to 350 degrees. 

Place the cubed French bread in a large well buttered baking dish.

In a large bowl whisk together the cream, milk, Parmesan, salt and pepper. Pour the mixture over the bread cubes and let sit for at least 15-20 minutes. My grandmother used to let her bread soak for hours in the custard mixture. 

Gently stir in the mushrooms. Sprinkle the pudding with the additional tablespoons of Parmesan, and bake until the pudding is puffed, brown and set in the middle, about 1 hour.
Yield: 6-8 servings
Mushroom Essence
1 ounce dried porcini mushrooms

1-11/2 cups water 
Heat the water to just below boiling point.

Pour over the mushrooms in a heat proof bowl and let them sit for about 20-30 minutes.

Lift the mushroom pieces out of the water with a slotted spoon. Line a strainer with a dampened double thickness of cheesecloth, pour the mushroom liquid through the strainer. This step catches any pieces of grit in the mushrooms.

Finely mince the mushroom pieces, and add them to the strained liquid.
Bon appetit!
Save