Visiting Sonoma County-Healdsburg Part 2-Wine Tasting Around the Plaza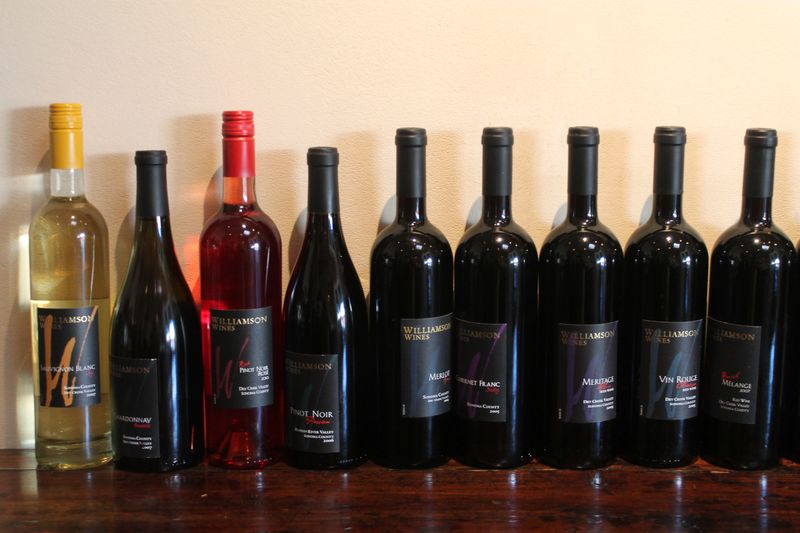 After a bit of hanging out at the plaza in Healdsburg, it was time for wine tasting. As I said in my last post, fortunately for me, there are lots of wine tasting rooms situated right around the center of town.
My first stop- Selby Winery, which my friend David had recommended. Susie Selby, a self taught winemaker, sources all of her grapes from Sonoma County's three main valleys- the Russian River, Alexander and Dry Creek. Being the sociable creature she is, Selby makes it a habit to chat up visitors. One of those visitors happened to get a job, shortly after meeting her, in event planning at the White House, which is how Selby's wines came to be served their under the past two administrations. There are menus with the wine pairings hanging on the walls in the winery's tasting room.
 I sat alone, tasting through their wide variety of wines, and chatting with Elise, who was planning her move to the Big Apple to pursue a career in the theater. I asked Elise for her recommendations of other wineries to try, and she recommended Williamson, right around the corner. So after purchasing a bottle of the excellent Dolcetto, I moved on.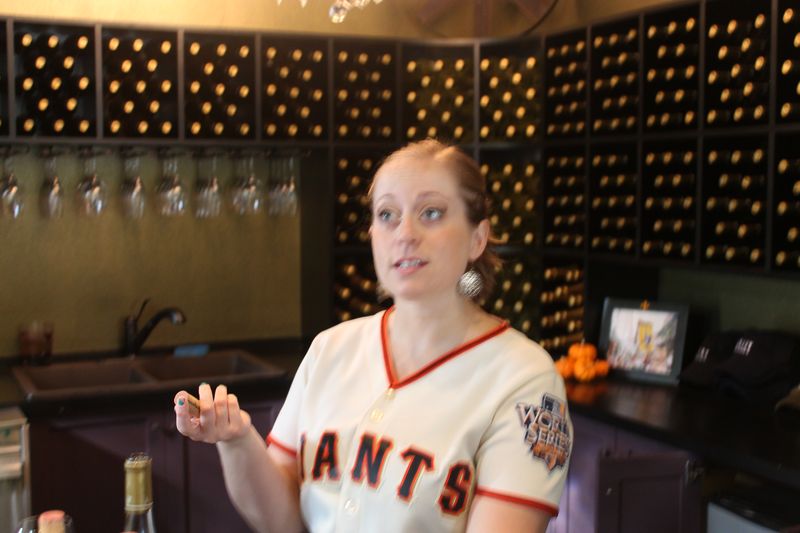 Elise at Selby Winery
Williamson's tasting room was buzzing with activity. There are whole groups of touring tasters, and some locals dropping by to say hello, too. I sit chatting with a young woman who's starting an equestrian center in Sonoma County.
Because, as they say, in their world wine "is both a beverage and a condiment", the Williamsons, expat Aussies, offer small bites of various food pairings with their wine samples- a luscious Domaine du Village Triple Crème with their Amourette Chardonnay, Irish Cheddar with truffle salt with their Rapture Pinot Noir, and building on the Cheddar, they top it with a dollop of double cream blue cheese with pecans and a drizzle of honey with their Seduce Cabernet- at least I think it was the Cabernet. Yes, I've been seduced and have completely lost track of which wines, of which there are many, I'm drinking by now.
Since it's time to get some lunch, I head out to Ralph's Bistro, across the plaza, where I had been for lunch on a visit a few years back, and whose lamb burger with blue cheese and grilled onions I had never forgotten.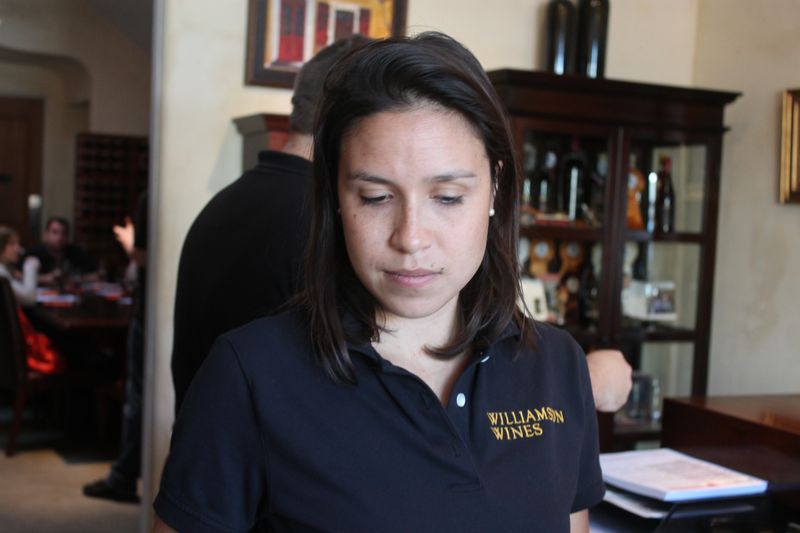 Etta at Willimason Wines
Save