Visiting Sonoma County-Healdsburg Part 1-and Smoked Chicken and Fig "Chopped" Salad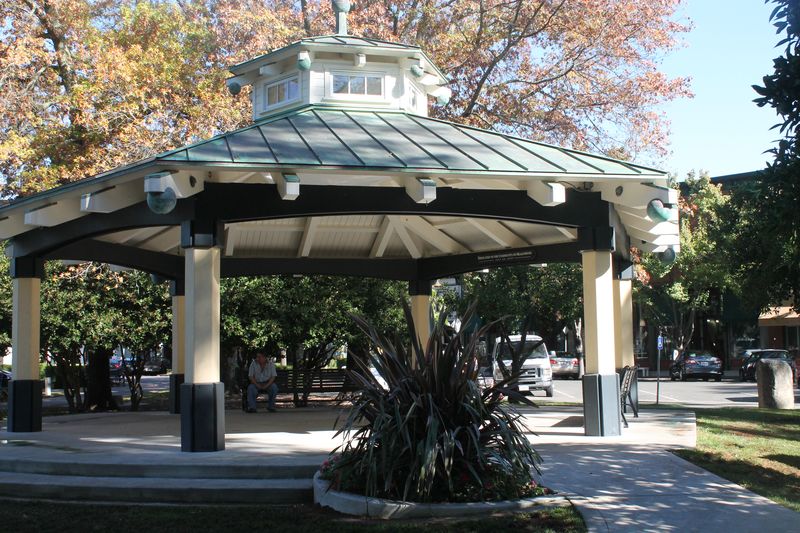 Healdsburg's central plaza
Crossing the San Rafael Bridge (one of many bridges spanning the San Francisco Bay), I try not to be distracted by the gorgeous sight of the sunlight reflected on the water.
Driving up Highway 101, cutting through gently rolling hills, I pass the small cities and towns of upper Marin and lower Sonoma counties (Novato, Petaluma).This is dairy country, cows graze alongside the road. 
My soul expands- it always does driving into Sonoma County- whether I am traveling this route northward, or through the wooded lanes of Highway 12, or alongside the wetland areas of 121 from the east.
I've loved Sonoma since, when in my college days in Oakland, I went to visit a neighbor who had escaped to there from Los Angeles. "Oh Gigi, you're such a city girl" Mrs. Colson mocked and teased, in her French accented English, when I asked where the almonds were when she pointed out almond trees to me as we drove the lanes through groves.  For those of you who are similarly uninformed, almonds grow inside pouches on the tree. 
Sonoma County is a sort of yang to my New Orleans yin. Rural and agricultural, but still with an air of sophistication, due (in my opinion) to the presence of the wine industry. And speaking of wine country, I much prefer traveling through Sonoma's diverse vinicultural areas along beautiful roads, rather than Napa's overcrowded Highway 29.
A stopover in Santa Rosa is on the schedule for my first evening, with wine tasting in Healdsburg (just a bit up the highway) the next day. As soon as I head north from Santa Rosa, I notice it's now grapevines that line the road- we're not in dairy country anymore.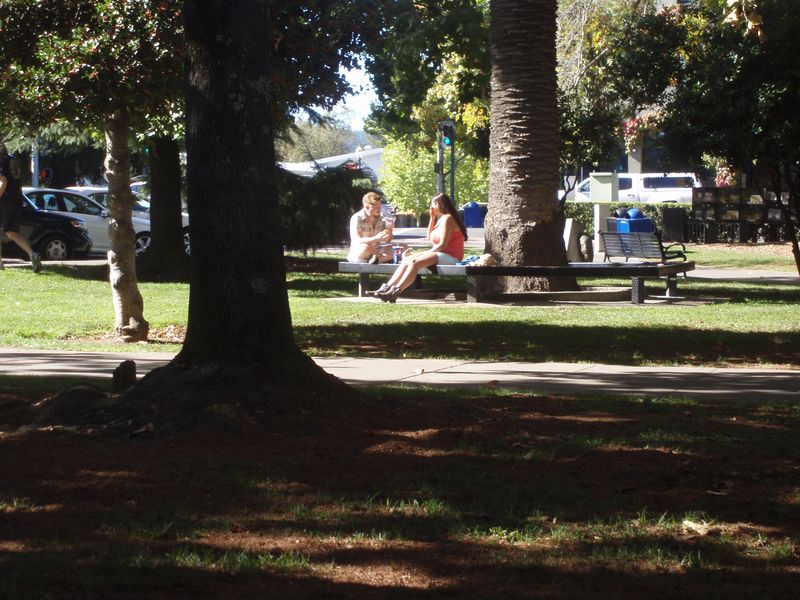 Healdsburg is an all-American town (my brother, mother and I once visited on the 4th of July when there was a small town parade going down its Main Street), albeit gone upscale as a result of being right in the heart of one of the country's greatest wine regions. There's a woodsy smell, and the weather is perfect this late October morning. A nanny tending to young children, a young couple, and a pair of workmen sharing an early lunch linger in the tree filled plaza at the town's center. There's someone, like me, writing in a notebook on the opposite corner of the plaza.
The plaza is surrounded by quaint little shops, and just off the plaza, the occasional charming cottage home mixed in. Luckily, for my purposes, there are also lots of very convenient wine tasting rooms. I notice an outpost of Napa's Oakville Grocery where diners are sharing bottles of wine at a very early lunch. Okay, so everyone, everywhere I turn is talking about their Giants who won the World Series last night, and it is wine country after all…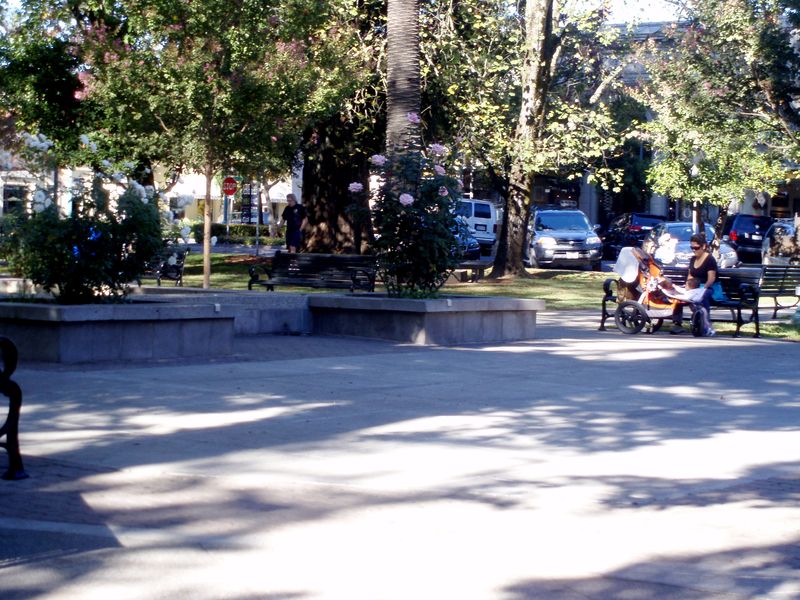 While in Santa Rosa, I spent the night at the Fountaingrove Inn, and had dinner that night at their restaurant, Equus, where I dined on an interesting autumn salad. They called it a chopped salad, although not typically what most of us envision when we think of chopped salad. It was composed of smoked chicken, figs, candied walnuts and blue cheese. I know- yet another, blue cheese and fig salad! Equus' salad also contained shards of oven dried prosciutto, which added a nice bit of crunch, but I just have something philosophically against dried prosciutto, so I substituted tiny, crispy cubes of pancetta instead. Here's my adapted recipe.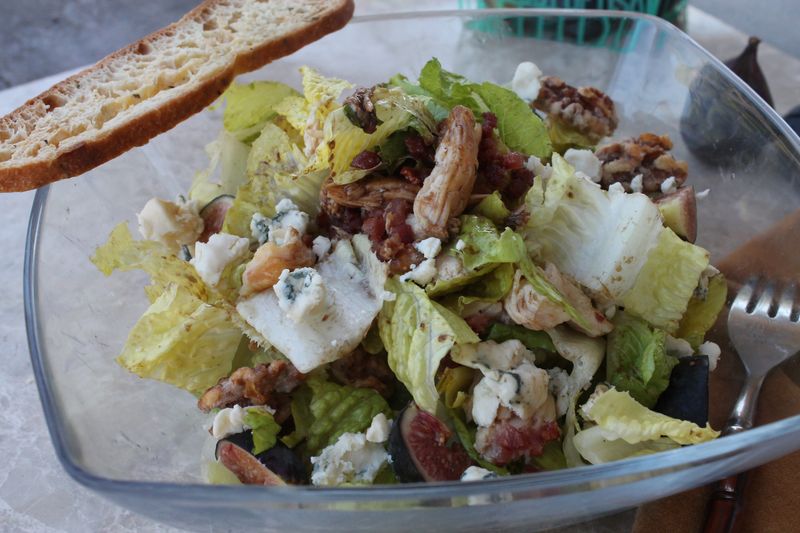 Smoked Chicken, Fig and Blue Cheese Chopped Salad
8 cups romaine, chopped

6 ounces smoked chicken, shredded or chopped

2 ounces cubed pancetta, cooked until crispy

1 1/2 ounces candied walnuts (recipe below)

5-6 small figs

1 1/2 ounces Point Reyes Blue cheese, crumbled

Balsamic vinaigrette (recipe below)
Gently toss romaine, chicken, pancetta and figs with a few tablespoons of the balsamic vinaigrette.

Portion into two bowls and top with cheese and walnuts.
Yield: 2 entrée sized salads
Candied Walnuts
2 ounces walnut halves

1/2 cup sugar

1/4 cup water
Boil sugar and water in a small saucepan, stirring until sugar is dissolved.

Add walnut halves to the sugar syrup. Cook the syrup and walnuts, stirring until walnuts are completely coated, and the syrup reduces about 50%.

Pour the walnuts onto a parchment lined baking sheet, and place in a 350 degree oven. Toast the walnuts until lightly browned. Keep an eye on them- sugar browns very quickly. 
Balsamic Vinaigrette
1/4 cup balsamic vinegar

1 scant teaspoon Dijon Mustard

@ 2/3 cup extra virgin olive oil, or more, depending on how acidic you like your vinaigrette.
Add vinegar and mustard to a mixing bowl. Continuously whisk in the olive oil a few drops at a time, until an emulsion forms.