Salad with Grilled Figs, Blue Cheese and Spiced Pecans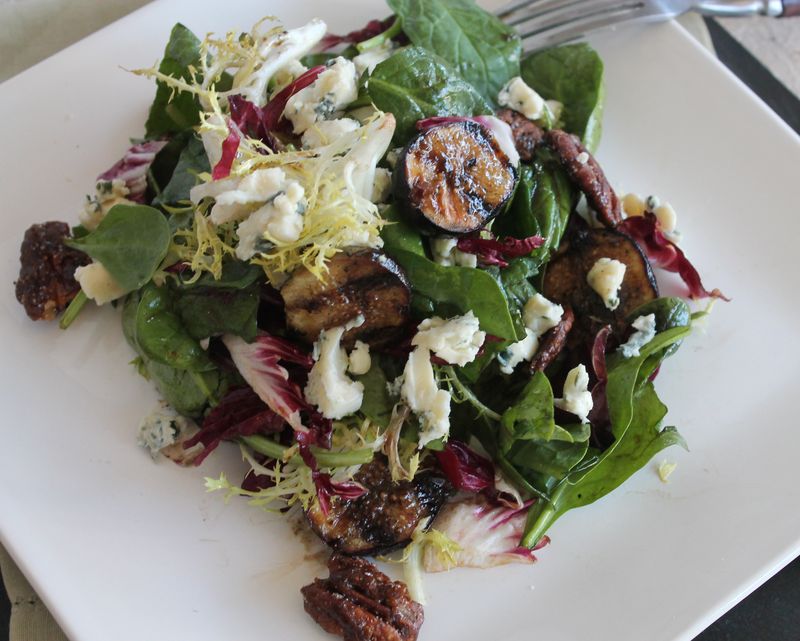 John Besh writes in his My New Orleans: The Cookbook
, "Where I grew up, grown men did not eat grilled figs with baby greens and artisanal goat's milk cheese."
When I had the wonderful opportunity to sit down and talk with John Besh a couple of summers ago, I asked him about that statement.
"My grandfather, and your grandfather, would have never eaten a grilled fig salad, but you eat figs- everybody in New Orleans loved figs… in a jam on toast… in cookies and cakes."
It's true, I've heard older relatives of mine in California speak lovingly of the Celeste figs they grew up eating in New Orleans. Fortunately, we have our own varieties of figs here in California, too.
Chef Besh went on to make the point, that this passion for food which surrounded him growing up, laid the foundation for him to become a chef. Figs hold "a special place in my heart and cupboard" he writes, because his Granddaddy was a connoisseur of figs. "And I love to merge down home with my uppity French style," he told me.
The versatile and sensuous fig has now found its way into many applications in Besh's and many other chefs' kitchens. And the grilled fig, so perfectly carrying us from summer into fall, has become a favorite on mine in salads. I love paring them with arugula in the summer,  with hazelnuts in autumn, sometimes goat cheese, sometimes blue cheese. I created this salad with spiced pecans – pecans, also being a much beloved New Orleans ingredient, for a feature in OKRA, the online publication of the Southern Food and Beverage Museum to which I am a regular contributor. I hope you will grill up some figs to toss in a salad soon, oh- and check out OKRA, too.
Grilled Figs with Baby Greens, Blue Cheese and Spiced Pecans
@8 ounces mixed baby greens

1 cup spiced pecans

1 pint grilled figs

@3 tablespoons fig balsamic vinaigrette

4-5 ounces excellent quality blue cheese, crumbled (I use Point Reyes Blue Cheese- Maytag would be great, too)

Coarse salt and freshly ground pepper, to taste
Mix baby greens and grilled figs gently with fig balsamic in a large mixing bowl. Add spiced pecans.

Heap one large fistful of salad onto a serving plate. Garnish with crumbled blue cheese. Finish with a sprinkling of coarse salt and freshly ground pepper.
For the Spiced Pecans:
1 cup pecan halves

1/2 cup sugar

1 teaspoon cinnamon

1 teaspoon powdered ginger

1/2 teaspoon coarse salt

1/4 teaspoon cayenne

2-3 tablespoons butter

2 tablespoons powdered sugar
Mix together the sugar, spices and salt.

Toast the pecans in a dry sauté pan over medium high heat about 3-4 minutes, stirring occasionally until lightly toasted.

Sprinkle 1/3 cup of sugar/spice mixture over the pecans stirring until melted. Caution- this happens very quickly. Be careful that the sugar doesn't burn.

Stir the butter into the pecans until melted. Sprinkle the powdered sugar over the nuts, and stir until melted.

Quickly pour the nuts onto a parchment lined baking sheet, separating them. 

Optional- Sprinkle 1/2-1 teaspoon full more of the sugar spice mixture over the nuts while the nuts are still hot, then allow nuts to cool.
For the Fig Balsamic Vinaigrette:
1/4 cup Autumn Fig Balsamic Vinegar 

3 tablespoons balsamic vinegar

1 tablespoon Dijon Mustard

1 cup extra virgin olive oil

Coarse salt and freshly ground black pepper to taste
Mix both vinegars together in a large mixing bowl. Add Dijon mustard to the vinegars. 

Whisk in olive oil slowly until an emulsion forms. Add salt and pepper to taste.
For the Grilled Figs:
Lightly brush the fig halves with @ 2 tablespoons of the Fig Balsamic Vinaigrette. Place cut side down on a clean grill or ridged cast iron grill pan. Grill about 1 minute on the cut side, then turn over and grill on the skin side, @ 1 minute more, until slightly soft, but not so soft that they cannot be easily lifted from the grill.
Serves 4-6
Bonus suggestion- enjoy with a couple of slices of thinly sliced Prosciutto on crostini
Here are a couple other fig recipes you might enjoy:
Planked Figs with Pancetta and Blue Cheese
Prosciutto Wrapped, Stuffed, and Grilled Figs
Meeting John Besh, Eating at Restaurant August and Recipe for Brown Butter Fig Tart
A Little More Joy of Baking, LA Helps LA and Fig Frangipane Tart

Save