A Few Glimpses of Eating around New Orleans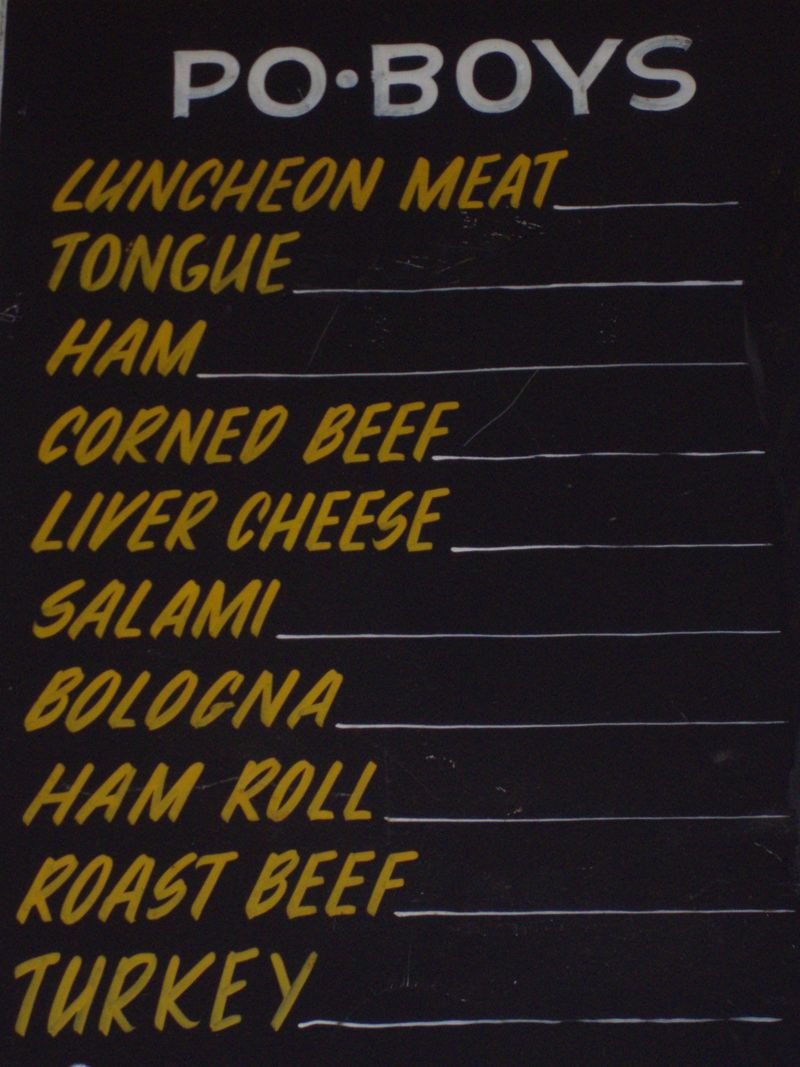 A listing of meat po'boys at the Parkway
In spite of the fact that I wasn't able to eat like I would have liked (thanks to food poisoning) on my last trip to New Orleans, I would like to bring you a few glimpses of the local eateries I visited- minus the couple of suspect ones, of course.
Right off the plane, we took a drive over to the Parkway Bakery and Tavern to pick up a po'boy. I was tempted to go for a roast beef, but stuck with my usual shrimp, fully dressed.  Liver cheese, for the uninformed equals liverwurst.
Although I wasn't able to eat much of my dinner at MiLa, I was charmed by these darling individual cast irons pans set before us, which held lima bean puree and seasoned butter to spread on the freshly baked corn bread they served.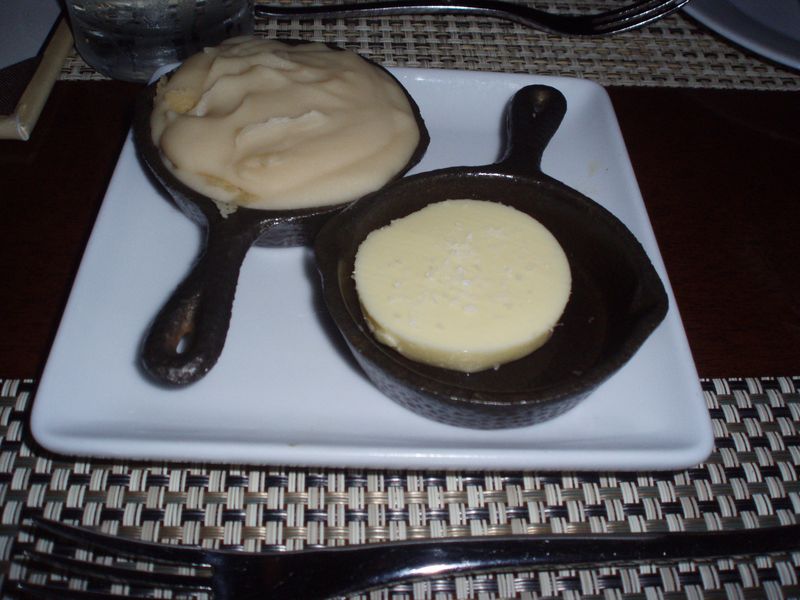 Tiny cast irons pans with lima bean purée and seasoned butter
On Sunday morning, we brunched  at the Palace Cafe on Canal Street, owned by Dickie Brennan of the famous hospitality family. Uncle Reiss loves the restaurant as it's housed in the old Werlein's piano store, his favorite escape as a child. There's a magnificent spiral staircase in the middle of the room, and a jazz combo entertained as we dined. Uncle had them play Do You Know What It Means to Miss New Orleans, just for him. I was able to eat most of my Pain Perdu, aka French Toast, with Pecan Praline Sauce and Fresh Berries, although just the thought of the andouille sausage served along side was enough to make me queasy again.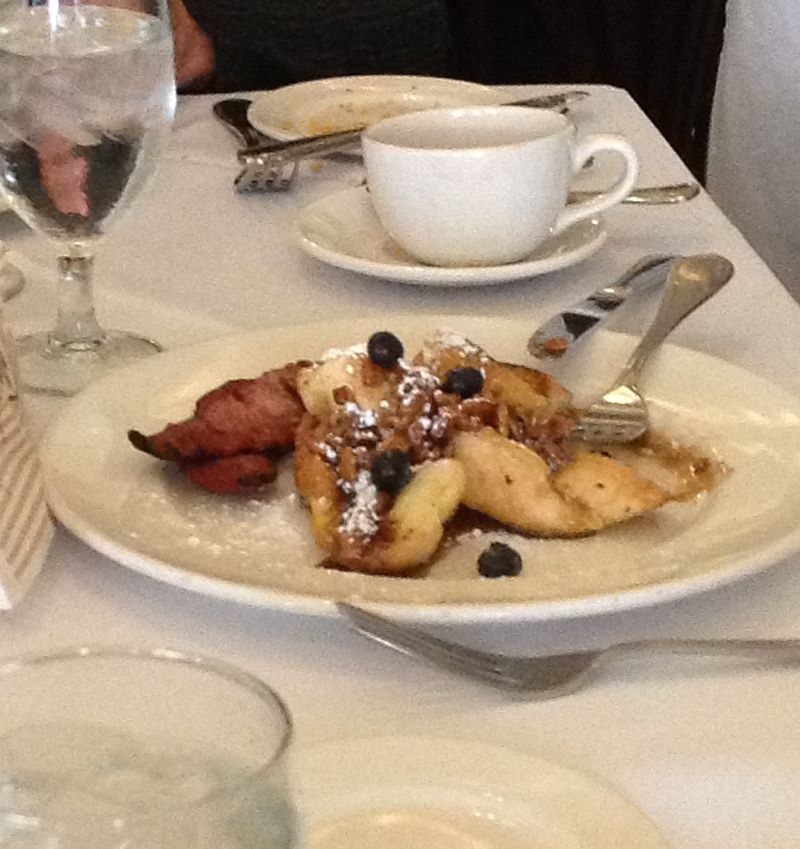 Pain Perdu at Palace Café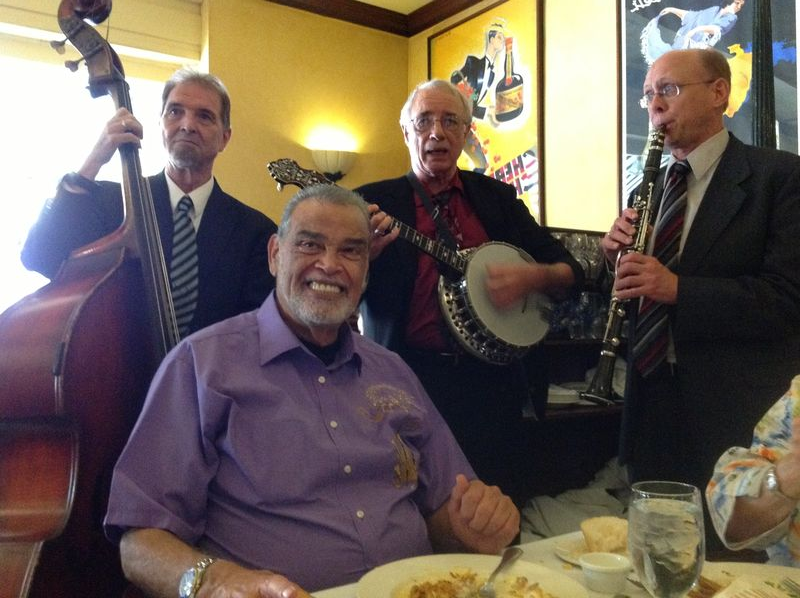 By Monday lunch, I met with local food lovers, Mary Ehret of Native Palate, Andrew Marin, and Charles Pizzo, whom I met at IFBC NOLA last summer, for lunch at the Bon Ton Cafe. John Besh had said he stops in at the Bon Ton (right around the corner from Restaurant August) for lunch every now and then, when Charles, after Chef Besh addresssed our IFBC'ers, asked where he went to eat when it wasn't one of his own restaurants he was dining at. Ever since that, Charles, said, I've been wanting to drop by. Mary says she loves going there because all the waitresses call you sweetie. I still wasn't feeling well enough to eat their specialty- the very rich looking Crabmeat Gratin, but I did get a shot of Charles' plate, which was half Crabmeat Gratin and half Crabmeat Imperial. I had another Bon Ton speciatly- brolied redfish with a light lemon butter sauce and topped with a generous amount crabmeat.The best part of our meal, though, was the Bread Pudding with Hard Sauce, which garners its own special plate at Bon Ton. Our lovely waitress sliced our order into four individual servings.
And one very honorable mention, although I did not get a pic (sorry), my cousin Raoul and I, had lunch Friday afternoon at Charlie's Seafood in Harahan, LA, a casual off shoot of the award winning Brigtsen's Restaurant in New Orleans. I dined on a pretty respectable cup of okra gumbo, a plump, last of the season fried soft-shell crab, and a luscious, although not typically Southern, potato salad.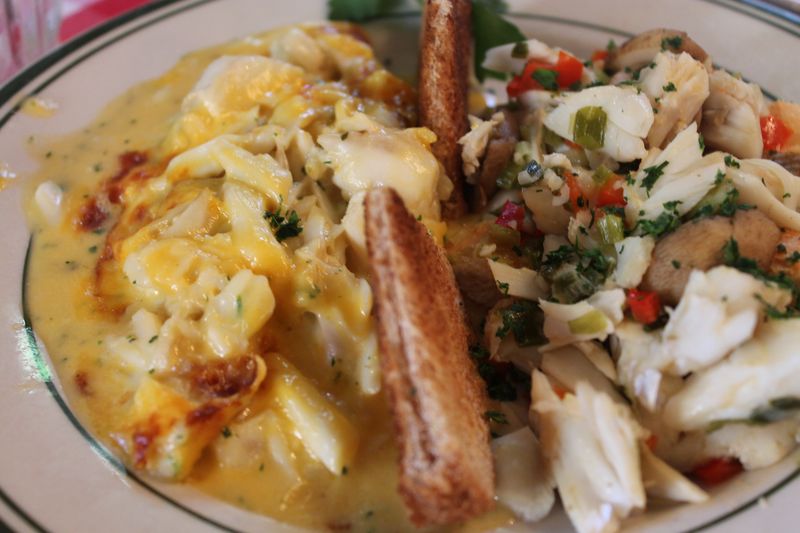 Half and half plate of Crabmeat Gratin and Crabmeat Imperial at  the Bon Ton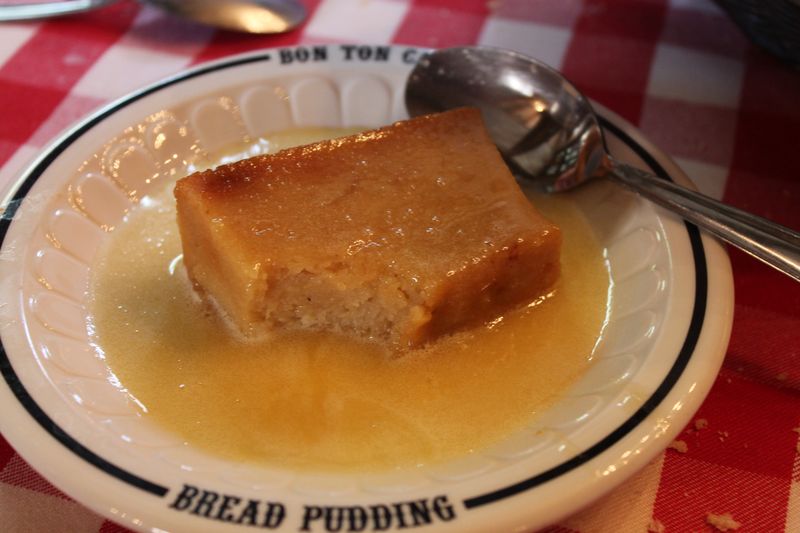 Related Post: Meeting John Besh, Eating at Restaurant August and Recipe for Brown Butter Fig Tart