Peach Ice Cream
Peach Ice Cream
You'll need sweet tree ripened peaches for this recipe. I used Elbertas picked at Masumoto Farms' adopt a peach picking day. Thanks to Melissa's Produce for inviting me to tour the farm and pick their peaches. You can read about my tour of three Central California farms here.
 For the peaches:
1 pound peaches, peeled and cut into small pieces

2 ounces sugar

1 ounce Amaretto
For the custard:
1 quart half and half

7 egg yolks

4-5 ounces of sugar* 

1/2 teaspoon each vanilla and almond extract
 Macerate the peaches, 2 ounces of sugar and Amaretto in the refrigerator overnight.

Whip the yolks and sugar together to ribbon stage (i.e. until they are a pale lemony yellow and thick, and they form a ribbon like pattern when the beater is lifted and the eggs fall back over the mixture).

 Scald the half and half and gradually stir in the egg/sugar mixture. Set the mixture over a bowl of simmering water and stir constantly with a wooden spoon or whisk until the mixture thickens to the stage where it coats the back of the spoon. Be careful not to let the mixture get so hot that the eggs cook. Remove the custard from the heat. Allow it to cool completely, then refrigerate it overnight.

After chilling overnight, drain the peaches of any excess liquid (you can save it to add to a glass of Peach Sangria, if you like). Mix together the peaches and the custard. Place in the chilled container of an ice cream freezer, and freeze according to the machine's directions.
*I used the smaller amount of sugar. It allowed the taste of the cream and peaches to shine, and was great with the bit of caramel sauce that I enjoyed mine with, but I'm guessing most would probably prefer the ice cream a bit sweeter.
Also, like most home made ice creams without pectins or food gums, it's best eaten fairly soon after freezing.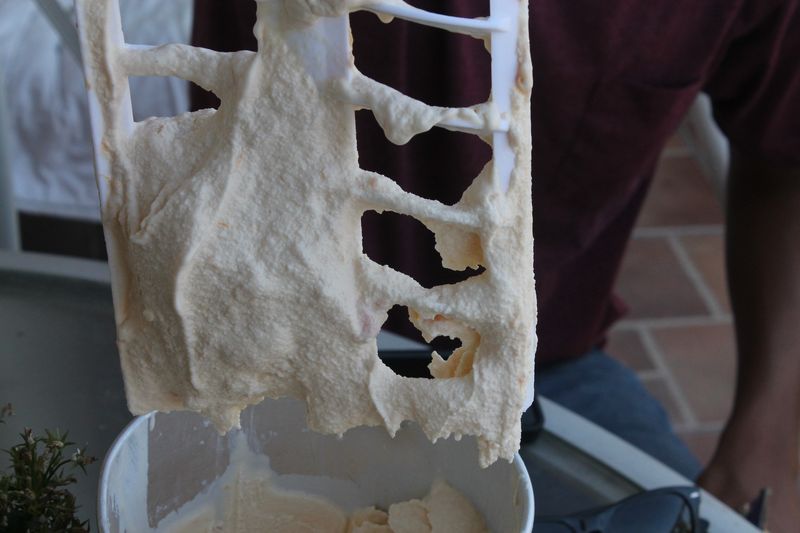 Peach Ice Cream fresh out of the freezer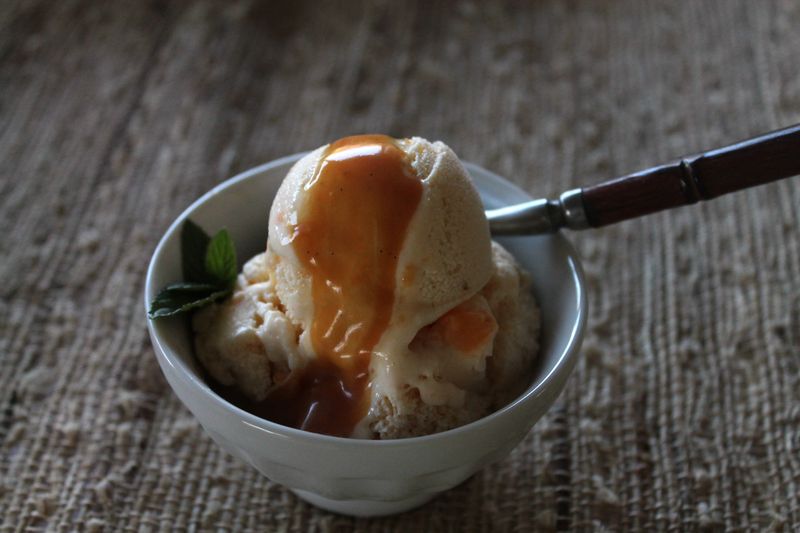 Peach Ice Cream with Caramel Sauce