Three Farmers- a Tour of Central California
All of us eat- for survival and for pleasure, to sustain our bodies and nurture our souls. But not all of us (especially us city kids) give much thought to where our food comes from before it hits the grocery store or farmer's market. Even fewer of us give any thought to the day to day concerns that consume those who grow our food.
The finer techniques of pruning, weeding and dealing with insects. Deciding which varieties will fare best traveling to market, how to best market their products, and which the public will embrace – these are just some of the myriad concerns facing owners of viable farms. Indeed, for a farm to survive, farmers must be very savvy and analytical businessmen. 
I had the opportunity to meet 3 very different farmers on a recent farm tour of Central California, sponsored by Melissa's Produce, which contracts and works closely with each of the farmers we visited.
Jim Beagle, along with his partner, Jack Pondol, of The Grapery, who in their buttoned down, starched and monogrammed shirts, prompted one of my fellow travelers on this trip, to  label them "MBA farmers". Doug Phillips, is the quintessential image of what most of us envision a farmer to be, and David "Mas" Masumoto, a philosopher/farmer in the great American tradition ( "I talk to nature", he writes in Epitaph for a Peach: Four Seasons on My Family Farm
, one of his several books "remembering that in myth and legend, humans often talk to nature"), who has pioneered and embraced innovative marketing methods and social media.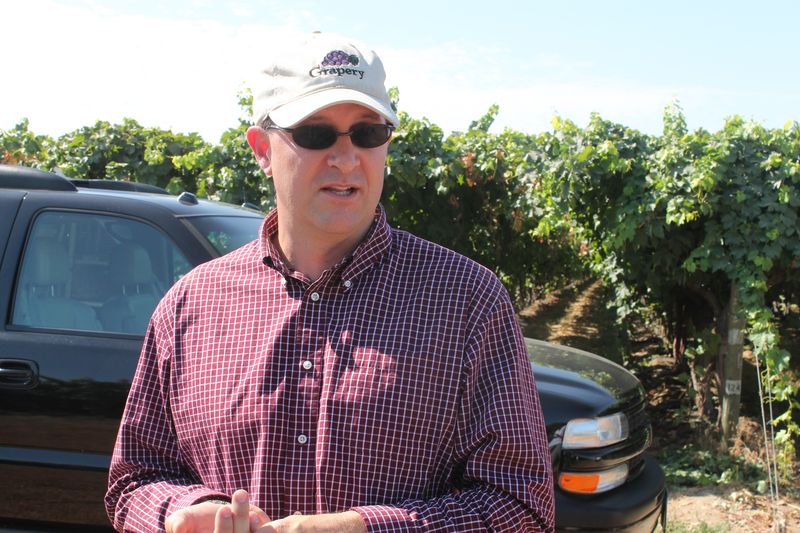 Jim Beagle of The Grapery

Doug Phillips of Phillips Farms
The three of them have approached issues of their product's profitability in very different ways. Jim Beagle and Jack Pondol invest heavily in developing new varieties of grapes to bring to market, hiring a lab full of plant breeders to crossbreed- incorporating Eastern grapes like Concords and Scummermongs with traditional Western varieties to produce flavorful, juicy (as well as vigorous) grapes, like Sweet Sunshine, Sweet Surrender and Cotton Candy. Beagle walks us through his vineyards carrying a refractometer, checking the Brix (a fruit's measure of sugar) content. Doug Phillips tells us that a variety must net $10,000 an acre or out it goes, with no sign of sentimentality. He not only cross breeds, producing items like Honey Punch Pluots, apriums, and still to be uniquely named peacotums (a peach, apricot, plum hybrid) and cherry plum combinations, but travels the world searching out newer and unique varieties of fruit, like finger limes and Buddha's hand, he can introduce to his American market.
Buddha's Hand and Finger Limes -Photos Courtesy of Melissa's Produce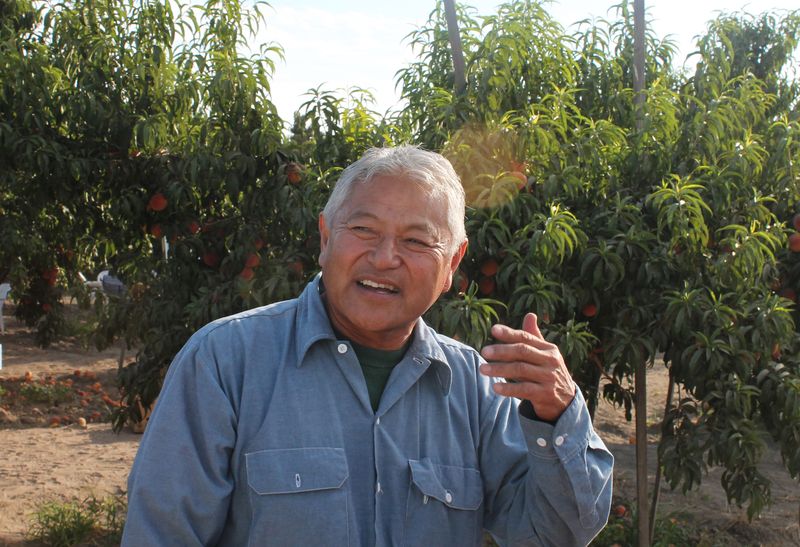 David "Mas" Masumoto
Mas Masumoto, unable to completely escape the sentiment he feels for his older variety peaches, has gone a completely different direction, struggling for a way to save his beloved Sun Crests and Elbertas, that have lost out in the commercial market to newer, sturdier varieties. From that struggle grew the peach tree adoption program, which I and several other food bloggers participated in on our tour.
The Masumoto family greeted us like long time friends. Nikiko Masumoto, Mas's daughter, speaks to us of the heritage of her Japanese farming grandmother, and reads a reverie on a recipe for the crowd gathered to pick peaches and nectarines that morning. Mas speaks with passion of his Elbertas, the canned peaches of my childhood which have now been replaced by heartier, easier growing varieties, even calling them sexy, as he squeezes one to show us how much juice it produces, (I notice there's a bit of a sexual theme in how farmer's view their fruit, note- Beagle's Sweet Surrender), and tells us how much he loves the "freckles", known as sugar spots to others, on his Le Grand nectarines. After harvesting fruit from Melissa's adopted trees, we all sit together to share a brunch of peach shortcake.
I arrive back in Los Angeles, with a clamshell of Black Moscato grapes, a sampling of plums and cherry/plum hybrids, and boxes of peaches and nectarines to use up quickly- and a new appreciation for the farmers who grow the fruit I consume.
Please come back over the next few posts to see how I used my precious fruit.
Mas Masumoto's beloved Elberta Peach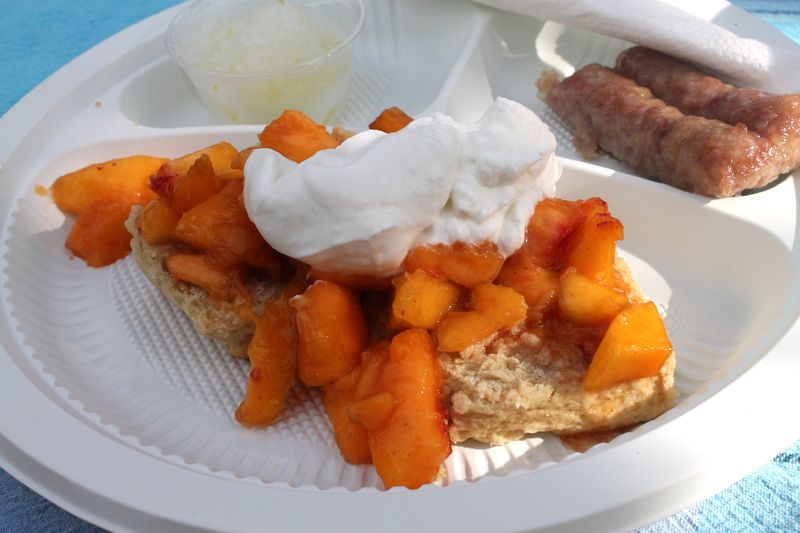 Peach Shortcake