Pineapple Upside Down Cake- An American Classic for the 4th of July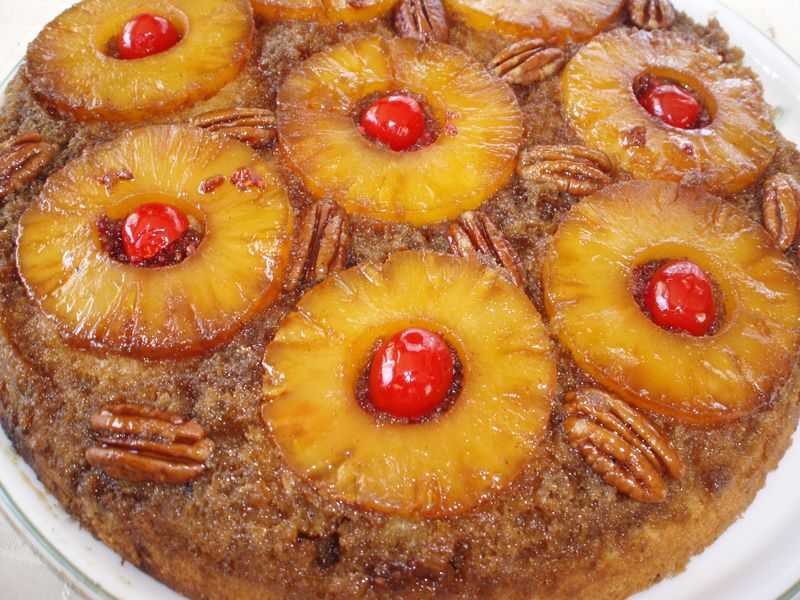 Pineapple Upside Down Cake
You may have noticed that I've been on a bit of a retro recipe kick of late, so just in time for the big 4th of July celebration (and our local FBLA blog hop), I am making Pineapple Upside Down Cake, an all-American classic. 
Since the innovation of canned sliced pineapples at the beginning of the 20th century, Pineapple Upside Down Cakes have become one of America's most beloved cakes and a favorite dessert to carry along to potluck dinners, reaching their peak around mid-century. They've never gone away completely, thankfully, and now are poised for a big comeback. 
I've tweaked this recipe, adding an extra juicy topping for more of that brown sugar, caramelized goodness (thanks to input from Susan Purdy's wonderful book,  A Piece of Cake, and sour cream to the batter (thanks to input from Rose Levy Beranbaum's seminal book, The Cake Bible
), both of which I have reached for repeatedly over the years. Judging by how quickly it disappeared at my family gathering yesterday, I'd say it's a real keeper.

Pineapple Upside Down Cake
 Topping:
 

6 tablespoons butter

1 cup brown sugar

1/4  cup pineapple juice from the canned pineapples

1-2 tablespoons dark rum

8 pineapple slices, packed in their own juices 

12-15 pecan halves

8 maraschino or fresh cherries, pitted
Cake:
 

7 ounces butter

1 1/4 cups sugar        

3 eggs

2 1/4 cups flour

3/4 cup sour cream

1 teaspoon vanilla

1 teaspoon baking powder

1/2 teaspoon baking soda

1/4 teaspoon salt
For the topping:
Drain pineapple slices and set to dry on a paper towel. Do the same with 8 maraschino cherries, if using..

Add the 6 tablespoons of butter to a 12 inch cast iron pan (I keep one cast iron pan aside, specifically for upside down cakes, to prevent there being any other smells invading the pastries), and heat until bubbling.

Add the brown sugar and stir for about 3 minutes until it's dissolved and smooth. If there are a couple of lumps still, don't worry. They'll dissolve in baking.

Remove the pan from the heat and stir in the juice and rum. If the sugar is very hot, be careful of it splattering up at you.

Place the pineapple slices in a decorative pattern around the pan, and then place the cherries and pecans in the in between spaces.
For the cake:
In the large bowl of an electric mixer, cream together the butter and sugar until light and fluffy.

Add the eggs one at a time, and stir in the vanilla.

In a large bowl, whisk the baking powder, baking soda and salt into the flour until completly mixed.

Add the flour mixture, in three additions, alternating with the sour cream.

Spoon the batter gently over the pineapple slices, then spread the batter with a spatula to smooth and distribute evenly.

Bake in a 325 degree oven for 45-50 minutes, or until a toothpick inserted in the center comes out clean.

Allow the cake to cool for 3-4 minutes on a wire rack, then invert carefully onto a platter.
Enjoy!