Rosé Fest Part 2- A Cal/Med Menu and Oven Roasted Cippoline with Basil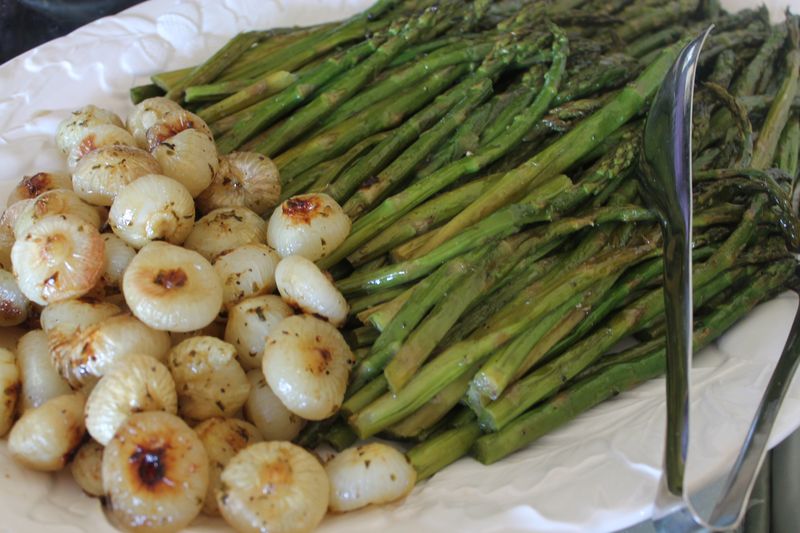 Oven Roasted Asparagus and Cippoline with Basil
If you read the last post on Rosé Fest, you'll remember that the being transported to the Mediterranean coast is part of the deal here, and the Cal-Med menu served at Rosé Fest from year to year, is all part of that theme. The starting point is aioli (which I happen to be in love with), the garlicky mayonnaise native to the south of France, and a natural when Rosé wine is being served. This year I served Rosemary, Chipotle and Chimichurri Aiolis, as well as the original.
There are usually appetite teasers like Tapenade, Caponata, Olives and Prosciutto (remember that Mediterranean coast thing). Maybe some fruit and cheese, and then a couple of fruity Mediterranean style desserts, often involving figs, peaches or prune plums.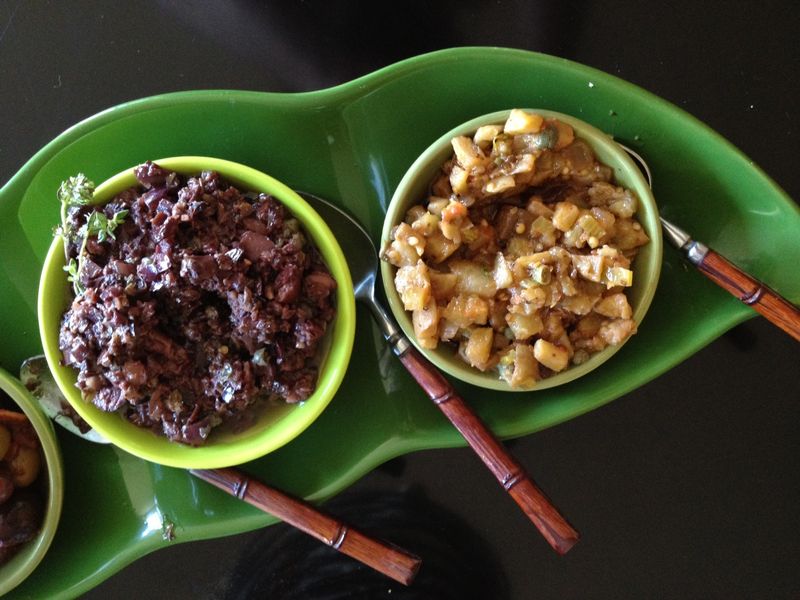 Caponata and Tapenade
Platters of grilled fish, seafood, usually lamb, along with vegetables, are served (just because we need something to slather the aioli on), along with a couple of salads to round things out. 
Salmon and shrimp make up the seafood- salmon, because we're in So Cal, and shrimp, because I am a New Orleanian, at heart, after all. There's a savory tart, because I love tarts so much. You'll always find roasted potatoes included in the vegetables, because they are so great dipped in aioli, and usually asparagus, just because I like them so much (are you beginning to see a theme here?). Other than that, the vegetable selection varies from year to year. This year, I added roasted cippoline to the line up, because those chubby, sweet little bulbs have become a new love. They shared the platter with roasted asparagus, as the sweet onions complement the slightly pungent green of the asparagus.
Planked Salmon
Here's this year's Rosé Fest menu, and further down you'll find a recipe for Oven Roasted Cippoline with Basil.
Tapenade, Caponata and Moroccan Spiced Olives     
Berries, Grapes and Figs with Prosciutto and Boursin served with Crostini
Heirloom Cherry Tomato Sald with Israeli Feta and Kalamata Olives
Haricots Vertes Salad with Mustard Vinaigrette and Parmesan 
     Lamb Sliders with Point Reyes Blue Cheese & Caramelized Onions     (served with Arugula and Grilled Figs in Fig Balsamic Vinaigrette)                                        
      Planked Salmon and Grilled Shrimp
   Roasted Cippoline with Basil and Roasted Asparagus
                     Roasted Baby Dutch Yellow Potatoes     
                 Roasted Summer Vegetable Tart with Goat Cheese                
 and for dessert…
Peach Tarte Tatin
Olive Oil Cake with Blackberry Compote
A big thanks to Melissa's Fresh Produce for supplying the cippoline, and  Gourmet Garden for supplying the basil paste.

Oven Roasted Cippoline with Basil
Yield: about 20 servings
2 pounds cippoline, peeled*

2 teaspoons Garden Gourmet Basil Paste**

2-3 tablespoons extra virgin olive oil

Kosher or sea salt and freshly ground black pepper, to taste
Stir the basil  paste into the olive oil in a large mixing bowl, then toss the peeled cippoline in the olive oil/basil mixture.

Spread the cippoline onto a baking sheet, and sprinkle with the salt and pepper. Bake in a 350 degree oven until tender, about 10-15 minutes.
*To peel the cippoline, bring a large pot of water to a roiling boil. Blanch the cippoline in about 3-4 batches in the boiling water, letting the water come to a boil again after each batch. Scoop the cippoline out of the boiling water with a mesh strainer, straight into an ice water bath, to loosen their skins. They'll pop out of their skins easily after the blanching and chilling, otherwise, you'll lose more of the onion than you'll want to in trying to peel them.
** A note about Garden Gourmet Herb Pastes. I was graciously given a set of Garden Gourmet pastes to sample last spring. Okay, I'll admit it, I was a tad skeptical, at first. After all, I grow herbs (well, most of the time) on my balcony, and I like biting on little bits of the herbs in my food. But as fate would have it, I'm not the world's greatest gardener, so sometimes I manage to kill off my herb plants. Even if my plants are doing fine, sometimes when cooking for a crowd (like when I had to make a cole slaw for 50), or when I'm pressed for time (like when my guests were at my door and I was still in the kitchen), these pastes are so quick and easy to use. And to my delight, there are still little bits of the pounded herb leaves in the pastes.