Green Goddess Dressing-Part 2 in an Occasional Series on Recipes from Mom's Files
This post is the second of a series in which I'm looking back through my mother's folder of clipped recipes collected throughout my childhood. Please read the first post with her famed recipe for 7 Layer Spinach Salad. It's really good!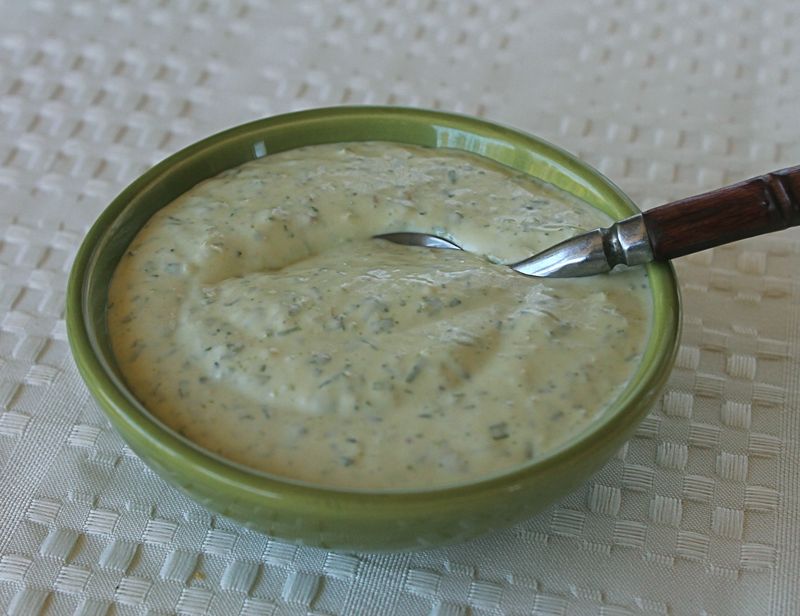 Green Goddess Dressing
My Mom had a few recipes for Green Goddess Dressing in her files- no wonder, as the clippings were mostly from the 60's and 70's, right at the height of Green Goddess's (first invented in the 1920's) popularity, before it was overtaken by Ranch and Caesar dressings.
Well, any of you who read this blog regularly know that I am a proponent of revisiting classic, but sometimes forgotten recipes, and this dressing is certainly a recipe worthy of revisiting. It reminded me of how much I love tarragon, and my taste buds delighted in the tang of the vinegar, the herby greenness, and the umami the anchovies lend.
We ate Green Goddess mostly over wedges of iceberg lettuce and asparagus back then, although unfortunately, they were canned asparagus. (BTW, to her credit, Mom came to truly love roasted and grilled asparagus). The dressing would still be good over a wedge of iceberg, if you are so inclined. I found it to be a perfect topping for a filet of salmon at room temp accompanied by chilled steamed asparagus.
The recipe for Green Goddess Dressing follows: