Meet Me at the Farmers Market-a Sunday Field Trip to L.A.'s Original (Part 1)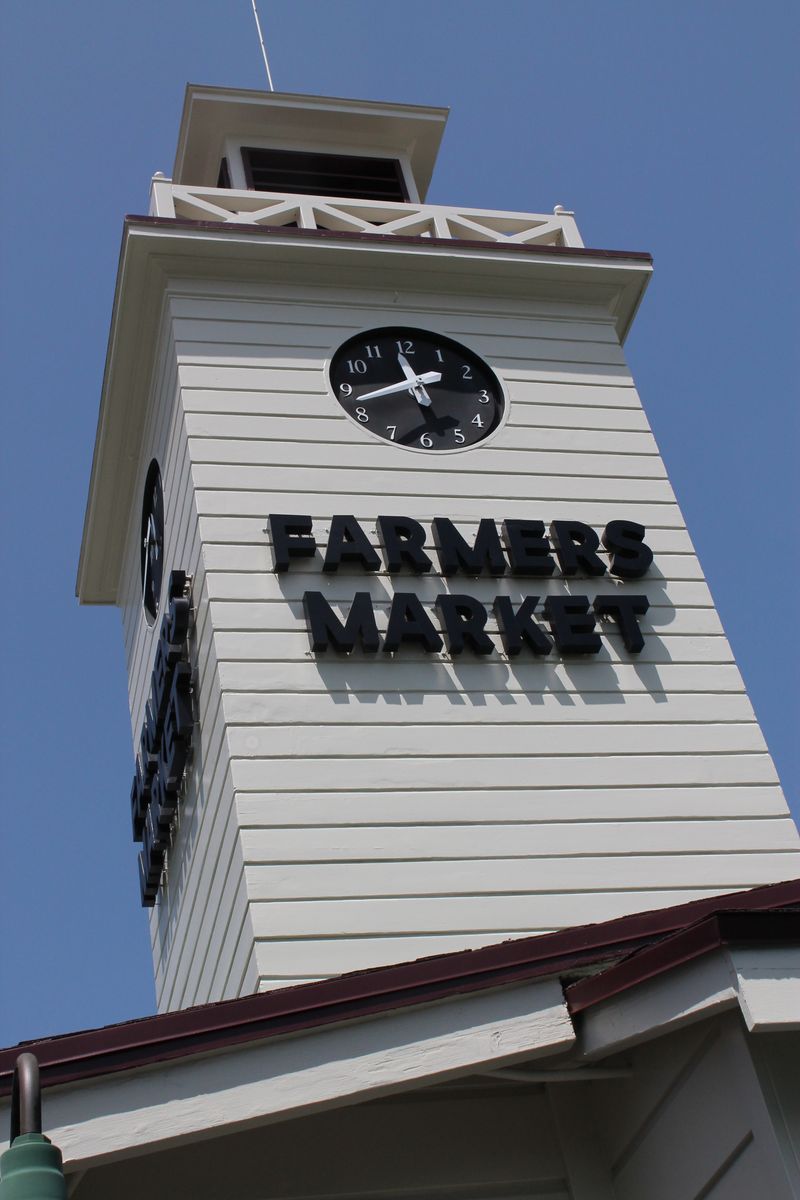 The Clock Tower at the Farmer's Market
Los Angeles is not exactly a city known for preserving its historic places. When I think of the places remaining where my father took us on Sunday afternoon outings, only Olvera Street and neighboring Union Station, come quickly to mind- not much else. Except for the Original Farmers Market, that is.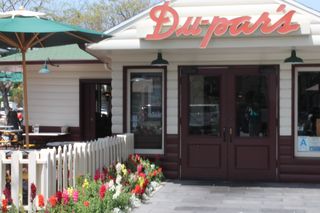 The Farmers Market at Third and Fairfax has been around since 1934- way before Third, Fairfax, and most of L.A.'s surrounding streets became clogged with a never-ending stream of traffic, and when there were still open fields to be found in the area. My family, like so many other L.A. families, paid our obeisance to the rite of Sunday dinner at Dupar's, one of the oldest continuously operating food establishments in Los Angeles. And I was reminded when browsing one of the Market's online memory boards, of the gift of "A Yell from Gisele" box of stationary from a longtime stall there, given to me by a family friend when I graduated from high school. I hung on to the pages of that stationary for years, and returned many years later to purchase a box of personalized stationary for a first wedding anniversary gift for friends.
The market has been through its ups and downs over the years. By the 1980's, it was looked on by many as a place for retirees to come and drink coffee, read their newspapers and debate, but not really as a cool hangout any longer. And some even wondered if The Grove shopping center, built adjacent to it in the 1990's, would completely do in the market. Fortunately, The Grove breathed new life into the Farmers Market, and it's now cooler (and larger) than ever. Also fortunate for us, Los Angeles saw fit to designate portions of the Original Farmers Market as official Cultural and Historical Landmarks.
So when I recently saw a Composition in the Field class being offered by the Digital Photo Academy at the 3rd and Fairfax Farmers Market, I thought it was a perfect spot for this camera challenged food blogger to work on learning to use her new Canon Rebel 3T camera.
Our instructor, Ronald Talley, started by telling us that, "photography is writing with light." How appropriate, as I've spent several years now honing my writing skills with pen and paper, so it's about time I got thrown into the light. Ronald sent us forth in various stages, with specific assignments, to capture images with light. Turns out, I learned, that the market is not only full of great produce and food stalls, interesting little shops, eateries and laid backed diners (along with their doggies), but it's full of great lines and angles, shadows and highlights, too.
I hope you'll enjoy my images of this historic L.A. hangout, and come back next time for more pics.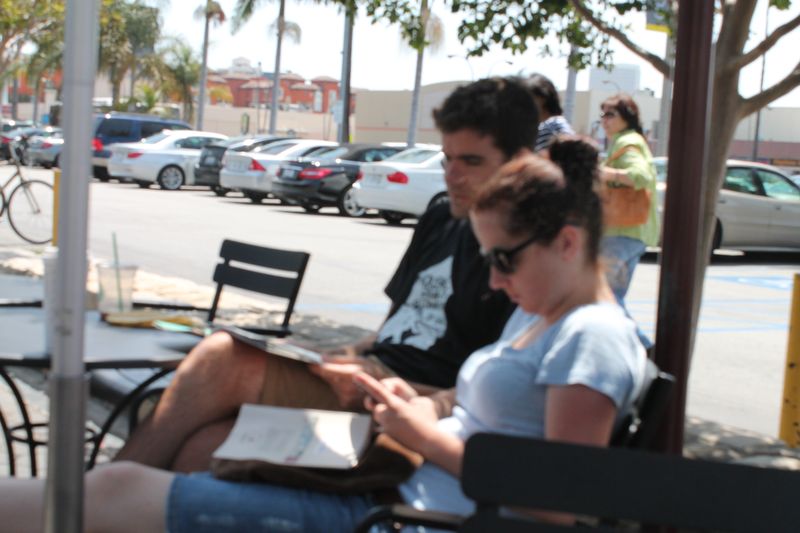 Browsing through e-mails and magazines at the Farmers Market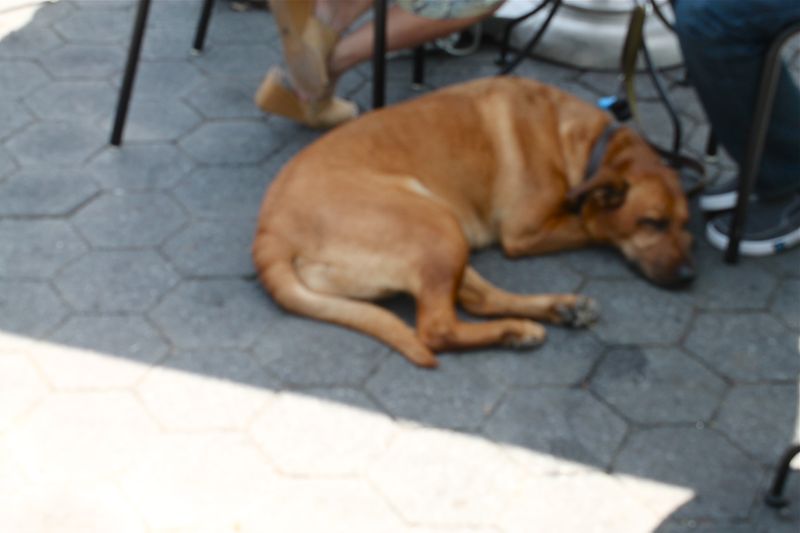 The doggies are laid back, too.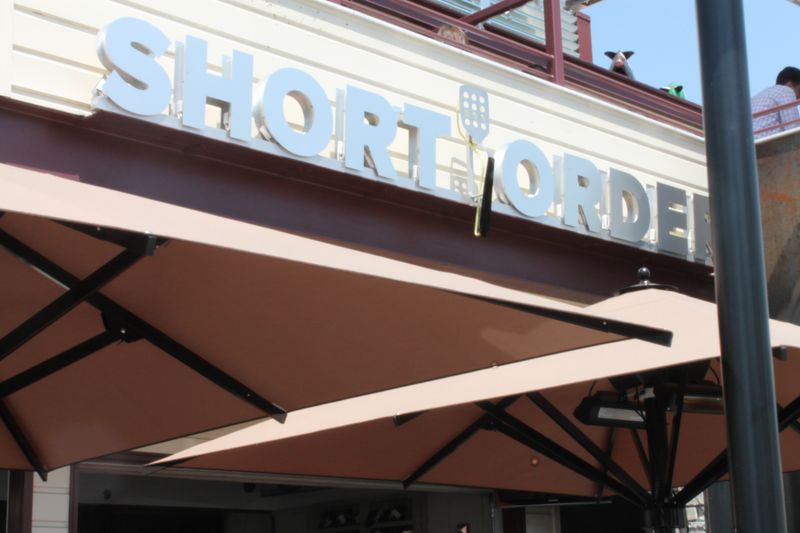 Right next to Dupar's is Short Order-one of the newest arrivlas at the Farmers Market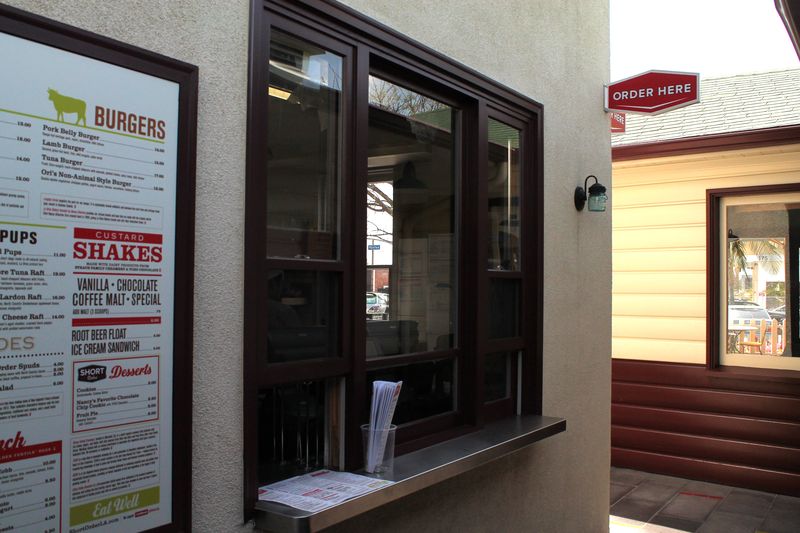 Order Here window at Short Order