Baked Fiesta Rice (Arroz de Fandango)-Just in Time for Cinco de Mayo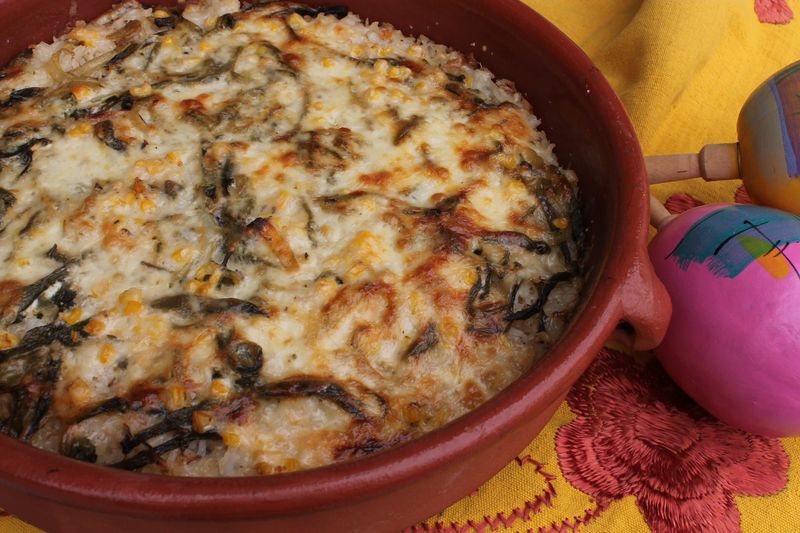 Baked Fiesta Rice
Mexico, our neighbor to the south, is a vast country with a huge diversity and complex sophistication in its culinary expression, a fact that sometimes seems lost to us here in So Cal. The tacos, burritos and quesadillas so widely consumed here, are really a sort of Cal-Mex border region street food. Fortunately, it is changing, as we see the foods of Oaxaca, Puebla and other regions making their way onto our local food scene.
This rice casserole hails from Puebla, appropriately for our purposes this week, as it was the scene of the battle celebrated on the Cinco de Mayo, when a humble army of the citizens of Puebla beat back a large and well armed fleet of French invaders. Never mind that Puebla was eventually conquered. Pueblans, to some extent, Mexico at large, and now those of us in So Cal, continue to celebrate the independent spirit of those Pueblans. The French, btw, did manage to leave their culinary stamp on the country during their escapades there, adding to the wonderful mix.

This tasty rice dish is a great side dish, but makes a tasty vegetarian entrée, as well. For a more substantial entrée, my college friend Marsha's mother, used to add pieces of pulled chicken meat to the rice to bake in the casserole.