Sitting Down with John Besh-Part 4-Continuing the Traditions and Moving Forward

I ended our time together asking Besh a question I've asked all the restaurateurs I interviewed in New Orleans.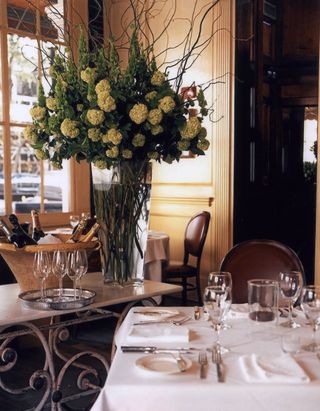 "I have this opinion that New Orleans really doesn't get its due as a great restaurant city among national restaurant critics. Do you feel that way at all?"
"I think we get our share of the press – we get out share of attention. I don't think that there are a lot of national people that truly understand it. You know, what makes a great restaurant? Is it the fancy linen? Is it the snooty service? It's such a subjective topic. To me, New Orleans has, I think, some of – the only real cuisine left in America. It's the only indigenous urban cuisine left."
Again – he's preaching to the choir here.
 "That needs to be celebrated. But as Americans, we don't hold – we don't grasp onto tradition. So you will find regional food writers really gravitate to what we do – I think the South really appreciates that. But, you're not going to find 5 million dollar, or 10 million dollar built out restaurants here. And I wouldn't want to – I wouldn't want to cover up the beautiful …" he trails off gesturing around him at the wood paneled and wainscotted walls, the hard wood floors, the Corinthian columns – at the large French windows and high ceilings that are featured the in the room at the hotel lobby Restaurant August occupies.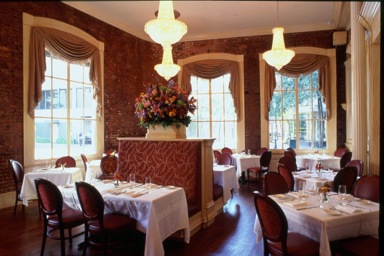 "It is what it is. And I love it, but I think we're so jaded, in this country – by bigger, newer, shinier, flashier… We're driven by trends – and this is the antithesis of a trend city."
"And thank God for that," I agree. "L.A. is an especially trendy city."
"We put so much stock in window dressing, and not enough in the substance. This place – New Orleans has been farm to table or fish to table-hasn't marketed itself as such-but that's the way it's been forever. Yet nowadays, you know, we're – oh, so and so has a farm to table restaurant in this city or that city. This place has been doing it a long time."
"And I think New Orleans, for a while there, was resting on its laurels, in some ways. That's why it's important for me to get out there and see that the next generation of cooks that's coming … you know, that the Syrena's are being included in this hospitality economy, so that they'll play a part, that everybody plays a part, and we'll continue to see our food evolve, and we'll continue to see our food hold true to some of its traditions. And we'll continue to see that – you know, growth in our coastal communities where the next generation of fisher and shrimper and oystermen will continue, and we'll have that continue with farming, as well. Unless we reach out …we have, for years, I think, taken it for granted, and it's really been a locals only kind of a – like, we knew we had this, but nobody else did."
His passion is rising.
"So you're, I take it, very bullish, about the future of New Orleans restaurants?"
"Oh yeah. I think that we've proven what we can do with very little. I've always made do. What this restaurant would make money-wise, if we were in New York City, is just ridiculous. But we're not. We're in New Orleans."
"And I love it here. I've got a much better life. My children, my sons – the fifth generation to go to Jesuit… meeting kids from all across the city. I think it's a great life that I've built for myself, and for my family, and l love it here. But we've made do. And we made it through the hard times. I've got friends belly aching all around the country about a bad economy, and blah, blah, blah… but guess what? It's always been a bad economy here."
"It's thriving now, I hear, the restaurant business, here."
"But, it's still – compared to every other big city out there, we have a bad economy. You know, unless you're in this business, or unless you're in… "
"The oil business?"
"Even, offshore, they're not drilling right now. So, just what do you do?  
"Are they not drilling because of the oil spill, still?"
"No new permits have issued. They've lifted the ban, but they haven't issued permits, so you still have – what are you going to do?"
I, for one, Chef Besh, am going to continue to visit (and encourage others to do so, as well) New Orleans' great restaurants for wonderful farm to table and coast to table regional cuisine.