Sitting Down with John Besh-Part 3- Louisiana Locally Sourced and Recipe for Blackfish with Sweet Corn and Caviar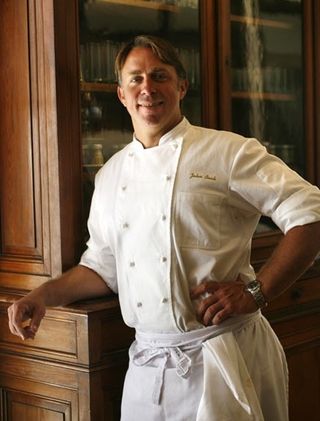 One of the things that stood out to me right away about the dishes served at Restaurant August is the incredible array of vegetables that are a part of every plate. When I sat down with him after my lunch, I asked Chef Besh if they are all locally sourced.
"Oh yeah! This is actually a low point for us" Besh responded. 
"The way the seasons work here is that, by late summer, we go into a lean point, right about now, where you shouldn't plant Creole tomatoes past, like say-next week. We have a span of mid-August through early September when you can plant for that fall crop of tomatoes. The temperatures are so high, the humidity's so high-it's so hot that all the plants just shut down. The night time temperatures are what really needs to be low-and we have that humidity, you know- it's a perfect storm for any sort of pestilence when it comes to farming."
"But you have great soil!" I interject, a product of the Mississippi River's sediment deposits, which creates some of the lushest soil in the world across its floodplain.
"Yeah. Throughout the fall, we'll have our – a huge array of vegetables. The winter still produces. Our different salads and all that we cook, will kind of evolve. Soon you'll start seeing satsumas in almost everything, and we'll have blood oranges later, and heck, before you know it strawberries are gonna be back." His voice starts to grow rhapsodic. 
"I love the way of just using the vegetables, doing as little as possible to them so you can really identify them, and really focus on that natural flavor that exists."
I jump in "and the fish, I have to say-there's such unusual fish on the menu – not the things you see everyday."
"Now, we're forced to – we just use whatever we have because there are a lot of species that are overfished. Every day is kind of like an Iron Chef, where you don't know what you're going to get."
"Really?"
"We have an idea, but we're not sure."
"It used to be you could have red snapper all the time – anytime you wanted it. Snapper season's cut back so much, that, heck, you know-$14 a pound. How much do I have to charge the customer for it? And so, I'm trying to still create great food with nearly everything local. Certainly it's not all local, but we're as local as can be, and still sell it for a reasonable price, as low I can possibly sell it for."
"I love sheepshead. Unless you're local, you have no idea what sheepshead is."
"And the blackfish," I wonder aloud – a splendid fish we sampled, that I had never heard of.
"The blackfish we get this time of year, and we'll have for the next couple of months. They migrate from the Keys all the way up here. Then they'll migrate back. When we have them, that is one of the best tasting fish – ever! "
P.S. I've extended the time to enter to win a signed copy of Chef Besh's latest cookbook, My Family Table: A Passionate Plea for Home Cooking
, which Library Journal calls a "stunning volume … filled with intimate photographs of the Besh family in the kitchen, at the table, and outdoors with friends." The entry to the contest is a donation of any size to the John Besh Foundation, whether it's $2 or $200. Just click on the Give Back link, and then come back and leave a comment which includes your donation confirmation number.
For a second entry, you can tweet about the contest and your donation, and encourage others to enter,too, then let me know in a second comment with the URL of your tweet. You now  have until midnight on April 2nd, 2012 to enter. On April 3rdst, someone's name will be drawn. You're in a tiny pool, so have an excellent chance at wining, while supporting a great cause.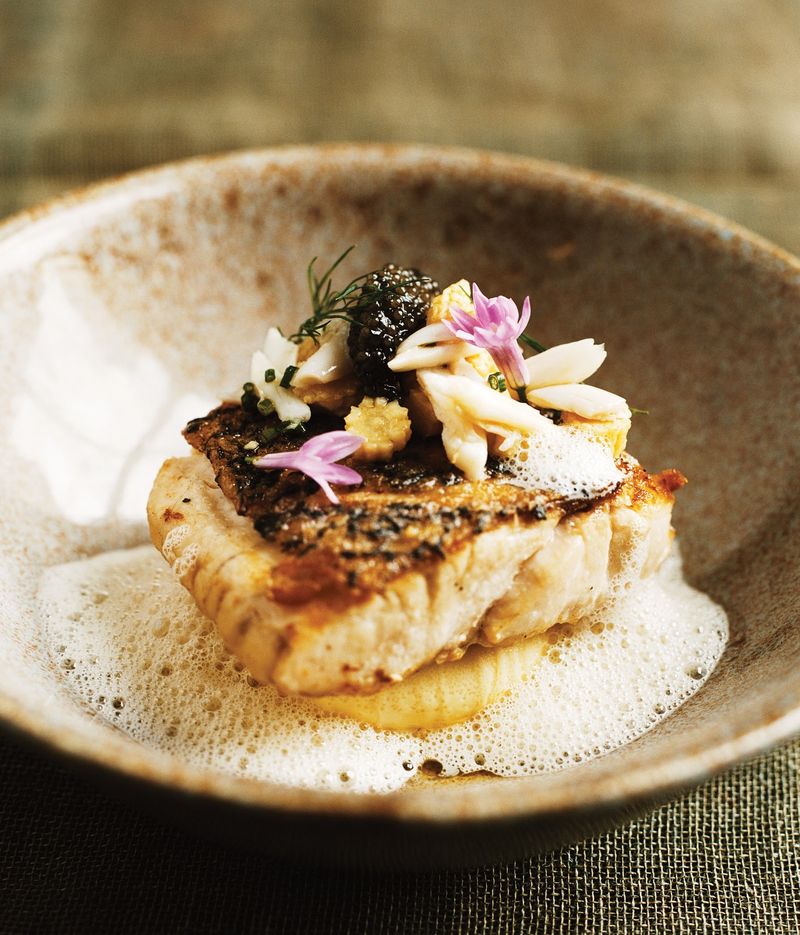 Photo courtesy of McMeel Publishing
Louisiana Blackfish with Sweet Corn and Caviar                                                                                                                   from John Besh's My New Orleans: The Cookbook
For those of us not lucky enough to be close to a source for blackfish, Chef Besh recommends Striped Bass or Snapper as an acceptable substitute. Note the use of a very Vietnamese ingredient, lemongrass, in the sauce.
For the Corn Pudding:
Cooking spray

2 cups heavy cream

2 cups corn kernels (Besh uses Silver Queen corn)

1-2 pinches cayenne

Salt

8 eggs
Preheat the oven to 275 degrees. Spray 6 2-3 ounce ramekins with cooking spray and set aside.

Put the cream and corn into a large saucepan and bring to a boil over medium-high heat. Reduce the heat to moderate, and simmer for 5 minutes. Pour the cream and corn into a blender and pureé until smooth. With the motor running, add the eggs through a feed hole in the blender lid, blending the purée until the eggs are completely incorporated.

Divide the corn purée between the prepared ramekins. Set the ramekins in a pan large enough to hold them and fill the pan with enough hot water so that is comes halfway up the side of each. Bake the corn puddings until they are set, about 20 minutes. Remove the puddings form the hot water bath and set aside.
For the Sauce: 
2 tablespoons extra-virgin olive oil

1 medium to large onion, diced

4 cloves garlic

1/2 cup fennel bulb, minced

2 teaspoons crushed red pepper flakes

Leaves from 1 sprig of fresh thyme

Leaves from 1 sprig of fresh tarragon


1 bay leaf

1 cup cream 

1 cup vermouth

2 cups fish stock

2 stalks lemongrass

1 tablespoon butter

Salt to taste
Heat the oil in a sauté pan over moderate heat. Add the onions, garlic fennel and pepper flakes. Cook the vegetables, stirring often, for 3 minutes.

Add the thyme, tarragon, bay leaf, cream, vermouth and stock. Increase the heat to high, and reduce the sauce by half, about 10-12 minutes. Strain the sauce into another pan.

Add the lemongrass and corn to the sauce, and simmer over moderate heat for 15 minutes. Add the butter. Season with salt, then strain the sauce through a fine sieve, discarding the solids. Keep the sauce warm in a warm spot on the stove.
For the Fish:
2 tablespoons extra virgin olive oil

6 4 ounce blackfish filets

Juice of one lemon

Salt to taste
 

Heat the olive oil in a large heavy bottomed skillet over moderate heat. Score the skin of each blackfihs filet in several places, then season the fish with lemon juice and salt.

Cook the fish skin side down until it is not quite cooked through, about 4 minutes. Turn the fish over and cook on the flesh side for about 2 more minutes, or until done. Transfer the fish to paper towels to drain.
For the Corn and Crab Sauté:
6 ears baby corn, blanched and sliced into rounds

1 cup jumbo crab meat, picked through for bits of shell

2 tablespoons butter

1 dash of hot sauce

Salt

Caviar (Besh uses Louisiana paddlefish or bowfish roe) 

Fresh chervil, dill, and chive blossoms to garnish
Return the skillet the fish was cooked in to medium high heat. Add the corn, crab and butter, and sauté until hot. Set aside. 
To assemble:
Unmold the corn puddings into each of 6 wide warmed soup bowls. Place a fish filet over each pudding. Put a heaping spoonful of the corn and crab sauté over each piece if fish.

To froth the warm sauce, use an electric hand mixer and half submerge the beaters in the sauce. Beat on high speed until a froth forms. Ladle the froth around the fish in each bowl.

Top each dish with a small dollop of caviar, and the springs of chervil, dill and chive blossoms.
Bon Appetit!