Sitting Down with John Besh-Part 2-The Diverse Richness of New Orleans Cuisine plus a Recipe and Contest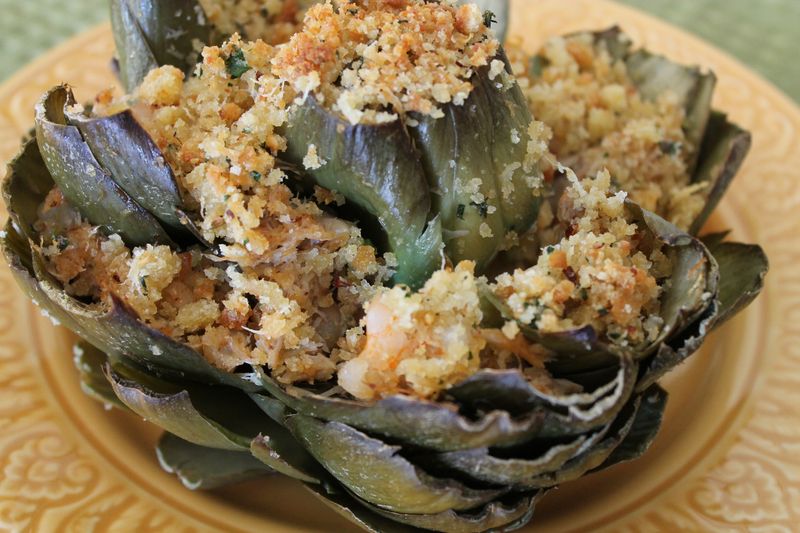 Stuffed Artichokes with Shrimp and Crabmeat
Stuffed Artichokes with Shrimp and Crabmeat
6 large artichokes

1 1/4 cup extra virgin olive oil

4 cloves garlic, minced

1 teaspoon crushed red pepper flakes

2 cups dried bread crumbs

1 cup freshly  grated Parmesan

1 teaspoon fresh thyme leaves

1-2 tablespoons Italian parsley, chopped

1 pound medium shrimp, peeled and chopped

1 pound lump crabmeat

Salt and freshly ground pepper

1/4 cup Ravigote Sauce (recipe below)
Cut the stems off the artichokes and snap off the small leavesa t the bottom. Cut off the top quarter of each artichoke with a sharp knife. Snip off the pointy tips of the remianing artichoke leaves with kitchen shears

.

Simmer the artichoke in a large pot of lighly salted water, until the bases of the artichoke are tender, 20-30 minutes. Then transfer them to paper towels and let them drain upside down until cool.

Meanwhile, heat 1 cup of the olive oil in a large pan until warm. Add the garlic and cook until soft. Stir in the red pepper flakes and bread crumbs. Remove the skillet from the heat, and stir in the Parmesan cheese, thyme and parsley.

Heat the remaining 1/4 cup of olive oil in another large pan until hot. Season the shrimp with salt and pepper, and sauté for 2 minutes. Add the crabmeat and Ravigote Sauce, and sauté for 1 minute. Remove the pan from the heat, and stir in 3 tablespoons of the bread crumb mixture. Add salt and pepper to taste.

Preheat the oven to 350 degrees. Gently pry open the artichoke leaves and pack a bit of the stuffing between the leaves. Set the stuffed artichokes in a baking dish and pack their tops with the remaining bread crumb mixture.

Tightly cover the pan with aluminum foil and bake the stuffed artichokes for 35 minutes. Remove the foil and conitnue baking for 10-15 minutes, until the stuffign is golden brown.
Ravigote Sauce
Although not I've not seem it used in French cooking, Ravigote Sauce is found in many Creole recipe preparations.
1/2 cup mayonaisse (homemade is best)

2 teaspoons fresh suqeezed lemon juice

several drops of hot sauce 

1 teaspoon Dijon mustard

1 teaspoon Creole mustard

2 teaspons prepared horseradish

2 scallions, minced
You may serve with more of the Ravigote Sauce if you like. I found it a tasty addition.
Bon Appetit!