Sitting Down with John Besh-Part 2-The Diverse Richness of New Orleans Cuisine plus a Recipe and Contest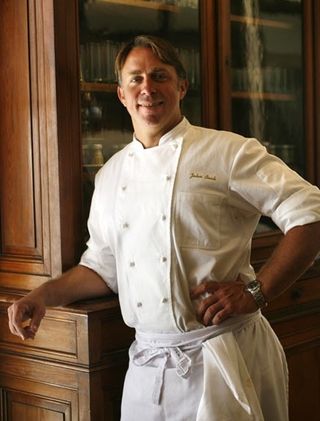 In my last post, I reported on how John Besh, James Beard award winning chef, is using food to, in his words, create meaningful change in his community (btw, there's a contest you can enter at the bottom of this post where you can help with that goal), but, he was quick to add, I'm not negating how important the food, in itself is.
"I'm passionate about food," he told me last summer as we sat down to chat after an incredible meal at Restaurant August, his flagship New Orleans eatery – a fact that's clear to me.
"In New Orleans we're just so blessed (and I know I'm preaching to the choir, he added) because we have an inherent culture that is so food related, and food worthy, and savvy."
I shared with him my observation that while our expatriate New Orleans community in Los Angeles cooks Creole food very traditionally, and in some ways, is stuck in a certain time, I notice when visiting NOLA, how much the food continues to evolve.
"Right, and I think there's a lot of that good stuff I hope and pray doesn't change too much."
"I wanted to ask you about that, because you wrote in your book (his first cookbook My New Orleans: The Cookbook
), that when you were growing up, real men didn't eat grilled fig salads, and there's always that kind of tension between the traditional home cooking and the restaurant cooking. How do you kind of reconcile that?"
"We come from a place where all of us, black, white, red, yellow, men and women alike- are passionate about food. Now, we have our opinions. My grandfather, and your grandfather would have never eaten a grilled fig salad, but you eat figs- everybody in New Orleans loved figs. The figs belonged in a jam on toast. If you were Italian, then for the Italian person in the family, the figs were in cookies and cakes. So I think my point is, that foundation is what led me to become a chef, because everybody is passionate about food, and everybody has those opinions, and I kind of, I love to merge down home with my uppity French style."
"And beyond" I added. "I mean, you have Thai, and Korean influences" (a tendency I noticed at Susan Spicer's  New Orleans restaurant, Bayona, too).
"And for years, normally, you'd walk in and you'd see half of the people working in the dining room might be of Vietnamese descent. When I came up as a cook, and was working at the Windsor Court, most of the cooks there were these Vietnamese ladies that I got to know, and their children, and even their grandchildren have been working for me. The hotels still have a few of these ladies around, and they were just incredible to work with. They weren't trained chefs, but from that I developed a kind of passion for Vietnamese food. Having family meal in the back of house, where nobody could see, and they're making phô out of little coffee pots, and they're feeding me."
Which reminded me of another ethnic group Besh spoke of adding to the mix of New Orleans cuisine.
"You said in your book that Croatians are the ones who first added oysters to the gumbo. I find that so fascinating, because I just assumed oysters were always in gumbo, you know. I didn't know where it came from."
"I said that because the Croatians control, and have controlled our have controlled our oyster industry for years and years. The same Croatians that control the oyster industry in their country brought that tradition and know how here. The oyster cultivation, that's where the Vucanovich's, the Cvitanovich's (the family which owns the Drago restaurants where the famed New Orleans dish charbroiled oysters was created), the Uglesich's (owners of a legendary New Orleans restaurant from 1924 to 2005) – all these people came from."
"You can look at old recipes, even, and see how they've changed with each group that's come. The Italians came, they changed so much about the way we cook. My little parish in Slidell-St. Genevieve-for the longest time, has been mainly African-American, and yet they have this big, one of the most beautiful, St. Joseph's altar. That's Italian, yet somehow, it was something everyone kind of grasped onto. That's the richness that I love here. It's how we're able to take all these different things and trace them."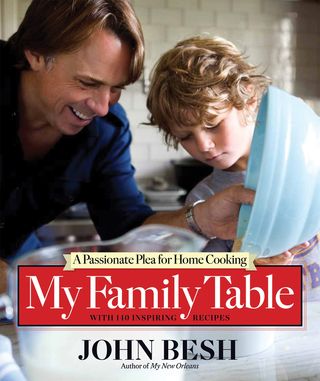 Post script – Last time I wrote about Chef Besh's foundation, and his involvement preparing young inner city kids for success in the hospitality industry. I hope you'll read it, btw. After posting, I spoke with the publisher of Besh's latest cookbook, My Family Table: A Passionate Plea for Home Cooking
, which Library Journal calls a "stunning volume … filled with intimate photographs of the Besh family in the kitchen, at the table, and outdoors with friends." She offered to donate a signed copy, which she told me she's given away very few of, to a contest  I have devised, for those who love New Orleans, love food, or just love "things that work and make a difference", as my friend Ann Keeler Evans put it. The entry to the contest is a donation of any size to the John Besh Foundation, whether it's $2 or $200. Just click on the Give Back link, and then come back and leave a comment which includes your donation confirmation number.
For a second entry, you can tweet about the contest and your donation, and encourage others to enter, too, then let me know in a second comment with the URL of your tweet. You have until midnight on March 31st, 2012 to enter. On April 1st, some lucky fool's name will be drawn (and that's no foolin'). The time to enter has been extended to April2, 2012 at Midnight. On April 3rd, some lucky person's name will be drawn. The pool is tiny, so you have an excellent chance to win, and support a great cause.
In the meantime, click through to the next page for a recipe adapted from My New Orleans: The Cookbook
for Stuffed Artichokes with Crabmeat and Shrimp, a dish Besh makes for St. Joseph's Day (March 19th) celebrations.