Pierre Maspero's Oyster Po'Boy with Spinach and Artichoke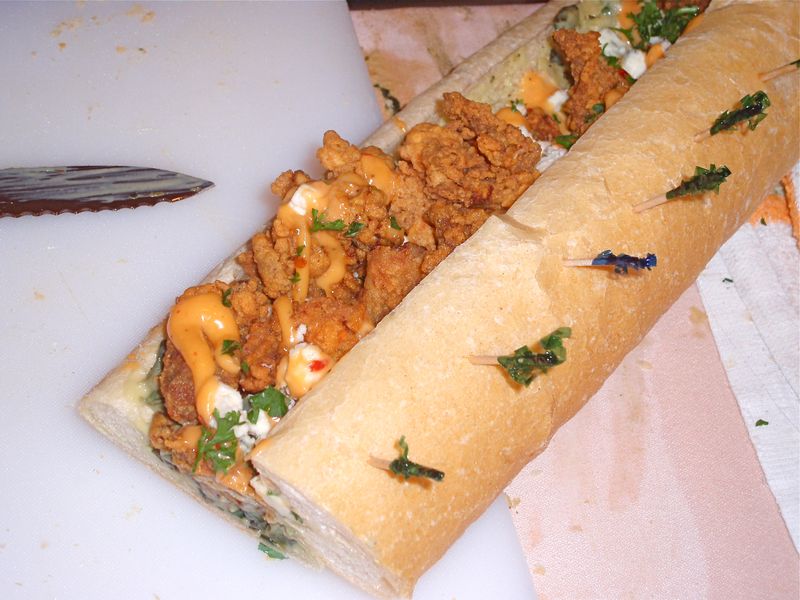 Oyster Po'boy with Spinach and Artichoke
Saturday's lunch at IFBC NOLA brought  yet another huge spread- well, no surprise… we were in New Orleans and at a food blogging conference. There was so much, I (unfortunately) had to make choices about what to taste and what to pass up. The Crawfish Slider Cakes (pictured below) were certainly worthy of an honorable mention, and while it all looked amazing, the stand out for me was the Oyster with Spinach and Artichoke Po'Boy from Pierre Maspero's.
Now, you can get oyster po'boys all over the greater New Orleans area, but this one was an over the top, decadent po'boy on steroids. It had not only a creamy mix of spinach and artichokes slathered on the French loaf, but was finished with a Thai aioli and blue cheese crumbles. Yep, now that's decadent.
I was so taken with it that decided to give Pierre Maspero's a shot for lunch on the Monday after the conference. I'm glad I did. Located on the corner of St. Louis and Charters Street in the French Quarter, the restaurant is housed in an old coffee house (and slave) exchange built in the 1780's (now there's something you'll never find in L.A.), where reputedly pirate brothers Jean and Pierre Lafitte met to plan their escapades. Not all of them were wicked, though. It's reportedly the site where they met with Andrew Jackson to plan the defense of New Orleans in the War of 1812's decisive battle.
I ordered Crab Cakes for lunch (also pictured below), usually a dish that disappoints at restaurants, but these were worthy. I spied Carol, the manager, who I had briefly met on Saturday, walking from the kitchen to the bar. She was carrying a sample of a "new" dish they were planning to add to the menu, for the staff to sample. I went over to say hello before I left. "Stuffed Pork Chops", she told me. "We're focusing on bringing back some of the old time dishes".
"Ah yes, I remember my mother making them when I was a child," I told her.
"Please come back and see us again when you're in New Orleans" she said, as I ran off to meet with Susan Spicer at Bayona.
Lucky for us, btw, Carol was gracious enough to share the recipe for the Po' Boys, so get your hands on some Louisiana oysters and make this one soon! Oh, and you'll need some sweet French bread with a thin crispy exterior, and a soft fluffy interior-no chewy, textured sourdough for this. Continue to the next page for the recipe…