Mom's Seven Layer Spinach Salad – First in an Occasional Series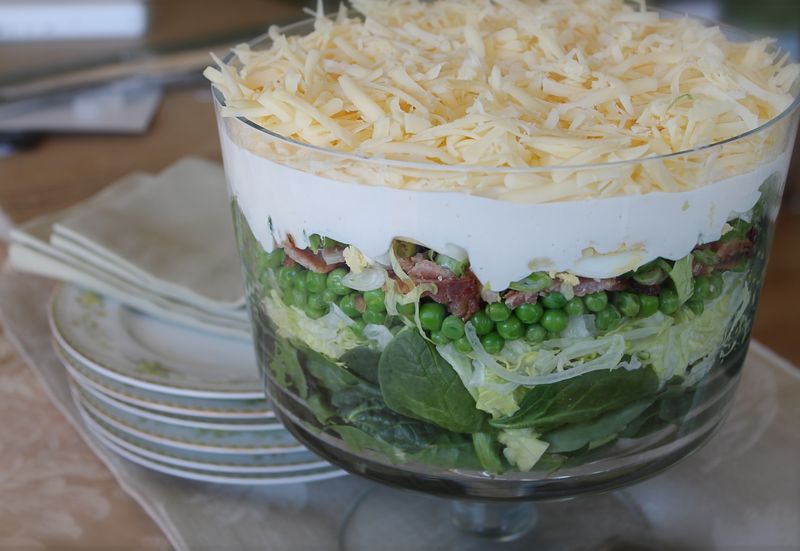 My family moved to Los Angeles from New Orleans when I was 6 years old. While all of my father's family remained in New Orleans, my mother was the last member of hers to make the move westward. It was the late 1950's, before the coming culinary explosion in America, and way before that culinary explosion began modifying New Orleans' very codified cuisine.
My father was the one primarily responsible for cooking our family's holiday meals, which meant mostly the traditional Creole food that he and my mother grew up eating. On the other hand, my mother, the every day cook, was the one who eagerly explored the new culinary world we found when we arrived in Los Angeles. Fish Fridays often became pizza Fridays. She discovered the Jewish deli, and developed a fondness for items like cheesecake and blintzes. We visited Chinese restaurants, although in those days they were primarily of the egg foo young and chow mein variety.
And for our weekly family meals, she was an inveterate clipper of recipes, mostly from the L.A. Times. She created a couple of systems to store them-one consisted of manila folders whose sides were stapled to make large pockets-and the other a series of bound notebooks. Each folder and notebook was labeled according to category – Salads, Chicken, Desserts, Party Food, etc. – one curiously labeled Oriental and Polynesian, a designation that died when, by the early 70's we became much more ethnic food savvy.
The recipe clipping fell to the wayside some time in my teenage years. By that time, I had become consumed with recipe reading and cooking myself, and she grew a bit tired of cooking every day. Occasionally, in later years, I would call and ask her for a recipe, but for the most part, the folders and binders remained in cabinets and on shelves in the kitchen, a culinary moment frozen in time. Now that she is gone, I find myself browsing through the mostly forgotten clippings. Some of the tried and true favorite recipes have disappeared (or at least I haven't found them yet), and some I had completely forgotten, but was glad to be reintroduced to, as they came flooding back to me while searching through the clippings. Some are interesting records of a dining style I don't really care to revisit, some, I am curious to see how well they'll hold up to my more sophisticated tastes, and others are timeless.
Today, I am beginning an occasional series, to run through the rest of the year, of food and recipes my mother introduced me to, beginning with this Seven Layer Spinach Salad.
This dish became one of a couple of her go-to favorites for our annual extended family Christmas Eve celebrations.
I haven't found the original recipe as of yet, but my Uncle Reiss, who Mom gave the recipe to at one point, helped me to recreate it. He asked her to share it so that he could bring it to a potluck. When he put the salad on the potluck table, he told me, people stopped eating all the other dishes, and dug into this one.
BTW, in later years when several members of the family stopped eating bacon, Mom replaced that layer with sliced mushrooms.

Seven Layer Spinach Salad
Layer in a clear glass bowl (as you can see, I used a trifle dish), as it makes a lovely presentation. You may have to adjust the amount and proportion of ingredients to fit your bowl.

5-6 ounces baby spinach leaves (if you used larger leaves, they should be torn a bit)


5 hard boiled eggs, sliced 

1 pound of cooked bacon,

crumbled

1 small-medium head iceberg lettuce,

shredded

1 bunch scallions, chopped ( about 3/4 cups)

10 ounces frozen peas


1 1/2 cup Jarlsberg cheese, grated
Layer the spinach, lettuce, peas (add them while still frozen), bacon, scalions, sliced eggs.

Pour the dressing over the top and gently spread with a small spatula.

Top with the grated Jarlsberg.
For the dressing:
1 1/4 cups mayonnaise

3/4 cup sour cream

Worcestershire Sauce 

Lemon juice (I used the juice of @ half a lemon)


Tabasco

Salt and freshly ground white pepper
Mix together the mayonnaise, sour cream. Add Worcestershire, lemon juice and salt and p

epper, to taste. pour over salad. 

Allow to sit in refrigerator over night or for several hours for dressing to seep down  through the salad somewhat.

Top the salad with the grated Jarlsberg.
Yiled: @ 8-10 servings
This post is being entered into a Jarlsberg USA/Eat Write Retreat "special memory" contest. Jarlsberg USA is a sponsor of Eat Write Retreat, and at times, a sponsor of the LA2LAChef, author of this blog. Jarlsberg also played a starring role in the last Mother's Day my family and I spent with Mom. Please check out the menu and recipes we served then:
Mother's Day Brunch and Shiitake Stuffed Baked French Toast
Summer Garden Parties- Two Vegetable Frittatas Using Summer's Bounty
More Summer Garden Party-Simple Canapés
More Summer Garden Party Bites-Jarlsberg and Hazelnut Biscuits with Black Forest Ham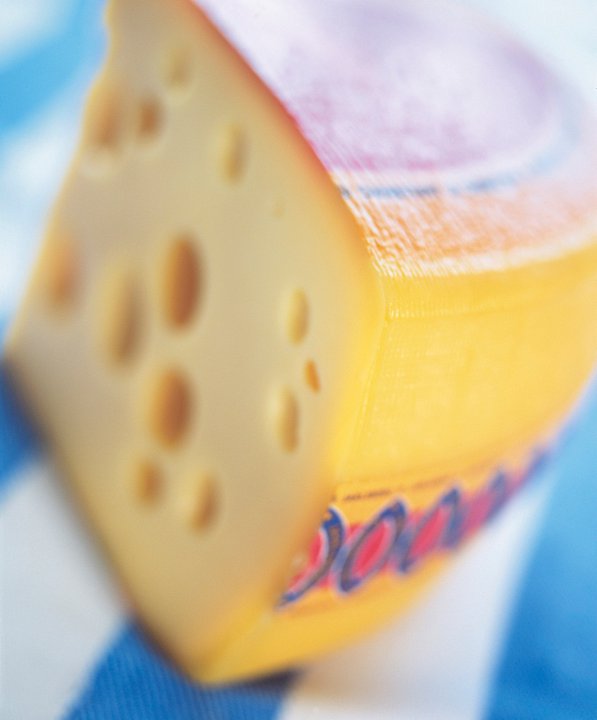 Save