Top Catering and Wedding Trends for 2012- Part 1
I thought I'd share some trends for 2012 predicted by catering and event planning professionals before January is over (it's still the beginning of the year, right?). Some of the trends are tried and true returnees from the past couple of years, while some represent an evolution- after all, trends grow, gaining steam as they travel across the country.  Some are elements we've offered for a good while at Small Pleasures, and others we hope to have the opportunity to implement more and more in our party planning this coming year.
BTW, we've presented general catering trends and added a few that are specific wedding trends. Obviously, there's a lot of cross over.
 So here they are:
Catering Trends
Small Plates and Rustic Fare– this is also a trend for weddings, and I say thank God!. While there's still a need and desire for the plated sit down dinner (at Small Pleasures we've always found that a bit stuffy), the trend towards requests for a 5 or 6 course small plate dinner has clearly arrived. I've always preferred this style of dining. It allows for tasting a larger variety of flavor packed bites. And if the food is honest, homey food- all the better. Hint- Southern Cuisine isn't going away. In fact, Bon Appetit Magazine just dubbed the South "America's New Food Capital", and, of course, Mediterranean food which never goes out of style in So Cal.
And in the small plates vein, classic as well as non-traditional flavors, are being served as shots, shooters, spoons, pops, balls and pick ups and other sundry mini-vessels.
Speaking of non-traditional vessels, Mason Jars are showing up everywhere holding everything from salads to creamy and custardy desserts.
Sliders are evolving -they're no longer burgers, but short ribs, duck confit, ahi tuna, pulled pork and Cuban sandwiches are the go-to's, and "grilled cheese is the new burger" according to one trade publication.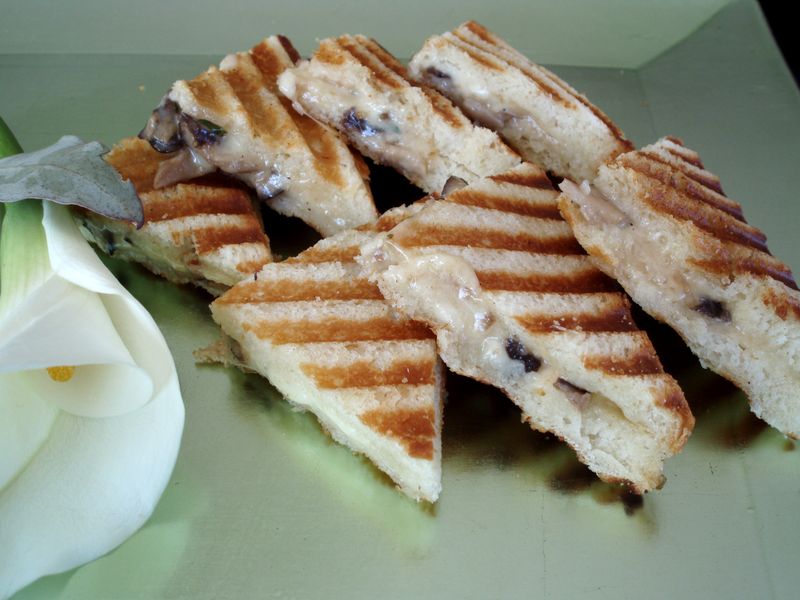 Mini Grilled Cheese and Shiitake Mushroom Sandwiches
Braised Dishes– comforting slow-cooked braises of lamb shanks, short ribs of beef and duck offer an ease of cooking, as they can be started in a caterer's prep kitchen and finished on site, and in many ways produce a better end product. They can stand up well to being held in a steamy chafing dish or heating cabinet for longer than food items cooked by other processes. And who doesn't love a comforting braised dish, which leads us to the next trend.
The trend over the past couple of years towards Comfort Food is still big, but the new trend is they are served in mini versions, and with a twist. Some caterers are serving Mac n' Cheese with Duck Confit in mini ramekins or stews ( i.e. braised dishes) in individual puff pastry shells.
And Chicken is still a very popular protein choice, but now it's served with exciting new sauces and spicy salsas and glazes. Think a medley of mushrooms with Dijon mustard, smoky and spicy mango salsas, Port wine tangerine or Thai chile glazes and marinades.
Artisanal Products-we understand this in So Cal. Hand-crafted, small batch cheeses, jams, vinegars, breads, beers- you name it, everyone wants them now.
Interactive Food Stations are big- paella (which we love, and if I do say so myself, make a jammin' version of) and Mediterranean style fish soups cooked to order.
Check back next time for a look at dessert, beverage and décor trends.
And here are some related posts you may want to check out:

A Lovely Early Springtime Menu to Celebrate a Milestone Birthday
A Tropical Themed Party for a Warm Summer Evening
 Paella and Tapas for a Milestone Birthday
Comfort Food Buffets for the Holidays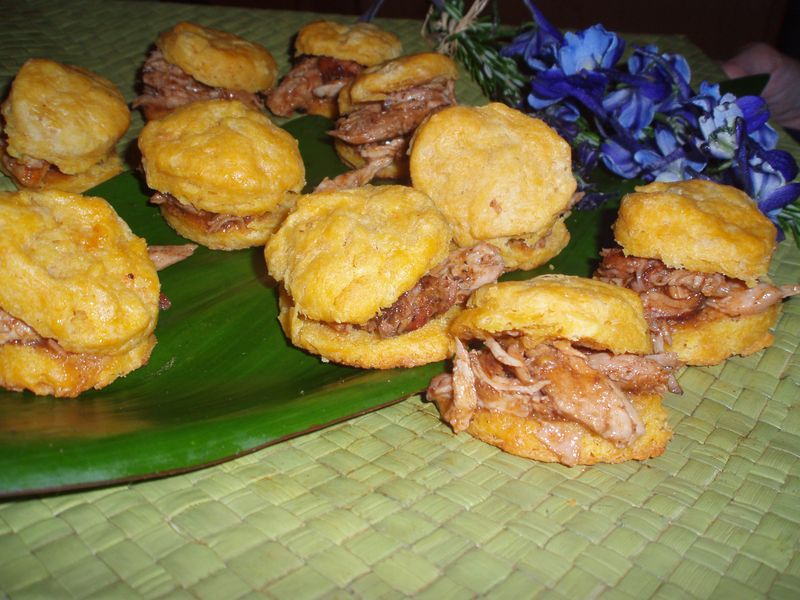 Pulled Pork in Southern BBQ Sauce on Sweet Potato Biscuits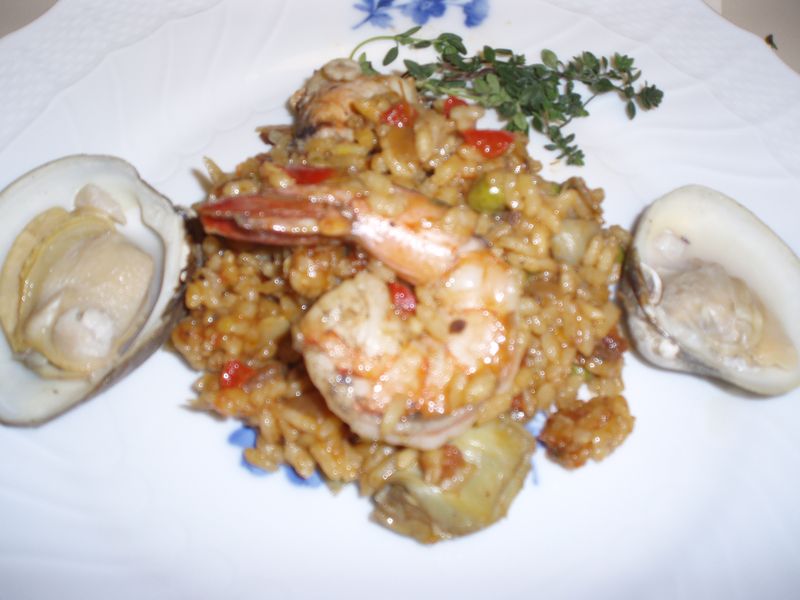 Paella