Looking Back at 2011 in Gratitude
In spite of the many difficult things this year brought, there was still so much to be grateful for, a loving and supportive family being the most important.
And as I look back, there are also many to thank in the realm of food blogging, and over the next few posts, I'll be sharing more about them, along with recipes, but for now, here are the people and happenings making it on to my gratitude list for 2011.
1. I am truly grateful to Ronnie Campbell and Jarlsberg USA for their continued support. In the spring, Ronnie commissioned me to work on a Summer Garden Party menu featuring Jarlsberg. I invite you to view the entire menu, and test some of the tasty results like Jarlsberg Vegetable Canapés, Jarlsberg Stuffed Shrimp Cakes and great Summer Vegetable Frittatas for yourself. As always, Ronnie was a delight to partner with.
2. And speaking of Jarlsberg USA and delight, I was overjoyed that they sponsored me to attend the International Food Blogger's Conference in New Orleans at the end of August. I had intended to post a series reporting back on the trip shortly after returning to L.A., but life intervened. It was a fabulous time, however, and the series, albeit a bit delayed, is still coming-kicking off soon with a great interview with Ti Adelaide Martin, general manager of the legendary Commander's Palace in New Orleans. So please check back.
BTW, Ronnie sent me this great Jarlsberg T-shirt to wear at the conference. It captured many an eye, as you can see the burgers are rather prominently featured. Ronnie's response- "well, you will be around the corner from Bourbon Street."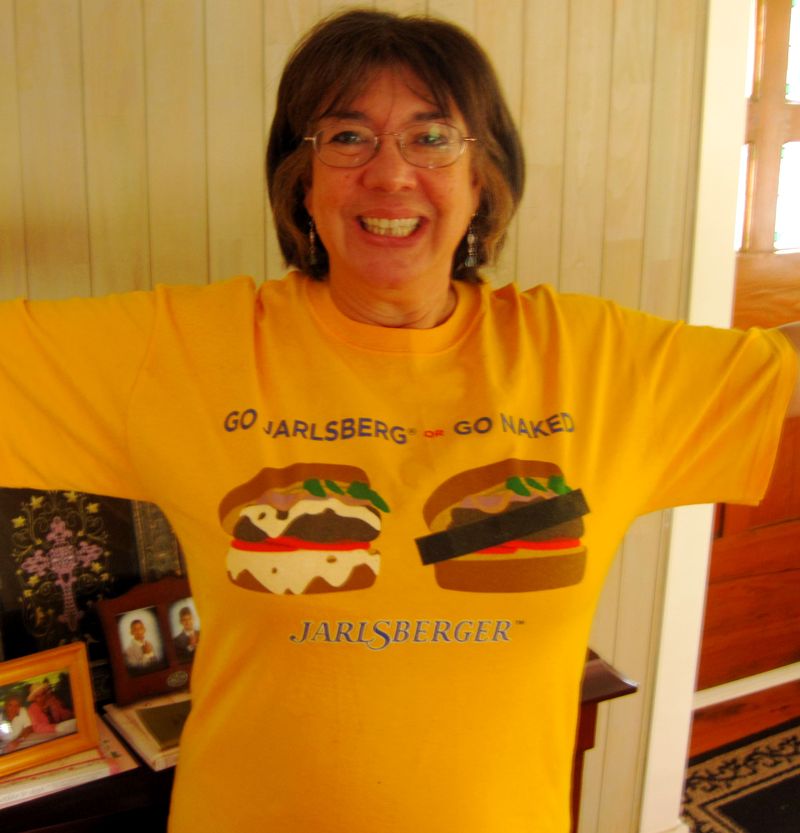 3. While I'm remembering sponsors, I have to thank Lindsay Olives for sponsoring me to attend Camp Blogaway last May. They sent a case of their Black Olives and their wonderful new Lindsay Green Naturals for me to play with. Take a look at the Fiesta Cheesy Olive Spoon Bread and the Chicken PIccadillo Chiles Rellenos I created using them.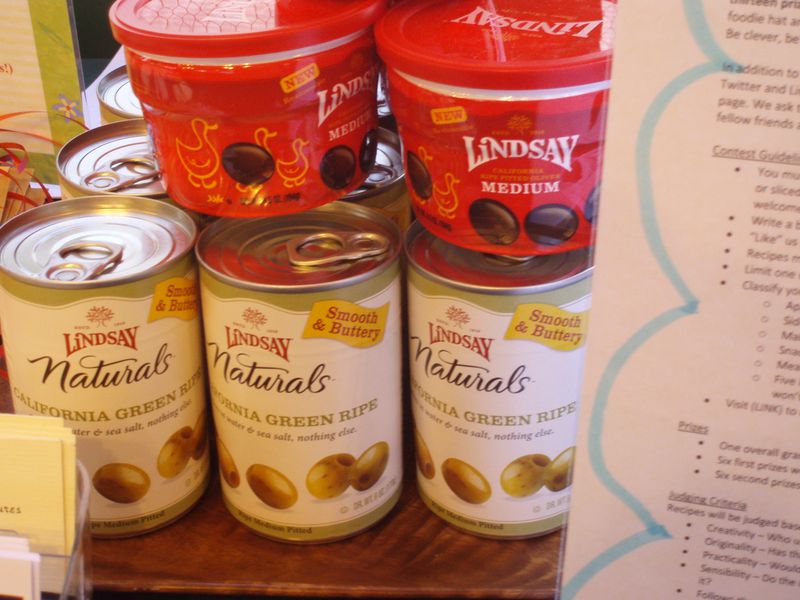 4. More opportunities came to create featured menus when the lovely Barbara Blake invited me to create menus to feature at her website, Smooth Jazz Sunday Brunch, including a Summer Sonoma Winery Picnic Brunch, and at and At Home for the Holidays Brunch featuring yummy Cheese Blintzes with Chunky Apple Compote, Shiitake Stuffed French Toast and Spiced Pumpkin Waffles.
5. Speaking of summer and wine, there were many sponsoring companies that allowed me to revive a much beloved summer tradition in my household-the Rosé Fest, my tribute to pink wines. Big thanks to all the wineries (please check out the list at the Rosé post) that contributed their delicious fruits of the vine, and to Melissa's Produce, the California Fig Board and Creminelli Meats for sharing product that I was able to use in creating tasty and properly rustic summery dishes to accompany blush wines. BTW, Creminelli has generously offered one of their custom salume products-one traditionally served at New Year's for luck-to give to a lucky reader at my very first blog giveaway. So please check back next post to enter the contest.
6. Okay-this company is one I should have thanked last year, but their gift to me lasted well into 2011. Albert Uster Imports sent me a surprise chocolate goody each month for a year. Not too good for the waistline, but oh, soooo yummy. You can check out a few of the treats at my Valentine's Day post.
 7. I'm grateful to Ballantine's PR for inviting me to dine and get away at two of the fabulous resorts they represent-Coast Restaurant at the Canary Hotel in Santa Barbara, and the Portola Hotel in Monterey. Because of the turmoil in my life this fall, I have not been able to tell you about the Portola Hotel yet, but I promise I will soon. Hint-if you're a beer lover, you must check back for that.
 8. I am truly grateful for the food blogging community, for all the wonderful fellow bloggers I met at IFBC in New Orleans, for the old and new friends I spent a weekend communing with at Camp Blogaway in Big Bear, and for our local Food Bloggers Los Angeles community. You've all been a uniquely supportive and nurturing bunch that I am proud to be a part of. 
And last, but certainly not least, a BIG THANKS to all of you, who continue to check in and read my blog, even when I'm not too regular about posting (I commit to being better in 2012), and giving me your feedback through the comments you leave. And don't forget- next week I'll be doing my first giveaway contest. So come back and leave a comment!
Bon Appetit!