Crabmeat Gratin-A New Orleans Classic with a Jarlsberg Twist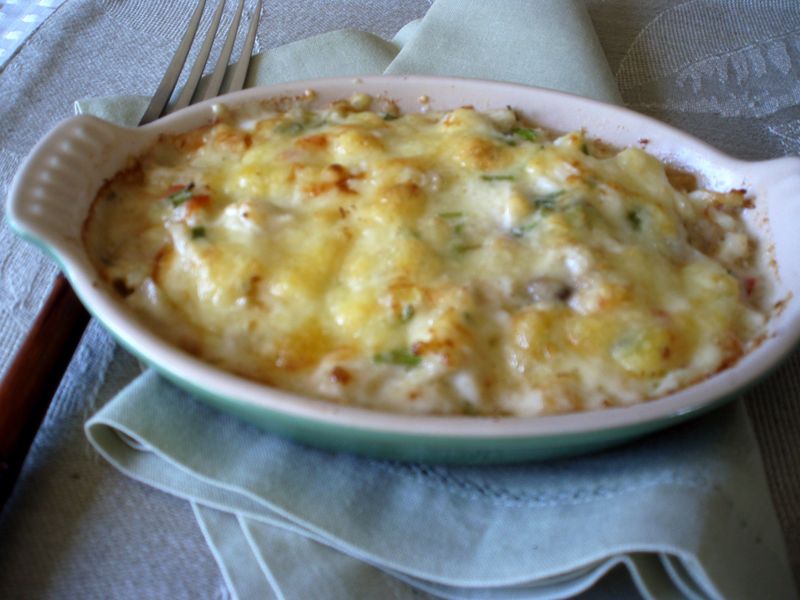 Crabmeat Gratin with Jarlsberg
I am so grateful to Jarlsberg USA , who as I mentioned in my last post, made my August trip to New Orleans and the International Food Bloggers Conference held there possible. I've recreated this classic dish, found in many venerable New Orleans restaurants, with Jarlsberg as my tribute of thanks. It's a great dish-a bit rich, but it's only a small serving, so feel free to indulge. I recommend it as a first course for a fancy sit down holiday dinner-like the French (and still observed in some restaurants and quarters of New Orleans) December holiday réveillon (from the word réveil-meaning "waking"-the late and long meals served on Christmas and New Year's Eves) dinner. And by the way, It happens to go great with Champagne.
Enjoy!
Crabmeat Gratin with Mushrooms
1/2 cup scallions, thinly sliced

1/4 cup celery,finely diced

2 tablespoons red bell pepper, finely diced
2 tablespoons parsley, chopped
4-6 tablespoons unsalted butter, plus additional butter for dotting top of gratin
1/4 cup flour
2 tablespoons sherry or brandy
1 cup half and half
A pinch of cayenne and salt to taste

8 button mushrooms, sliced

1 pound crabmeat, picked over to remove bits of shell 
2 cups Jarlsberg, grated
2 tablespoons Parmesan, grated
Yield 6 servings
Preheat oven to 400 degrees.
1. Heat half of the butter in a large sauté pan until it's bubbling, then add the celery and bell pepper. Cook them until they are wilted, 2-3 minutes. Add the scallions and cook for another minute. Sprinkle the flour over the vegetables and stir. Cook about 2 minutes more, then stir in the sherry. Stir in half and half whisking continually until it's all absorbed. Lower the heat and simmer for about 5 minutes more, until the raw flour taste is gone. If the mixture is too thick, you may stir in a little more half and half. Stir in cayenne and salt to taste. Remove the sauce from the heat and set it aside.
2. Sauté the mushrooms in the remaining butter. Add the crabmeat to the mushrooms to warm and reduce a bit until any residual liquid is evaporated. Stir in the parsley, then fold the crabmeat mixture into the sauce.
3. Divide the mixture among 6 buttered individual gratin dishes (I used these lovely 6 ounce teal colored Le Creuset). Sprinkle with the Jarlsberg and Parmesam, dot with butter and bake until bubbling and brown, about 7 or 8 minutes. Serve immediately.