Keeping Cool on St. Anthony Street, New Orleans Sno' Balls and Pineapple Sherbet
Many of my childhood summer vacations were spent in New Orleans – the city my family left when I was 6 years old – visiting my father's family. All of my mother's family had already moved to Los Angeles. When I asked her why they left, she responded "I was the last one in my family to go."
We stayed between the two houses my grandfather built next door to each other almost 100 years ago in the Creole section of the city. My Aunt Leticia and her family lived in one, and my unmarried aunt, Nanny Marion lived in the other.
Aunt Leticia married the boy across the street, my Uncle JuJune, and after their wedding he moved into the house where she had grown up. Uncle JuJune's sister stayed in his childhood home with her family, so in the evenings – after washing the dishes – Aunt Leticia would sit on the front porch, cooling off with a glass of lemonade and talking across the street with her sister in law and the other neighbors.
Aunt Leticia spent most of her days cleaning, and cooking for her family, and any other of my uncles and cousins who might drop by. Her only regular outings were to 6 A.M. Mass at Corpus Christi Church on Sunday mornings and the Saturday trips to Schwegmann's, the big new supermarket on Airline Highway. She'd get dressed up, and Uncle JuJune would pile all of us kids in the back of the car and off we'd go.
When the California cousins were visiting, Sundays brought a large gathering of extended family for supper in the big unpaved yard between the two houses. There were huge feasts of gumbo, fried chicken, ham and potato salad, with ice cold watermelon to finish.
Summers in New Orleans were steamy enough to immediately fog up my glasses when I stepped outside the air conditioned houses, but there were plenty of treats to keep us cool. Sodas were delivered by the crate load to Aunt Leticia's house, the way that bottles of milk were delivered to our house in Los Angeles. Nehi, in orange, grape and strawberry flavors, Barq's root beer and of course, Coca Cola, which flowed at meals there like wine does in the French countryside. In Los Angeles, sodas were a holiday-only treat in the household headed by my dentist father. There was also a neighborhood specialty called huckabucks, a fruity punch mixture frozen into paper cups, sold by one of the neighbors, and the ubiquitous NOLA specialty, snow balls, paper cones filled with shaved ice and topped with sticky sweet syrups- my favorite was bright red strawberry, but sometimes I'd go for a half and half with spearmint. And Aunt Leticia made a pineapple sherbet that my mother still longs for to this day. Unfortunately, none of my cousins learned to make their mother's sherbet, but I decided to try my hand this summer. I think I came up with a very good sherbet. I hope Aunt Leticia would be pleased with my results. 
Although it didn't seem quite as steamy as I remembered those childhood summers on this trip (New Orleans has been experiencing a bit of a dry year), it was still very hot. So when I noticed a snow ball shop around the corner from my cousin's Linda house, I knew I had to stop by and pick one up-strawberry and spearmint, of course.
OH- and if you want to try the pineapple sherbet recipe, the recipe can be found on the next page…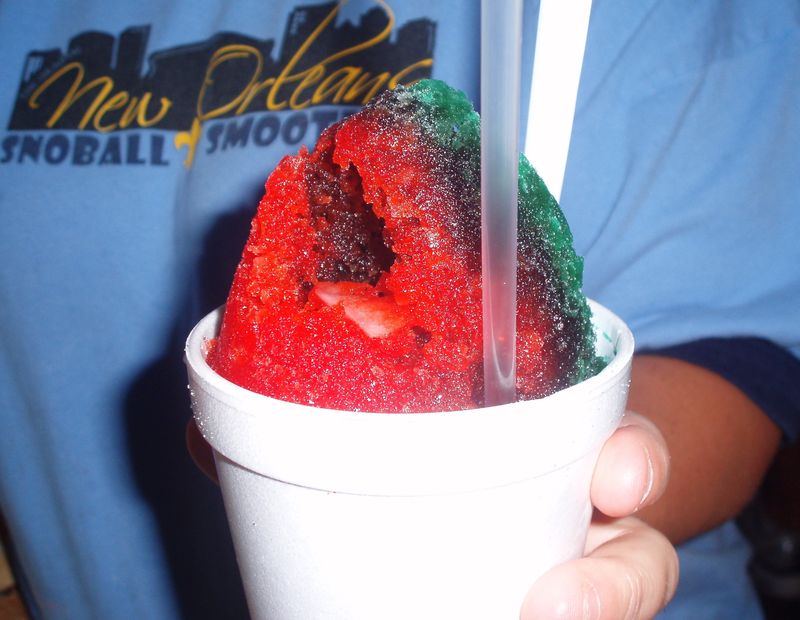 New Orleans Sno' Ball
Old Fashioned Pineapple Sherbet
 3½ cups crushed canned pineapple packed in juice, along with the juice

 5 ounces sweetened condensed milk

 1 teaspoon freshly squeezed lemon juice or more to taste

 2 egg whites

 1 pinch salt
Combine pineapple, sweetened condensed milk and lemon juice in a bowl and chill in the refrigerator for several hours, or overnight. 

In a separate bowl, beat the egg whites with a pinch of salt. 

Take the chilled mixture from the refrigerator and fold in the beaten egg whites in 3 additions. 

Freeze in an ice cream maker according to your machine's directions. The sherbet will be soft. It may be served as is, or placed in a freezer to freeze harder.
Yield: 6-8 Servings