Impressions on August 29th Six Years Later- and Quinoa Salad
Today, August 29th, is the 6th anniversary of the flood. I awoke to the haze and smell of smoke over New Orleans- a smell I am used to during fire season in Los Angels, but not here. "Something's burning," I said to someone I passed this morning. "A fire on the marsh," she replied.
As I drove along the highway, I heard an announcement on WWNO, New Orleans' NPR station, that the city has been selected as the only American city to receive KIVA loans, normally given to aspiring entrepreneurs in developing nations. Well, I think, New Orleans is like a developing nation, in many ways.
I mentioned Saturday to Poppy Tooker that each time I've visited to New Orleans, post- Katrina, that I've picked up a different mood in the city. During the Carnival season of 2006, the first after the flood, there was jubilance as refugees from the storm streamed back into the city. A year later, there was a palpable heaviness across the city, as returnees squarely faced the daily difficult tasks of rebuilding and restoring their lives, and I heard many discussing their Katrina stories then. I didn't hear many more of those stories in the following years, until now. I am hearing Katrina stories from everyone on this visit. "Well it's the 6th anniversary, and on the same day of the week," Poppy said, "talk about post-traumatic stress- that's a hell of a stresser." And so it is.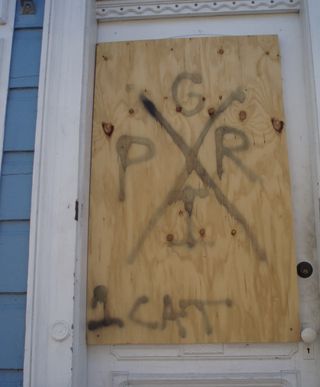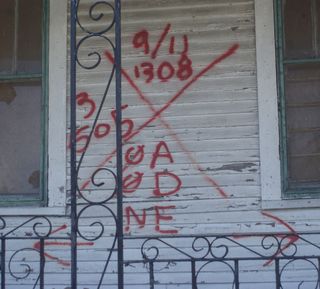 Driving around the city, I still pass boarded up house, and even some that still bear the post-flood spray painted house markings, but most who are back are feeling bullish about New Orleans-that is if you don't live in the Lower 9th or New Orleans East, or happen to drive through the neighborhood of my birth, the 7th Ward, where so few have returned. Of course, not many drive through there either.
I am joining a few friends this afternoon- sort of an open house meet up at Satsuma-a bohemian type café in the Bywater neighborhood serving the sort of food one doesn't normally associate with New Orleans. Among them, Christopher Porche-West, a photographer with New Orleans roots who, like my youngest brother, Eric, was born in Southern California, but returned to live here in the city of his ancestors. Christopher documents with his camera, the street life of the Crescent City. Also, Jerry Williams, a friend I met when he was living in Los Angeles, but who moved back to this city of his birth after the storm to join in the recovery effort. For over 5 years, he's had an upfront seat with the political hierarchy of the city, and has been a liaison to neighborhood groups, but has had enough, and is itching now to move on. Over glasses of wine, we catch up, and chat about the serious gripes I've heard from another friend, living in New Orleans East, about how little has been done for her neighborhood.
Later, my friend Monique Gaspard filters in, and then, writer, Keith Weldon Medley. We order BLT with avocado and goat cheese sandwiches, minty quinoa salad and Thai rice noodles, while the conversation moves to the fire in a nature reserve on the edge of the city- it's been burning for about a week now, but today's shifting winds brought it to the city's attention-and New Orleans' indigenous culture. We wonder whether the influx of new arrivals who flocked to New Orleans after the storm, with grassroots visions of rebuilding the city from the ground up, are sensitive enough to it. The topics range from Louis Armstrong and second lines, to our unique racial sub-group as Creoles of color, to Valena C. Jones School, the grammar school at the heart of the 7th Ward, where my mother spent her first years as a teacher, and I, my first year as a student. Generations of our community were educated at Jones School, along with luminaries like James Weldon Johnson, whose name Keith has taken. I mentioned to Keith, whose mother also taught at the school, the shock and sadness I felt when I drove by it today. "I almost cried," I told him. "I have cried over it," he responded. The sturdy brick building was boarded up after Katrina, but now the boards have been broken off, and the windows broken, presumably to be stripped of anything valuable in its infrastructure. "Demolition by neglect," Keith said, "there's no respect for our history."
Sadly, I suppose I must accept that nothing lasts forever, and everything must change.
A huge thanks to Mirassou Winery for providing us with libations, and to Satsuma, for letting us take over their large community table, and for providing their Quinoa Salad recipe which I have adapted and included for you on the next page.
Satsuma Café's Quinoa Salad
Serves 4
2 ¼ cups quinoa to make 4 cups of cooked cups, cooled to at least room temp*

½  cups thinly sliced or shaved carrots

½ cups cooked, shelled edamame

½  cups pitted Kalamata olives

¼ cups red onion, very thinly sliced

¼ cups crumbled feta

Soy nuts

Radish Sprouts

½ cups Lemon Vinaigrette (recipe below), approximately

4 Kale chips (recipe below)

Salt and pepper to taste
1. Rinse the quinoa under cold running water in a strainer, and drain well. Add the quinoa to     a quart and a half of boiling salted water, and boil at a medium heat, partially covered     for about 17 minutes, stirring occasionally. Allow quinoa to cool uncovered for about 20     minutes, stirring occasionally to  prevent it from clumping together.
2. Add quinoa, carrots, edamame, red onions, Kalamata olives in a large mixing bowl.          With your hands, work 1/2 cup of the lemon vinaigrette into ingredients.  Add more     vinaigrette and salt and freshly ground pepper, to taste.
3. Divide mixture onto four plates and garnish with the soy nuts, feta, kale chip and sprouts.
Lemon Vinaigrette
½  cup fresh lemon juice

1 ½ cup fresh herbs, chopped (a combination of mint, basil, dill, and/or tarragon)

2 tablespoons white wine vinegar

1 cup extra virgin olive oil

Salt and freshly ground pepper to taste
1. Process the first 3 ingredients for a few seconds in the bowl of a food processor, then add      the olive oil in a steady stream. Add salt and pepper to taste.
Kale Chips
1 bunch lacinato or Tuscan kale

3 T olive oil

Salt

Cayenne
1. Rub each leaf of kale with olive oil until lightly coated. Place leaves on a baking sheet and    sprinkle with salt and cayenne. Bake in an oven preheated to 425 degrees for 12 minutes      or until kale is crisp to the touch.