Dropping by Coop's Place- and Catfish Meunière Recipe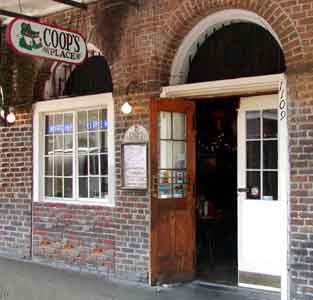 Coop's Place is nothing fancy – just a dive with great food and low prices on their wines by the glass. It's frequented by locals- the French Quarter characters one of my aunts still calls "hippies" (another friend refers to them as French Quarter rats), as well as working people from the nearby Central Business District, and tourists. I was first introduced to Coop's Place on the first post-flood Mardi Gras, where we were entertained by a nimble server snaking his way through the standing room only joint with arms stacked full of plates.
When I was last at Coop's, there was a house kitty lounging lazily on a wide window sill above me-Stella-I thought that was quite an appropriate name for a French Quarter cat. I regretted that I didn't get a pic of Stella, so was hoping to get one this time around.
I asked my waitress where she was today.
"Unfortunately" the waitress responded "some assholes around Mardi Gras (no doubt a dig at tourists) complained about her. She retired to a house down the street with a nice courtyard." I don't know, I kind of like the idea of a cat in a restaurant, I'm thinking. Keeps the rodents away, at least. Then she added "but she still shows up on Sundays sometimes, when the regulars come for brunch."
BTW, just in case you haven't figured it out yet, the servers, are part of Coop's charm-even their Website refers to the bartenders as "snarky". Although there are "Be Nice or Leave" signs in many restaurants around the city, the one at Coop's reads "Be Nice or Starve". Fortunately, I've never starved at Coop's, and this time the waitresses let me hang out most of the afternoon, taking advantage of New Orleans very enlightened free wireless policy. All of the businesses in the Quarter and the Central Business District share free wireless internet access, in fact, you can most times pick up one of their networks just sitting out on the sidewalk.
At Bayona: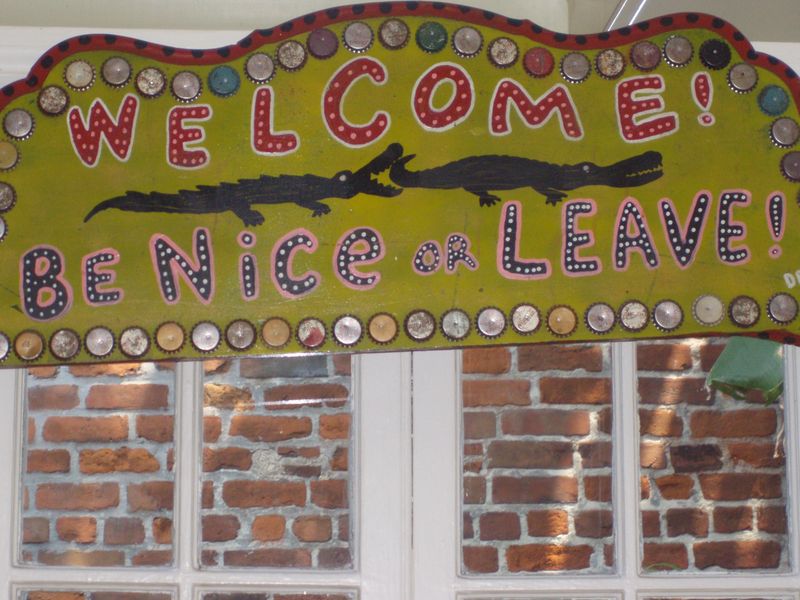 At Satsuma: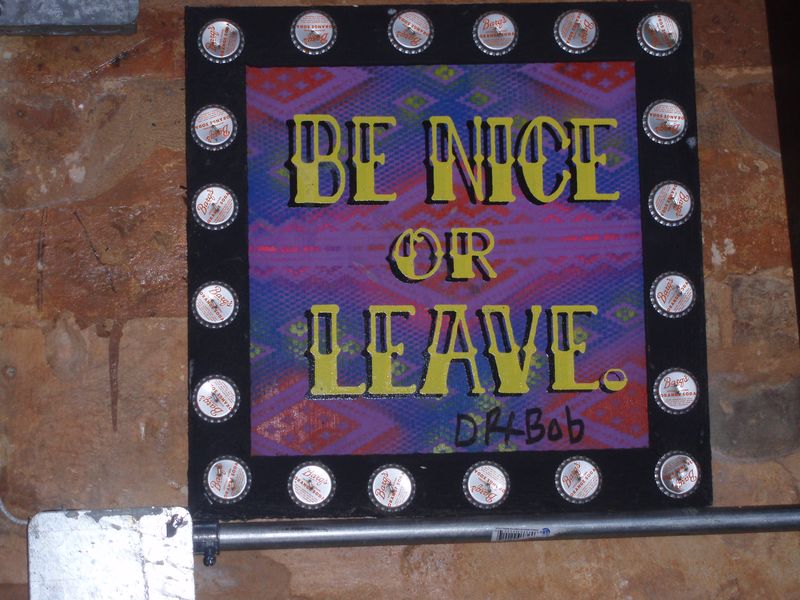 At Coop's Place: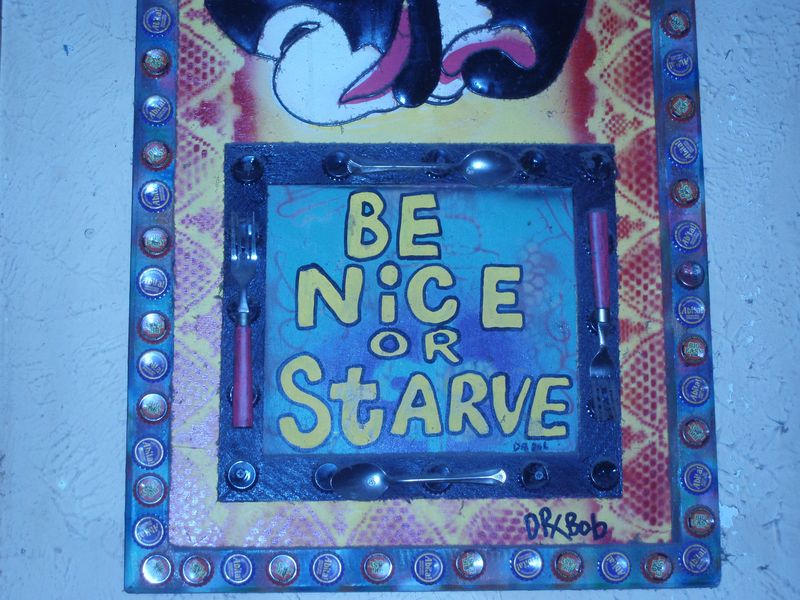 Coop's menu is full of New Orleans classics like Gumbo, Po'Boys, Shrimps Remoulade and Creole, Red Beans and Rice, Jambalaya, even old time dishes like Oxtail Stew.
I really like their great version of dish Chicken Tchoupitoulas (a Paul Prudhomme creation), a real deal still priced at $13.95, and last time had another redfish dish, but this time I went for the Redfish Meunière. Fish with Meunière Sauce is one of those dishes you see all over New Orleans, with redfish, trout, catfish, whatever fresh Gulf region fish is available. It's one of the dishes on the combo plate I always pick up at Jazz Fest. The version Coop's served me is a little heavy on the Worcestershire sauce for my taste, though, so when I returned home, I thought it was about time to try my hand at Meunière Sauce.
When I started searching through recipes, however, I realize that maybe there's a reason I've never made it before. The recipes vary widely. One is made with only seafood stock, one with beef stock, and another recommends either beef or veal stock.  Some have up to a half cup of Worcestershire sauce, and some have none. The amount of butter in each recipe varies a lot, too, and a couple are made with a roux, one with only a beurre manié to thicken it. One sautés a mirepoix first, a couple just boil the veggies with the stock, and one just skips them altogether. It's served both with pecans and without.
Ah well, this is the version I came up with for today. I used a combination of shrimp stock because I had a cup of it thawed out, and a half cup of veal stock from a concentrated base to complete the amount needed. I can see where the beef stock would be good, though, giving it that hefty depth I find so appealing in some versions of the sauce. There's always next time…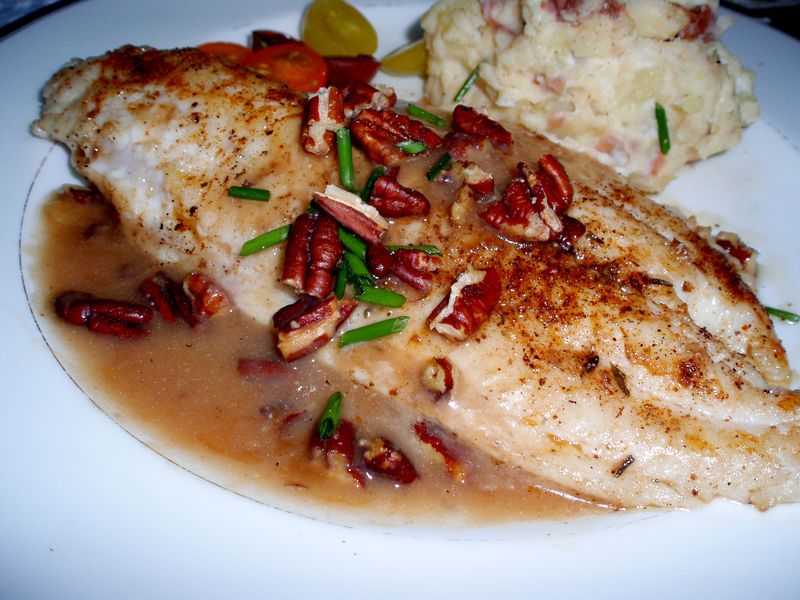 Catfish Meunière
1/2 cup onion, finely diced
                      

1/2 celery, finely diced
  

1/4 cup carrots, finely diced
  

A few sprigs of parsley

1 small bay leaf

@ 1/2 teaspoon black peppercorns, cracked

@ 6-8 tablespoons unsalted butter      

1 1/2 cup stock, either seafood, beef, veal or a combination

Juice of 1 lemon   

2 tablespoons flour  

Worcestershire sauce    

4-6 catfish filets (or trout or redfish, etc.)    

Creole Seasoning i.e.Chef Paul's Seafood Magic  

@ 1 cup toasted pecans             

                                                                                           

Chives for garnishing
 1. Heat @ 2 tablespoons butter in a sauce pan until bubbling. Add the vegetables, parsley, bay leaf and peppercorns, and sauté until they are soft.
2. Add the stock and lemon juice to the vegetables and simmer for about 10 minutes.
3. While the stock is simmering, make a roux by heating  2 tablespoons of the butter in a cast iron pan until it's sizzling, then add the flour whisking continuously until the roux is a light golden brown.
4. Add the stock to the roux whisking continuously until smooth. Add a few drops of Worcestershire. Whisk in additional butter, if desired.
5. Sprinkle the fish filets liberally with the Creole seasoning, then dredge in flour, shaking off the excess. Heat 2 tablespoons of butter in sauté pan until sizzling, then add the fish filets 2 at a time. Cook for about 5 minutes on both sides. Then serve sprinkled with toasted pecans, and sauce with the meunière. Garnish with snipped chives, if desired.