Rosé Fest 2011- Part 5 Olive Oil Cake with Sautéed Brandied Peaches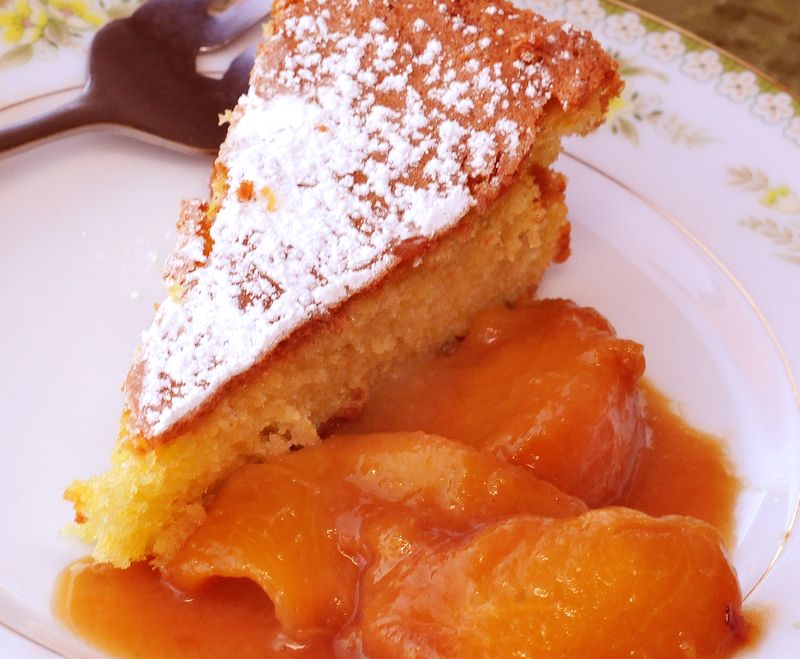 Olive Oil Cake with Sautéed Brandied Peaches
Last year a client, celebrating her 25th wedding anniversary, asked me to provide a provincial French style menu for her and her guests.
When it came to dessert, she and her husband were split in what they wanted. He wanted something chocolate, but she wanted an olive oil cake. Olive oil cake? I had vaguely heard of it, but I'll admit that it sounded strange and unappealing to me. Sometimes, however, having to accommodate a client's desire for something unfamiliar to me, turns out to be a very good thing.
So I went searching for olive oil cake recipes. Fortunately, I found a recipe of the very talented Suzanne Goin. I have to say that when it came out of the oven, I was still not convinced. The cake was unimpressive looking, to say the least, but a sprinkling of powdered sugar spruced it up.
And to resolve my client's and her husband's split desires for their autumn anniversary dinner, I served it, with sautéed brandied pears (Ms. Goin's recipe serves it with Date Syrup, but it's very versatile), on a dessert sampling plate with a slice of chocolate truffle torte (for her husband) with Burgundy wine spiced Morello cherries.
The olive oil cake turned out to be quite tasty, with a unique and comforting appeal. I've even grown fond of it as a breakfast treat with coffee, and I'm sure it would make a great afternoon snack with a cup of tea, as well.
And as I thought about desserts to serve at the Rosé Fest, an olive oil cake seemed a perfect choice for a Mediterranean style menu.
Ah, yes- but since it's the height of summer, sautéed brandied peaches adorned the cake rather than the pears.
So, if like me, you have any skepticism, I urge you to put it aside, and this cake might just become a favorite of yours, too.
Olive Oil Cake with Sautéed Brandied Peaches                                                             
– a recipe from Suzanne Goin
The couscous may sound like another weird and unappealing idea, but it adds a delightfully welcome slight crunch to the cake's texture.
1 cup all purpose flour

2 1/2 teaspoons baking powder

1/2 teaspoon coarse kosher salt

1/2 cup uncooked couscous

3/4 cup plus 2 tablespoons extra-virgin olive oil

1/4 cup sweet Muscat wine

  6 large egg yolks

3 large eggs

1 cup sugar

1 tablespoon finely grated orange peel
1. Preheat oven to 375°F. Brush 9-inch-diameter cake pan with 3-inch-high sides with olive oil. Line bottom of pan with parchment paper round; brush parchment with olive oil. Sift flour, baking powder, and salt into medium bowl. Stir in couscous. Whisk olive oil and Muscat in another medium bowl to blend.
2. Using stand mixer fitted with whisk attachment, beat egg yolks, eggs, and 1 cup sugar on high speed in large bowl until thick and pale yellow, about 7 minutes. Transfer to large wide bowl. Stir in orange peel. Using rubber spatula, gently fold in flour mixture alternately with olive oil mixture in 4 additions each (mixture may deflate slightly). Transfer batter to prepared pan. Tap pan lightly on work surface to eliminate any air bubbles.
3. Bake cake until dark brown and beginning to pull away from sides of pan and tester inserted into center comes out clean, about 45 minutes. Transfer cake to rack and cool in pan at least 30 minutes. Turn cake out onto platter (cake may fall in center).  
The cake may be made 1 day ahead. Cool completely. Cover with foil and store at room temperature.
Brandied Peaches
2 -3 large peaches, sliced

@2-3 tablespoons unsalted butter

1/4 cup sugar

1/3 cup brandy

1 tablespoon heavy cream
1. Heat butter in a large sauté pan over medium high heat until bubbling, but not brown.
2. Stir in the sliced peaches, and sauté for 2-3 minutes.
3. Add the sugar, stirring and continue sautéeing until the peaches begin to brown slightly. Remove the pan from the flame, and add the brandy. Light the brandy with a match, and shake pan slightly until the flames die down. Return the pan to the flame and stir in the cream. Remove from the heat and pour the peaches onto a baking sheet to allow them to cool.