Rosé Fest 2011-Part 3 Planked Figs with Pancetta and Blue Cheese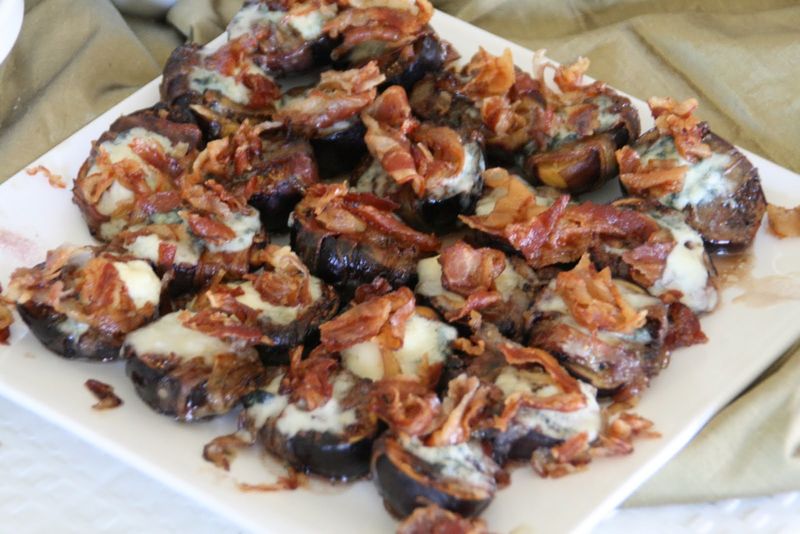 Planked Figs with Pancetta and Point Reyes Blue Cheese- Photo Courtesy of Dorothy Reinhold of ShockinglyDelicious.com
Some sort of wrapped, stuffed and grilled figs have usually found their way on to the Rosé Fest menu. After all, when I think of those Mediterranean type summer foods that should accompany Rosés, figs definitely rank high on the list.
This year, in browsing around for info on planking salmon, I ran across an interesting recipe for planked figs. That's certainly worth a try, I thought, and the try was well rewarded.
The original recipe called for goat cheese, and while I certainly am a fan of goat cheese, I absolutely love blue cheese, especially an excellent artisan blue cheese like Point Reyes, and especially when combined with bacon, so…
The recipe also originally called for sprinkling the pancetta and cheese over the figs and cooking everything on the plank at once, but if you're planning a menu for a large gathering, have several dishes to prepare and want the figs to be served fresh, hot and with the rest of the meal, I recommend planking on the grill sans cheese and additional pancetta, then finishing the dish with a quick shot under a broiler just before serving. It worked perfectly.
By the way, don't bother shopping for designer planks stamped with the name of some celebrity chef at a fancy kitchen store. I bought a long plank at a stock lumber yard, and got it cut into approximately 12 inch lengths. Even with the cutting charge, I got twice as many planks for cheaper than I would have paid at those stores, and as a bonus, the guys at the lumber yard traded tips with me about planking.
Recipe follows: