Summer Jazz Sunday Brunch Menu-Zucchini and Roasted Red Pepper Frittatta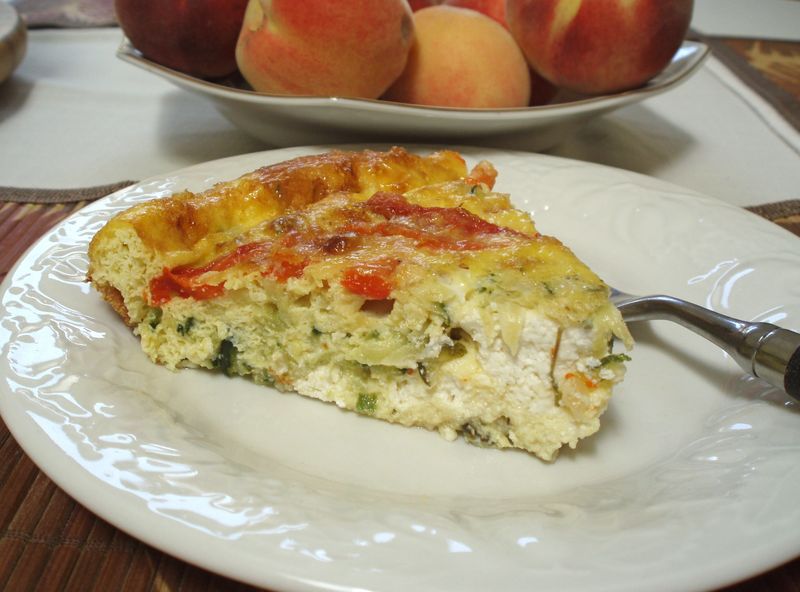 Zucchini and Roasted Pepper Frittata
2 cups grated zucchini    

1/2 cup onion, diced                                                                                 

1/2 roasted red pepper, sliced 

1 teaspoon thyme leaves

3 ounces chevre, crumbled

4 ounces Parmesan, grated

8 eggs 

1/2 cup cream 

1 tablespoon each butter and olive oil + additional butter for buttering baking dish                                                                                                                                                                                                                                 
1. Place the grated zucchini in a cotton kitchen towel, and twisting the ends of the towel and the zucchini, wring out the additional moisture.
2. Sauté the onions in the olive oil and butter until softened, then add the zucchini, sautéing about 4-5 minutes more.
3. Add the thyme leaves and roasted red peppers, just stirring in. Place the zucchini/red pepper mixture in a well buttered 9 inch glass baking dish. Then add the crumbled chevre and half the grated Parmesan.

4. Whisk together the cream and eggs. Pour them over the vegetables and cheeses. Sprinkle the remaining Parmesan over the top and place in a 350 degree oven. Bake until golden and puffy, about 30-35 minutes.

Bon appetit!
And here are a couple other Frittata recipes you may want to check out:
Two Vegetable Frittatas Using Summer's Bounty

Don't forget to visit small pleasures catering, and my other blog, pain perdu