Santa Barbara Getaway-Part 3-Spot Prawns and a Perfect Rosé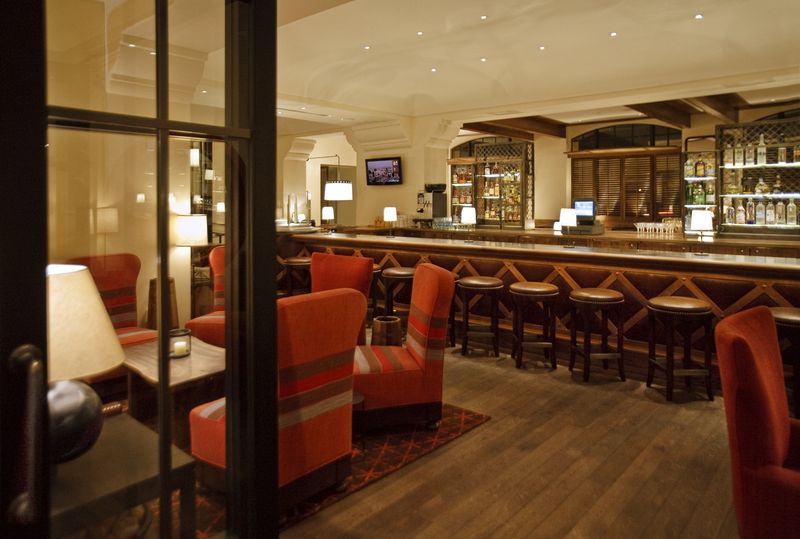 Bar at Coast Restaurant
I've invited my friend, and fellow food blogger, Mac Ledesma of Dishin in the Kitchen, to drive up from Ventura County and join me for dinner at Coast Restaurant. The traffic is backed up as I exit onto Carrillo off the 101, all the way into the intersection. As I drive around the blockage, I notice that it's a line of cars waiting for valet parking at the Canary Hotel located on Carrillo at the base of State Street-Santa Barbara's main drag-causing the back up. Fortunately for me, there's a car pulling out of a parking spot just beyond that, and free parking begins at 6 P.M. I found free parking on the street at Metropulous earlier today, too, and am impressed with parking generally in Santa Barbara.
I find out a bit later, that it's First Thursday, a night designated to celebrate the city's downtown arts and culture scene, which is adding to the bustling scene on State. There are art openings and artists' receptions, wine tastings, and live music- and, in fact, my massage therapist at the retreat center the next day tells me he participated in a drum circle there the night before.
Mac has arrived earlier and is waiting for me as I enter the warm and elegantly clubby lobby. We're greeted very warmly by the our hosts, Jennifer, Chef Brian Parks, and Laura, one of the restaurant's managers.
We're seated in the newly redesigned restaurant-a room with an open, light, and slightly more modern feel than the lobby. It was empty, we were dining early.
The Farm and Coast to Table menu is divided into two columns- the first, a listing of dishes offered this evening, and the second lists the local farmers and purveyors who supply the restaurant. I notice some of the local farmers with whom I shop at the Santa Monica farmers market- most notably Regier Farms, which sells the most wonderful peaches.
There's also a local wine being featured for the evening (Brander Sauvignon Blanc), but it wasn't long before I spotted the Rosé- Deep Sea Sea Flower Dry Rosé from Conway Family Wines- a completely new one to me.
"Good choice," Gary Lind, one of the restaurant manger's says, as he pours the beautiful, fuchsia colored elixir. "We tasted several in our selection process, but this one, it's perfect. Everything a Rosé should be."
I agree- it's hugely refreshing, like a crisp white wine, but with the full bodied fruit of a hefty red, ironically, because I look this wine up later, and find out it's made from two white wine varietals (mostly Chardonnay with a bit of Viognier). Whatever- I'm happy!
Mac and I chatted, catching up (we hadn't seen each other since the LA Helps LA event last October), and perusing the menu, as the server placed an amuse-bouche of those Regier Farms White Peaches, with Thai Basil and Cerignola Olives before us. I'm not generally a fan of white peaches. I prefer the balancing acidity present in yellow peaches, but somehow the spicy basil and the olives (who knew!), gives them the contrast they need.
It wasn't long before we both hit on the fact that spot prawns (a coastal delicacy unique to So Cal) from Ocean Pearl, a local purveyor, was a featured listing among the local products.
"Ooh, can we get some spot prawns," we ask our server.
"I'm not sure they're in season" he responds.
"When are they in season," Mac asks. "I'll come back when you do have them."
He came back a few minutes later. "Good news- we just got some in today, and the chef would be happy to make you an appetizer with them." How lucky are we?
A few minutes later, he presented us with a platter of Spot Prawns tucked into a bed of Wild Arugula with Sliced Plums and garnished with Smoked Pepitas, an unusual, yet simple presentation that allowed the prawns to shine.
Mac and I continued to dine leisurely on Kampachi Crudo, and Green Bean Salad, King Salmon, and Halibut with Oyster Mushrooms and Red Rose Potatoes. We returned to the Regier Farm Peaches (yellow this time) to end our meal with a luscious Roasted Peach Tart with Caramel and Fleur de Sel. Chef Parks sent out a jar of pickled vegetables (canned in house and served as complimentary snacks at the bar) for each of us, as a parting gift.
The restaurant was full now, and the noise level had risen considerably, but not to worry. There were a couple other great spots for finishing our conversation- that great lobby with the comfy sofas, or private alcoves with roomy wooden banquettes just off the bar.
All in all, I'd say I just may have to make another trip soon up to Coast- maybe for one of those Monday night wine tastings on their rooftop terrace…
Coast Restaurant
31 West Carrillo Street   
Santa Barbara, CA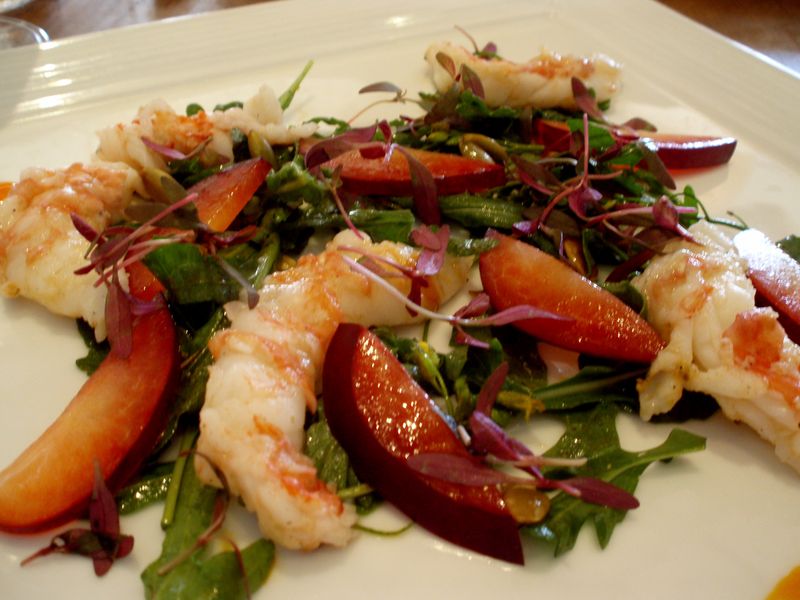 Santa Barbara Spot Prawns with Wild Arugula and Plums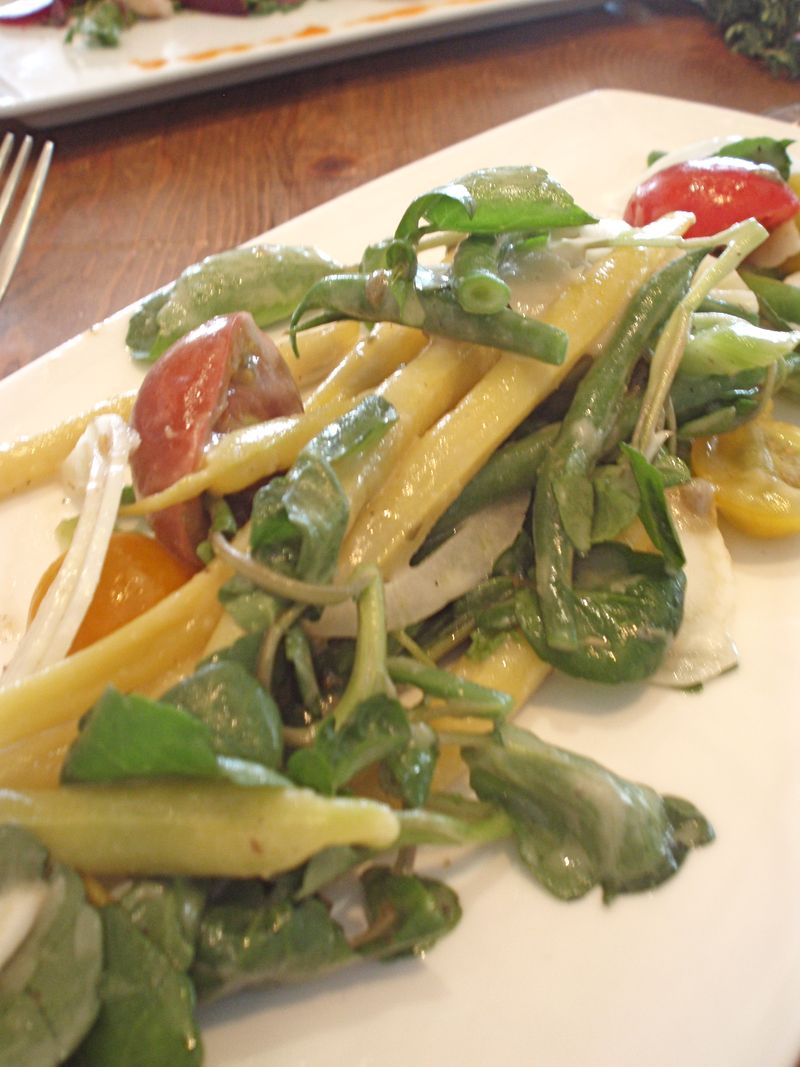 Green Bean Salad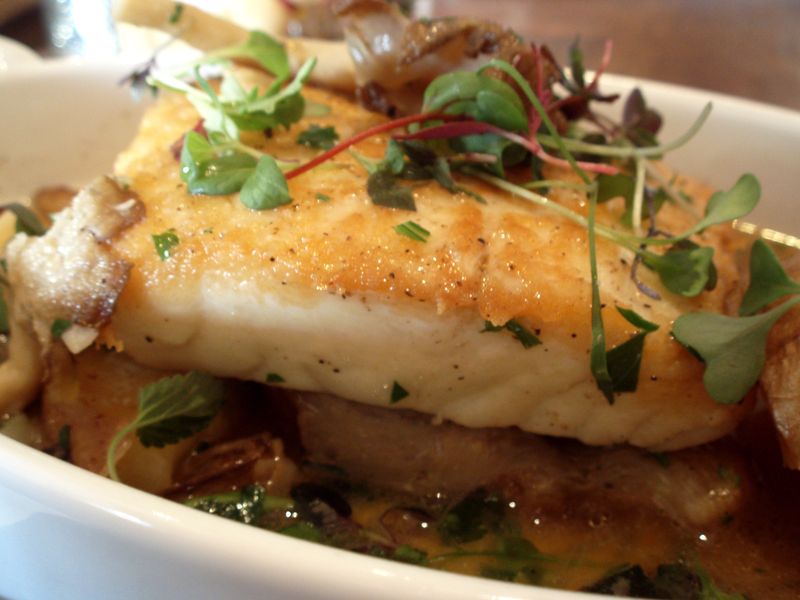 Halibut with King Oyster Mushrooms and Red Rose Potatoes
Thanks so much  to Coast Restaurant for inviting me to dinner.