Santa Barbara Getaway- Part 1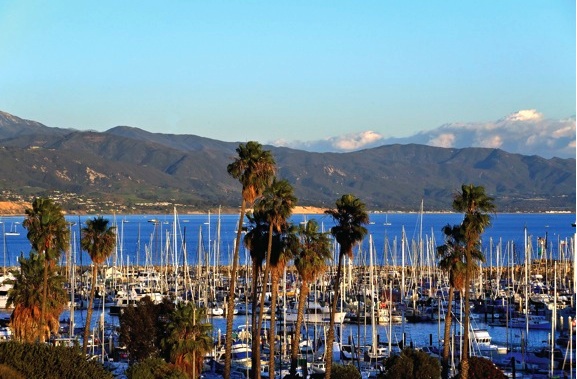 Photo courtesy of Jay Sinclair
Driving up the Santa Barbara coast used to be a mainstay for me-something I did a couple of times a year to get away from L.A.
I'd go to the wine country area of Los Olivos/Solvang/Buellton, or on private retreat at a spiritual center in the foothills of Montecito, the very tony little town immediately south of the city. The center abuts the very expensive San Ysidro Ranch, where celebs (John and Jackie Kennedy famously spent their honeymoon there) spend over 10 times what I pay to stay at the center.
Rising gas prices, economic downturns and the various pressures of life have kept me from my trips these past couple of years, but those various pressures of life have also been building, and my inner voice has been screaming at me to get on the road. So when I was invited by the Canary Hotel, Santa Barbara's hottest new resort hotel, to dine at their newly revised Coast Restaurant, I jumped at the chance to turn this into my much needed mini vacation.
And wouldn't you know it-I hadn't been on the road long before my thoughts became more hopeful, more intentional. I'm always awed when I hit that stretch of the 101 in Ventura County that presents me with a vista of the ocean. Yes, vacations are a good thing.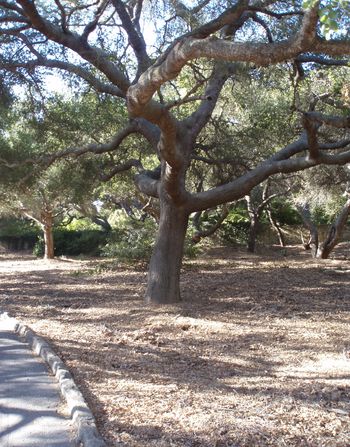 Because it's the height of summer and near the weekend, hotel prices are high, so I've decided to stay at my retreat spot, a truly magical place, full of live oaks, restful groves and creeks, which I've been escaping to for over 20 years. I won't tell you its name, because the community that runs it asks that retreatants not leave the grounds after checking in. And I can understand why-the place works its grace on me immediately-just being there makes me feel more peaceful, but I am cheating this time by combining my retreat with a bit of food and wine tasting. I hope the community and God will forgive me.
The hassles of getting out of L.A., the drive on the 10 to the 405 to 101, and a brief shopping stop at the more crowded than I expected Camarillo Outlet Center have left me hungry (and a tad cranky), so before checking in at the center, I drove into Santa Barbara proper to seek out lunch.
Exiting the 101 at Cabrillo Boulevard, I drive along the road that circles the coastline, passing the wide lawns and hacienda style buildings of the Fess Parker Resort. After a short bit of driving, I spied a good lunch prospect, Metropulos Fine Foods- a high end deli and sandwich shop.
I decide on a grilled chicken breast sandwich with avocado and smoked Mozzarella. Sitting on the patio on this sunny, mid-70 degree afternoon, eating my sandwich served on lightly toasted, crusty and chewy sourdough soothes my hunger- and my crankiness. Yes, vacations are a good thing.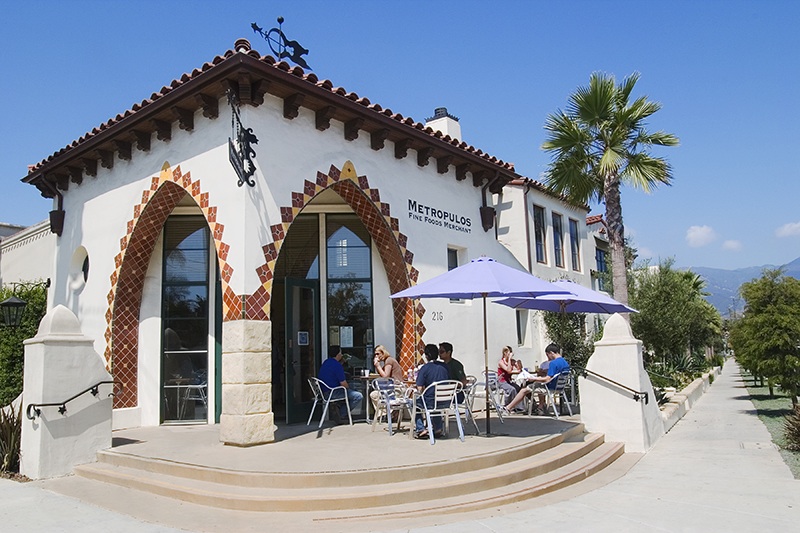 Photo courtesy of Metropulous

Metropulos Fine Foods Merchant
216 East Yanonali Street
Santa Barbara, CA  93101
Phone: (805)899-2300