Black Bean and Corn Salad with Avocado Goat Cheese Garnish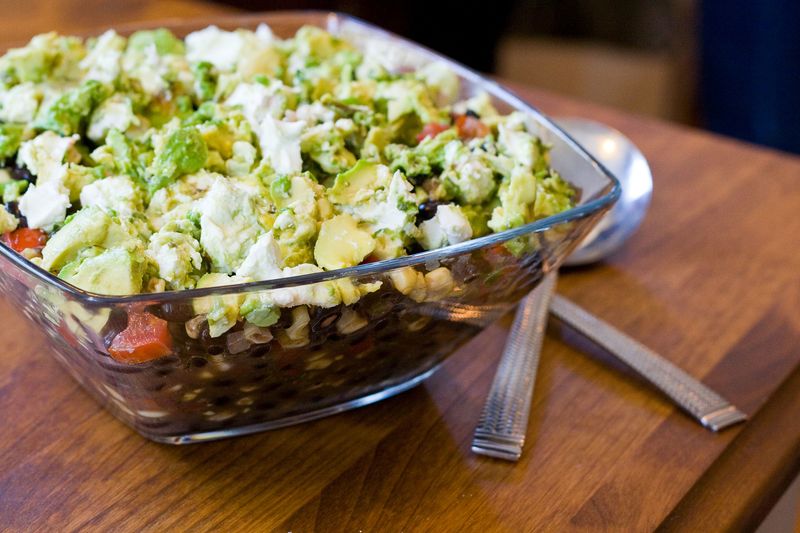 Black Bean and Corn Salad (Thanks to Kate of Savour-Fare.com for the photo)
In my last post I wrote, that at my father's first and last birthday party, Black Bean and Corn Salad was on the menu. My father stated his opinion many times that black beans were not as good as New Orleans red beans (a refrain I still hear from others of his generation in our community), but as with so many other things in my life, he allowed me the leeway to do as I saw fit with the menu.
This is a recipe I've tweaked over the years, most notably after dining on Shrimp Mole at Sonora Cafe, an all time favorite restaurant of mine that, sadly, is no longer with us. The shrimp were served on a bed of a sort of black bean, avocado and goat cheese hash, which I found heavenly. Once, in a brief foray into online dating, I recommended the dish to one of my prospects on a first date. When he pushed aside the mixture and left it on his plate, it only served to put another nail in the coffin of this date. He later went on to say how much he hated doing business in France – the French took way too long with their meals- yikes! Oh well…he did say I could have his avocado, beans and goat cheese when I expressed my incredulity at his not liking it. But I digress… inspired by that yummy little hash, I experimented with topping this salad with a crumbled goat cheese and avocado mixture. Not only was it delicious, but I found that mixing the goat cheese with the avocado had the added benefit of forestalling the cut avocado's browning. This is a great dish for a summer meal, which I hope you'll give a try very soon- in spite of that above mentioned date's disdain. Thanks to Foodbuzz and California Avocado for sending me a box of luscious Haas avocados.
Black Bean and Corn Salad with Avocado and Goat Cheese
4 cups cooked black beans

2 1/2 cups  grilled or sautéed corn kernels

1/2 cups red onion, diced

3 large Roma tomatoes, diced

3 scallions, thinly sliced

5-6 tablespoons cilantro, chopped

1 tablespoon garlic, minced and mashed to a paste with @1 teaspoon kosher salt

1 teaspoon jalapeno, finely diced

1/4 cup extra virgin olive oil

4-5 tablespoons freshly squeezed lime juice

Freshly ground black pepper, to taste

1 large Haas avocado

@ 5 ounces Chevre style goat cheese
Mix together black beans, corn, diced tomatoes, red onions, scallions, red onion, jalapeno and garlic.  Stir in olive oil and lime juice. Then stir in cilantro. The salad may be refrigerated overnight, and actually benefits from it, as the flavors will marry. Coarsely mash/crumble the avocado and goat cheese together, and top the black bean salad with the mixture.