More Summer Grilling Pan Asian Style-Hoisin Marinated Steak Salad with Asian Vegetables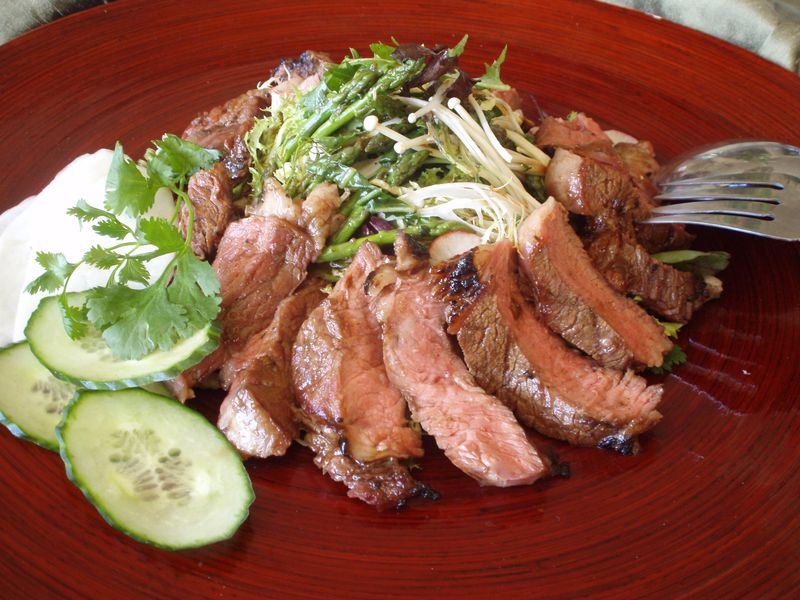 Hoisin Marinated Steak Salad
As  I mentioned in the last post, I recently put together a Father's Day Party grilled menu for a family who loves to vacation in Hawaii. So when Collective Bias offered the opportunity to join in Smart and Final's  #GrillUpYourSummer event by creating a summer grilling recipe using Cattlemen's Finest Beef, I jumped at the chance. An Asian Steak Salad, would be a perfect counterpoint to the Grilled Rock Cod on the menu, I  thought. And who doesn't love a  Ribeye steak on the grill. It's a sure sign of summer in So Cal.

I have to acknowledge that I was inspired in the creation of this salad by Hugh Carpenter's Pacific Flavors: Thai and Chinese Cooking for an American Kitchen
, a cookbook I've turned to many times over the 20+ years since I discovered it. Carpenter taught me that hoisin sauce makes for a wonderful marinade that stands up so well to grilled beef, and that there are many wonderful variations one can make into an Asian style salad. I highly recommend a look at his book.

 BTW, this recipe is submitted in the Smart & Final Grill Up Your Summer contest. You may visit http://www.GrillUpYourSummer.com and vote for this recipe, if you like 😉  By voting and entering your information, you will be entered to win a $50 Smart & Final gift card AND a Weber 220 grill!
This project has been compensated as part of a social shopper insights study for #collectivebias.
Hoisin Marinated Steak Salad with Asian Vegetables
1 1/2 pounds Rib eye steak, well trimmed
3-4 generous handfuls @ 3 ounces Asian or Spicy Salad Mix
2-3 generous handfuls @ 6-7 ounces Nappa cabbage, shredded
6 ounces baby Bok Choy (I used Jade Asian Greens Baby Bok Choy)
3 ounces Enoki mushrooms
1 small bunch pencil thin asparagus
2-3 radishes, sliced paper thin
Several sprigs cilantro
2-3 Scallions
Garnish with cucumber and Daikon slices, and more sprigs of cilantro.
Serves 4-6 as  part of a buffet. 
Hoisin Marinade
1/3 cup hoisin sauce
3 tablespoons oyster sauce
2 tablespoons dark soy sauce
1 tablespoon plum sauce
1 tablespoon honey
1 tablespoon rice wine
1 1/2  teaspoon sesame oil
1 1/2  teaspoon vegetable oil
1-2 tablespoons grated ginger
1 tablespoon garlic, minced
1/2 teaspoon 5-spice powder
Hoisin Steak Salad Dressing
3 tablespoons red wine vinegar
1 tablespoon light or thin soy sauce
2 tablespoons sesame oil
2 teaspoons hoisin sauce
1/2 teaspoon (or more to taste) Chinese chili sauce
3 tablespoons scallions, minced
1 tablespoon grated ginger
1. Marinate steak for 2-4 hours in about 1/3 of the Hoisin Marinade.
2. Cut the asparagus into @ 2 inch lengths. Cut the bay bok choy into quarters, remove any tough hearts. Stir fry the asparagus, then the bok choy in a tablespoon of oil in a very hot wok for about 15- 20 seconds each, until tender crisp. Let the bok choy cool slightly, then slice into thin strips. Slice the scallions horizontally.
3. Grill the steak over very hot coals for about 4-5 minutes on one side. Turn the steaks over and lightly brush the cooked side with more of the Hoisin Marinade on the steaks. Grill the second side, remove the steaks from the heat, and lightly brush the second side with more Hoisin Marinade.  Allow steak to rest for about 10 minutes, then slice.
4. Mix all the greens and vegetables in a large bowl, and toss with the about 1/4 to 1/3 of the dressing. Arrange the vegetables and greens in the center of a platter, then arrange the steak slices around them. Garnish with Daikon and cucumber slices, and more sprigs of cilantro. Drizzle the salad with more of the dressing, if you like.
* If you are using thicker asparagus, blanch them briefly before stir frying, then split them vertically.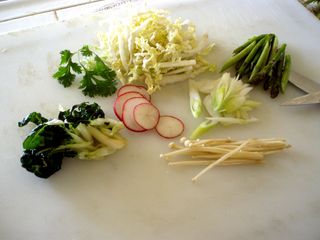 Salad vegetables, sliced and ready to mix.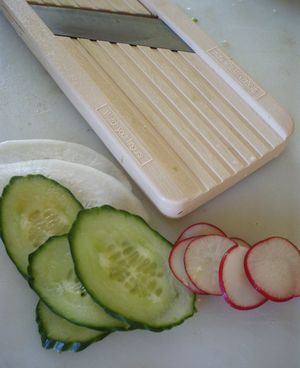 Use a Japanese mandoline to get very thin slices of cucumber, Daikon and radish.
 Please visit us at www.smallpleasurescatering.com