Summer Garden Parties- and a Recipe for Salmon Cakes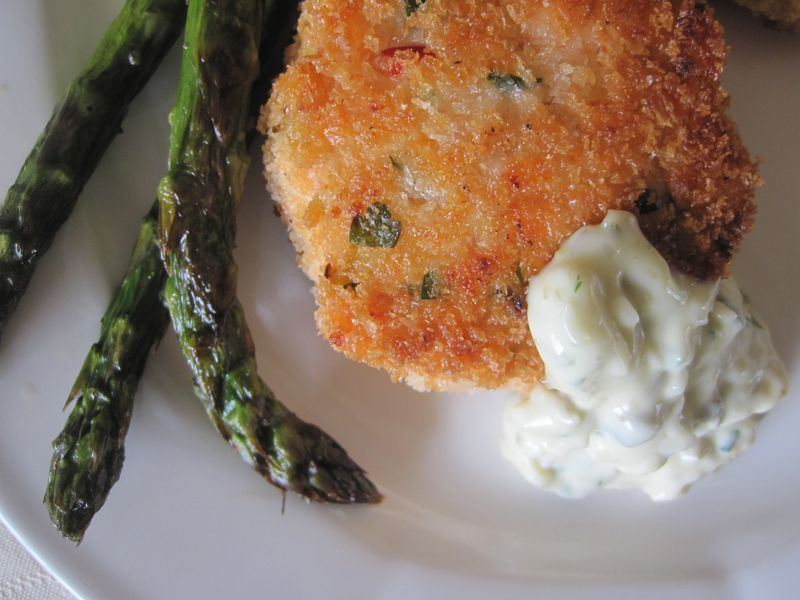 Fresh Salmon Cakes with Gribiche
Summer is almost here, and it's the time we love to take our dining outdoors. I was recently asked by Jarlsberg USA to create a menu for an outdoor garden party, an opportunity which I, of course, jumped at.
Outdoor garden parties are great for many occasions- an at home wedding, a graduation or anniversary party, bridal or baby showers. They're versatile.
This menu is versatile, too. My client and I started out thinking brunch, but really, it can travel into lunch, and even an early dinner meal with a bit of adapting.
I created a menu opening with canapés spread with a base of Snofrisk, a lovely cream cheese like product of Jarlsberg's made with goat's milk cheese and cow's milk cream, covered with a thin slice of Jarlsberg and topped with various vegetables. The main event- a couple of tasty frittatas, Jarlsberg and Hazelnut Buttermilk Biscuits sandwiched with thinly sliced Black Forest Ham and Honey Mustard. And the star of the show- these wonderful Fresh Salmon Cakes. If you're serving it for brunch, add the great Shiitake and Jarlsberg Stuffed French Toast from our last post. For lunch or dinner- add a wonderful salad or two. And for tea time or happy hour, make the biscuits minis and cut the frittatas into individual bites- circles, squares, diamonds- it's your choice.
I'll be sharing some of the other recipes over the next few weeks, so please come back and take a look. For now, I'll start with these yummy (if I do say so myself) Fresh Salmon Cakes. Serve them with one of my favorites, Gribiche- a wonderful alternative to Tartar Sauce.

Fresh Salmon Cakes with Gribiche Sauce
3 pounds salmon

1/2 cup celery, fine dice

1/4 cup, red onion, fine dice

1/4 cup parsley, chopped

2 tablespoons red bell pepper, fine dice

2 tablespoons chives, snipped

1 cup Panko breadcrumbs (alternatively use fresh breadcrumbs from French bread)

1 egg

1/2 cup mayonnaise

1 teaspoon freshly ground white pepper

Salt to taste

Additional @3 cups for coating shaped cakes

Vegetable oil for frying cakes
1. Cut salmon into 1 inch chunks and place in the bowl of a food processor. Pulse the salmon a few times to chop coarsely- it should retain some texture.
 
2. Mix salmon with remaining ingredients in a large mixing bowl.
3. Pour additional Panko into a shallow dish. Shape salmon mixture into @ 2 1/2 inch cakes. Roll into the Panko to coat completely.
4. Heat @ 1/2 inch of oil in a large frying pan, until it sizzles slightly when a bit of liquid is dropped in it. Place several cakes in the pan, but do not crowd the cakes. Fry until golden brown on one side (about 2-3 minutes) then flip over and cut on the other side. Continue until all the cakes are fried. They may be held in a warm oven (about 200 degrees) while completing the frying. The pan may have to be wiped out between batches to remove bread crumbs.
Yield: @ 2 dozen 2 1/2 inch cakes
P.S. These are great served with a side of Roasted Asparagus- salmon and asparagus just seem to be made for each other.
Bon Appetit!
Save