More Summer Garden Party-Simple Canapés
 Snofrisk spread
8 ounces Snofrisk, a lovely Norwegian cream cheese made of goat cheese and cow's milk cream, softened*
2 teaspoons shallots, minced
1-2 teaspoons chives, snipped
1-2 teaspoons dill, chopped-plus additional chives for garnish
Freshly ground white pepper to taste
12 slices of good sturdy white sandwich bread **
* if you can't find Snofrisk, use 8 ounces of regular cream cheese, softened by mixing in 1 tablespoon of heavy cream
** I know good sturdy white sandwich breads have become harder and harder to find, but hopefully you'll have a local bakery that makes one, like the pain de mie we are fortunate, In L.A., to have at La Brea Bakery.
Whip the cream cheese, adding the tablespoon of cream, if desired, to soften it. Stir in the minced shallots, chives, dill and white pepper.
Spread the Snofrisk and herb mixture (@ 1 tablespoon per slice) on a whole slice of the bread, then put a thin slice of Jarlsberg on top of that. Important tip-cut with a cheese slicer (pic below). It's important to have uniform, thin slices for a good appearance.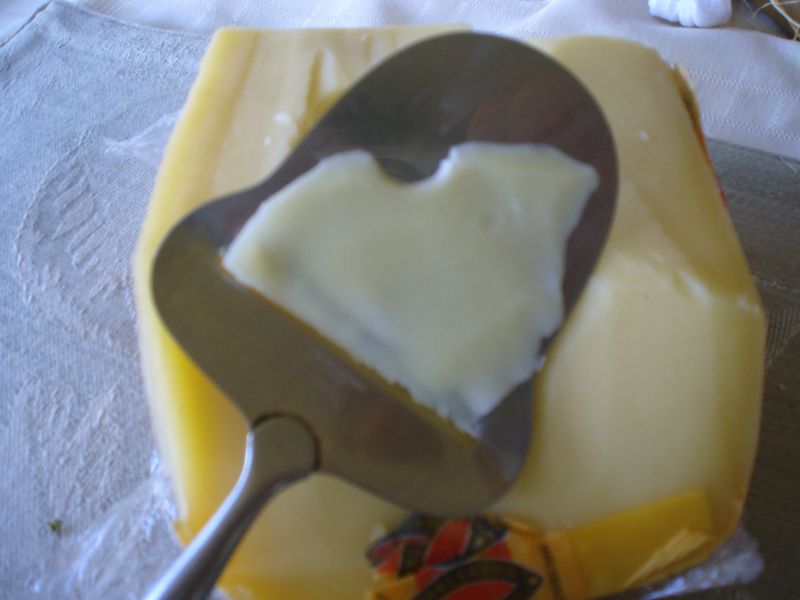 For the Grilled Zucchini Canapé- Used a  Benriner mandoline to get @ 1/4- 1/8 inch slices of zucchini (lengthwise). Brushed them with olive oil, then grill until they get those great looking marks on a stove top cast iron ridged griddle. Placed the grilled zucchini slices on top of the cheese (about three across per slice), then cut the bread into fingers. Sprig of thyme on top.
For the Asparagus Canapé -Blanch and refresh asparagus tips, then placed them on top of squares of the cheese and bread base with a dab of the Snofrisk to hold them in place. Sprig of dill to garnish.
For the Roma Tomato Canapé (try to select the most evenly shaped tomatoes). Cut the slice of cheese covered bread into rounds with a cookie cutter matched to the size of the tomato slice (the cutters are often sold in a graduated set). Place the tomato  on top of the cut round. For garnish- a chiffonade of basil- roll up a basil leaf, and snip with a kitchen shears (or cut with a very sharp paring knife, as basil bruises easily). Place the chiffonade a top a dab of the Snofrisk mixture to hold in place.