More Summer Garden Party Bites-Jarlsberg and Hazelnut Biscuits with Black Forest Ham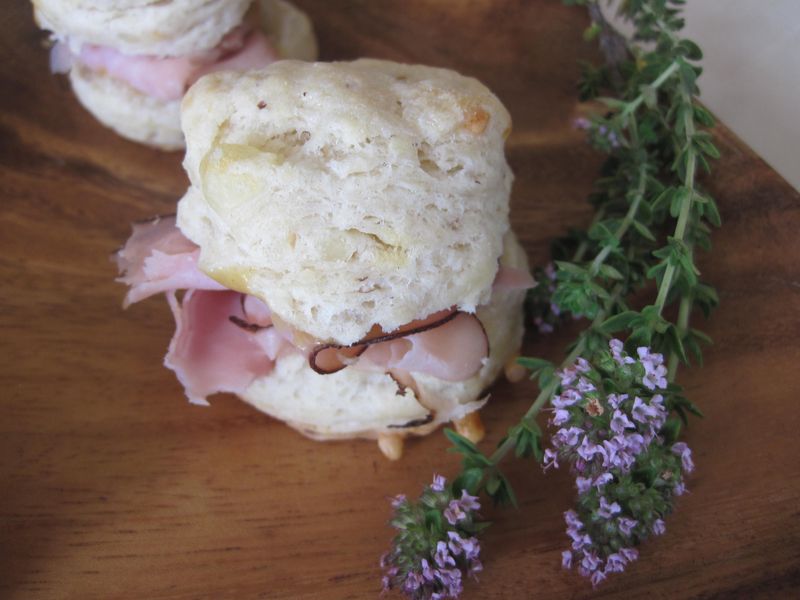 Jarlsberg and Hazelnut Biscuits with Black Forest Ham
I'm a Southerner, originally, so have always loved buttermilk biscuits. I'm pretty sure, however, that you don't have to have Southern roots to love biscuits. I worked in a catering kitchen in New York, many years back-with a chef from San Francisco, where we regularly made little biscuits as a base for canapé type sandwiches, which travel well from brunch all the way through cocktail parties. I learned there that an array of herbs, nuts and cheeses can be added to biscuits to create a wonderful variety of flavors.
Jarlsberg is a sweetly nutty cheese, so when thinking about flavors that would complement it, I hit upon the idea of hazelnuts, also nutty in a sweet kind of way 😉 I happen to think they are a great match. And sandwiching them with thin slices of Black Forest Ham and Honey Mustard (you may also add another slice of Jarlsberg to the sandwich, if you like) well that's a no brainer. Recipe follows…
And please visit the other Jarlsberg Summer Garden Party posts:
 Summer Garden Party- and a Recipe for Salmon Cakes
Something Old, Something New-Jarlsberg Stuffed Shrimp Cakes
 Jarlsberg Hazelnut Buttermilk Biscuits
3 1/2 cup all purpose flour, sifted

1 tablespoon + 1 teaspoon double acting baking powder

1 teaspoon baking soda

1 teaspoon salt

1/3 cup hazelnuts toasted, skinned and finely ground

10 ounces cold, unsalted butter, cut into 1/2 inch cubes

5 ounces Jarlsberg cheese, grated (plus additional for top of biscuit- optional)

1 1/2 cup buttermilk

Heavy cream, to brush top of biscuits
Whisk together first 5 ingredients in a mixing bowl.

Toss butter cubes into flour mixture, and refrigerate for at least an hour, or overnight.

Place flour butter mixture into the bowl of a stand mixture. Mix at low speed until the butter is cut in and the dough is crumbly, resembling coarse wet sand. Stir in the buttermilk and grated cheese.




Dump the dough out on to a floured board and knead lightly until the dough comes together smoothly.

Roll out the dough into a large rectangle then fold the rectangle into thirds. Give the dough a 90 degree turn and roll out into a large triangle again and fold into thirds. Repeat turning and folding one more time. (This step gives the biscuits a flaky layered quality.)

Roll the dough to a 1/2- 3/4 inch thickness. Cut the biscuits with a 1 1/2 inch round cutter. Place on a parchment lined baking sheet, and refrigerate for @ 20 minutes (or for a few hours if they are wrapped very well, to give you a little extra time before your guests arrive).

Brush the tops of the biscuits with heavy cream, and sprinkle a bit of grated cheese on top, if desired. Bake in a 425 degree oven for about 10- 12 minutes until tops begin to brown slightly.
Serve with Honey Mustard and thinly sliced Black Forest Ham
Yield: @ 4 dozen 1 1/2 inch biscuits
Honey Mustard
1/3 cup honey

1/4 cup Dijon Mustard

A pinch of cayenne
Whisk together Dijon mustard, honey and cayenne.
Enjoy!
Save