Chicken Piccadillo Chiles Rellenos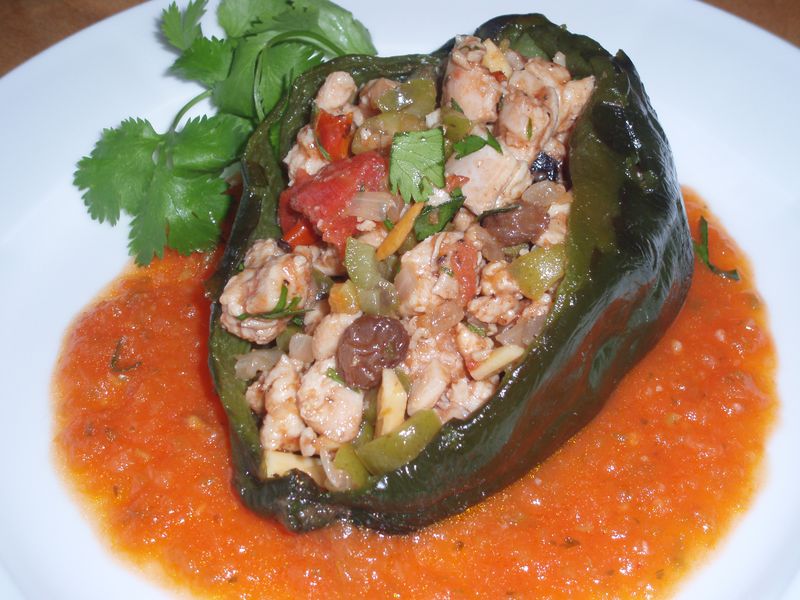 Chicken Picadillo Chiles Rellenos
In my earliest childhood days, the range of foods I ate was limited. We ate exclusively the traditional Creole cuisine of New Orleans in my household. When my family moved to Los Angeles, of course, our food horizons opened up a good bit. While my father was more traditional, my mother was quite the adventurer when it came to feeding her family. Of course, Los Angeles had much to offer, especially great home style Mexican food. Once I had settled in at a permanent grade school, I was a frequent school night dinner guest at the home of Lillia, my classmate and best friend in those days.  Lillia's mother spoke almost no English, but her cooking spoke to my heart. She would deftly pat masa de harina into tortillas right beside us at the table, throw them on to a sizzling griddle, and present them to us piping hot to scoop up braised meats, and beans and rice, with a slice of avocado tucked in which we'd fold up and pop into our mouths.
Mexican food is like a second mother to me. Of course, it's a great cuisine, so it's easy to love. And really, it wasn't that unfamiliar. There was always beans and rice, always slightly spicy and well seasoned food, and always a hint of familiarity. No surprise, as Mexico and the Louisiana territory were both colonized to some degree, at some point by both France and Spain, both of whom left a culinary imprint. Additionally, there was travel back and forth across (what was in those days) a very amorphous border between the two lands, and food stuffs were carried back and forth. Chiles (like Tabasco) were introduced to Louisiana from Mexico, and certain pockets of regional Mexican cuisines use decidedly Southern items like black eyed peas, peanuts and okra in their dishes.
In particular, I learned, when researching foods for a tapas party last summer, that stuffed vegetables were directly an influence of Spanish cuisine. Well, I had eaten plenty of stuffed bell peppers in my New Orleans cuisine, and I continue to eat chiles rellenos as part of my Mexican menu.
I will often take the time to make chiles rellenos con queso for Cinco de Mayo, a celebration of a Mexican victory over the French (and big day for drinking Margaritas here in So Cal). This year, I took the opportunity to do something a bit different by stuffing my chiles with a chicken piccadillo, inspired by the wonderful Lindsay Naturals green olives I was sent a couple of weeks ago. The olives are packed only in water and sea salt, so have a fresher, more buttery flavor than those packed in a vinegary brine. The chicken picadillo makes for a lighter chile relleno than the cheese stuffed fried chile. I've served them here in the roasted chile poblano, but also given the option of frying the piccadillo stuffed chile. It works just fine both ways.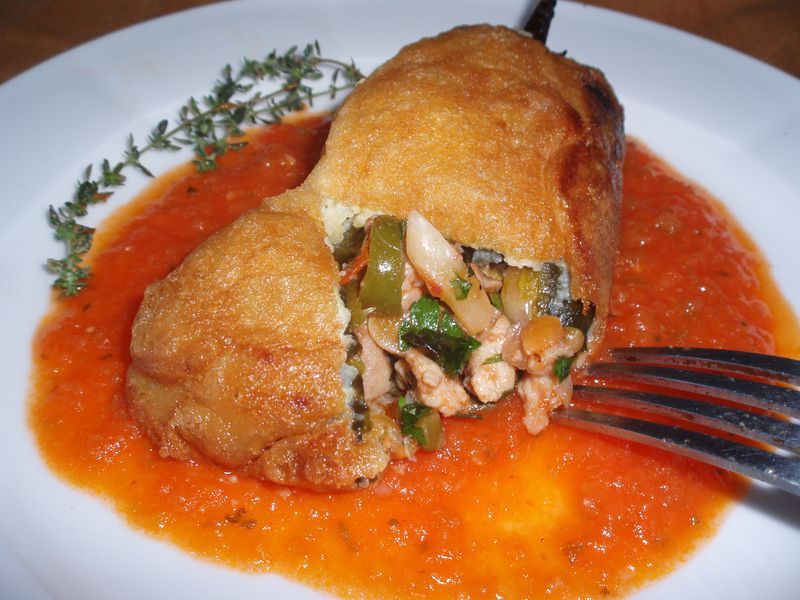 Chicken PIccadillo Chiles Rellenos
(with heavy consults in Patricia Tausend's Savoring Mexico: Recipes and Reflections on Mexican Cooking (The Savoring Series)
and Rick Bayless's Authentic Mexican 20th Anniversary Ed: Regional Cooking from the Heart of Mexico
)
These chiles are a bit of work, but it can be done in stages over a couple of days, and they are a special treat.
Picadillo 
2 pounds boneless skinless chicken thighs, small dice*

1 cup canned diced tomatoes (I used Muir Glen Fire Roasted), drained of sauce which leaves about a half cup of tomatoes. Reserve some of the sauce.

1 cup onion, fine dice

1/2 cup  mild olive oil (or half extra virgin and half vegetable oil)

1/2 teaspoon dried thyme

1 bay leaf

1 half cinnamon stick

1/3 cup raisins

1/2 cup slivered blanched almonds, lightly toasted

1/2 cup green olives

2 tablespoons capers, drained and rinsed

3 tablespoons cilantro

2 tablespoons flat leaf parsley

1 tablespoon mint

8-10 large poblano chiles (or save half to make the battered and fried version)
*or you may cut into 1 inch chunks and pulsed in the food processor, although the texture will be different 
 Heat the oil in a large frying pan and add the onions, cooking until translucent, @ 2-3 minutes. Add garlic and cook for 1 minute longer. Add the tomatoes, thyme, bay leaf and cinnamon stick

.

Cook for another 10-15 minutes.

 Scrape the tomato/onion mixture out of the pan into a bowl, and add more oil to the pan to cook the chicken. When the chicken is lightly browned, add the tomato/onion mixture to it. Then add the raisins, olives, capers and almonds and stir to combine, If the mixture is too dry, add a bit of the reserved tomato sauce

.

Remove from the heat, and stir in the cilantro, parsley and mint.
To roast the chiles:
Place chiles on a baking sheet and place under the broiler. When they are charred on one side

,

turn them over and char them on the second side.

Remove the baking sheet from the oven, and cover with plastic wrap. The heat will cause the wrap to shrink fit the pan. Allow the chiles to steam under the wrap for about 10-15 minutes. Unwrap, and carefully scrape the charred and loosened skin from the chiles. Gently make a slit in one side of the chile to remove the seeds. It's important to work as gently as possible so that the chiles do not shred. If a few seeds or stubborn bits of skin remain, it's no big deal.

Carefully stuff the chiles with the picadillo. If you're not batter frying the chiles, place them open side up on a plate napped with Chile Roasted Tomato Sauce
To batter and fry the chiles:
1 large egg per each 2 chiles

 

1 teaspoon flour per

each 2 chiles

@2-3 tablespoons flour spread on a plate

1/4 teaspoon salt

Oil for frying
Roll the stuffed chiles in the flour spread on the plate. ( P.S. I like to close the back of the chiles with a toothpick or two.)

Separate the egg-the white(s) int

o a clean mixing bowl, and reserve the yolk in another small bowl. Add the salt to the white, and whip until just stiff enough to hold a peak. Then gently blend in the yolk(s), floowed by the teaspoon(s) of flour.

Heat the oil to 375 degrees in a frying pan. Holding the chile by the stem dip one side into the egg batter. Place the battered side down in the hot oil, then spoon some additional batter over the uncovered side. Fry until brown on the first side, about 2-3 minutes, then gently roll them over and brown the other side.  I try to work with only 2 or so chiles at a time. Drain them on paper towels. They may be held in a low temperature oven while you finish frying the remaining chiles.Place the chiles on a plate napped with Roasted Tomato Chile Sauce and serve.
Roasted Tomato Chile Sauce
1 1/2 pounds ripe plum tomatoes

2 (or more to taste) jalapeno chiles, seeded and diced

1/2 cup diced onion

1 large clove garlic, peeled and roughly chopped

1 tablespoon or so of oil

Salt to taste
Roast the tomatoes under the broiler as per directions for chiles above. You do not need to cover them with plastic wrap. When the tomatoes are cool enough to handle, peel the skin off, and over a strainer, and cut the meat of the tomato from the seeds and core, leaving the seeds and core in the strainer. Place the meat in a separate bowl. When you are done, press gently on the remains in the strainer to remove juices from the core, and add the juices to the tomato meat.

Add the tomatoes and juices to a food processor bowl along with the diced onion, chile and garlic. Purée until smooth but still retaining a little texture.

Heat the oil in a large skillet, and when the oil is sizzling hot, add the purée all at once, frying while stirring for about 5 minutes, until the sauce begins to thicken, and turn more orangey. Season with salt to taste.
Yield: About 2 cups
Save
Save