St. Joseph's Day Cucidatti
March 19th is the feast day of St. Joseph on the Catholic calendar. Since it falls right in the middle of Lent, it offers fasting New Orleanians a break from austerity, and a chance for a party.
The celebratory feast originated in medieval Sicily, as a day of thanks and homage to St. Joseph, their patron. New Orleans had a huge influx of Italian, and especially Sicilian immigrants, after the Civil War, and they have had a large impact on the city's cuisine. Being a city with a largely Catholic population, and one that loves a good feast, the wider population readily embraced the St. Joseph's Day celebration.
My uncle tells me that as a child he would peek into the homes of neighbors whose doors were wide open, welcoming all who wanted to come inside and view the altars and tables lavishly laden with a wide array of braided and decorative breads, fruit, Sicilian pastries (including fig filled cookies called cucidatti), fava beans and flowers. Food with flavored bread crumbs were featured at the meal, to resemble sawdust, recalling St. Joseph's occupation of carpenter.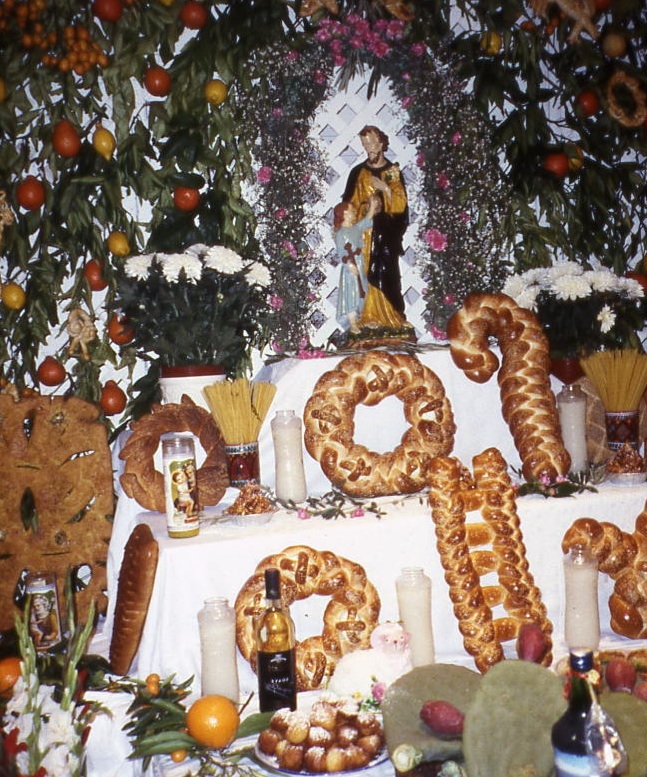 St. Joseph's Day Altar- Photo courtesy of Luisa Del Giudice
 
For years members of the expatriate community here in Los Angeles hosted a St. Joseph's Day celebration at a nearby church where they, too, would decorate an altar, and serve spaghetti with meat balls and "red or tomato gravy" as they called it, and calás and biscuits after the Mass.
When I lived in New York, my friend, Doreen, of Astoria, Queens (a true lover of good food) taught me about a few varieties of Italian cookies, among other tasty things, so a few weeks ago I e-mailed Doreen to ask if she had a good recipe for cucidatti.  Of course, she did, and willingly shared it with me. Doreen said she got the recipe from a cookbook of Nick Malgieri's, and often substitutes orange marmalade for the candied orange peel.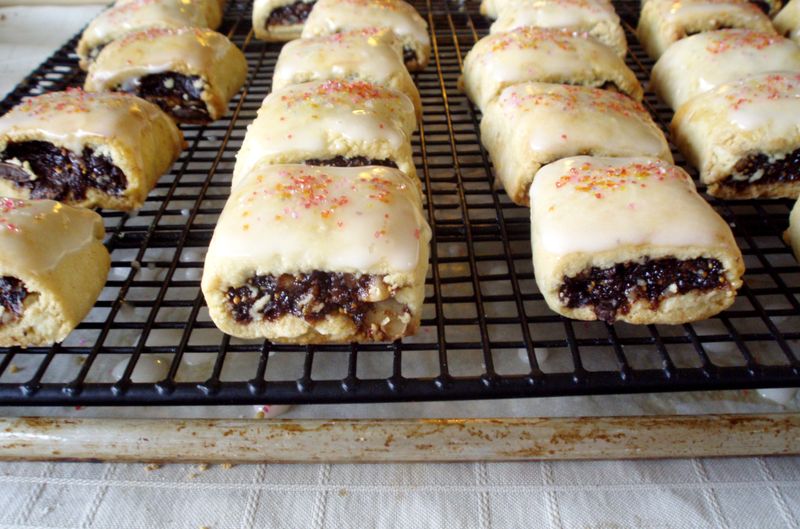 Cucidatti
Mr. Malgieri shapes the dough into 12 horse shoes and makes slashes in the top of the dough which is traditional, along with "X"' shaped pastries. I cut the dough into 1 inch lengths for individual cookies.
For the pastry:
3 1/2 cups all purpose flour

1 cup sugar

1 teaspoon baking powder

6 ounces unsalted butter, cold

2 eggs

2 – 3 tablespoons milk (I found I needed at least 3, but I think flour is drier on the West Coast)

1/4 teaspoon salt
Combine the flour, sugar, and baking powder in a bowl and stir to mix. Rub in the butter, creating a powdery mixture. In a small bowl, beat the eggs and 2 T. of the milk and stir this into the flour mixture to form a dough. If the dough is too dry add the extra tablespoon of milk. Place the dough onto a lightly floured surface and knead lightly a few times. Wrap the dough in plastic wrap and chill while preparing the filling.
For the filling:
1 pound dried figs

1/4 cup golden raisins

1/4 cup currants or dark raisins

1/4 cup candied orange peel, rinsed and diced

1/4 cup almonds, toasted and chopped (although it does not specify, I blanched my almonds before toasting them)

1/4 cup walnuts, toasted and chopped

1/4 cup pine nuts, toasted

2 ounces semisweet chocolate, chopped or grated

1/3 cup apricot preserves

1/4 cup dark rum

1 teaspoon instant espresso powder

1 teaspoon ground cinnamon

1/4 teaspoon ground cloves
Stem the figs, place in a bowl, cover with boiling water; steep 10 minutes. Drain and coarsely chop in a food processor.  Put raisins, orange peel, nuts and chocolate in the bowl of the food processor and pulse to mix. Pour into a bowl and mix in the remaining ingredients.

The filing may be prepared in advance, covered tightly with plastic wrap and refrigerated for up to 3 days.

Divide the dough into 8 equal pieces and roll each into a cylinder about 9-10 inches long. Flour the work surface and the dough lightly. With a rolling pin, roll the pieces into uniform rectangles about 1/3 inch thick. Place a line of filling down the center of each rectangle. Lift up the long edges of the dough to enclose the filling and pinch to seal. Turn the filled sausage of dough over so that the seam is on the bottom and cut it into @ 1-inch lengths.

Transfer the cucidatti onto parchment lined cookie sheets.

Brush with egg wash, and bake at 350 degrees for about 20 minutes, or until they are light golden in color. Cool on racks. Ice with fondant or runny powdered sugar icing, and decorate with colored sprinkles.
Yield: @ 4 dozen 1 " cookies