Fish Friday- Fried Catfish with Gribiche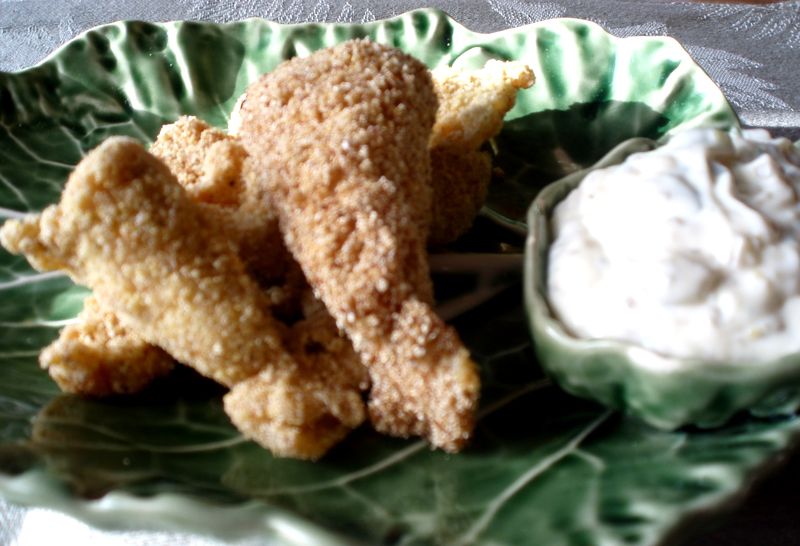 To say that fried catfish is a much loved dish throughout the Mississippi Delta region, is kind of an understatement, and we LA to L.A. expats have carried the dish right along with us.
In fact many of the Catholic churches in my area are hosting Friday catfish fry dinners throughout the Lenten period- some of them even spill over into the rest of the calendar year. Fried catfish with a side of potato salad and some sautéed greens -it's a simple, yet truly soul satisfying meal.
While the fish is often served with tartar sauce (well, that and hot sauce), I fell in love with Gribiche, a French cousin of tartar sauce, in my days of studying cooking at the now defunct Peter Kump's Cooking School in New York, where I was introduced to many of my beloved mayonnaise's offspring sauces. Since then it has permanently replaced tartar on my menus. It's more refined and complex than tartar, but not so different that anyone who enjoys tartar won't love it just as much. I hope it'll become a favorite of yours, too.
By the way, for those of you who can't get past the slightly gamey taste of catfish, this fried fish preparation is also great with red snapper.

Fried Catfish
1 pound catfish filet or nuggets
Mix together:
* Fish Fry is a commercial mix of corn flour, which is ground finer than corn meal, and seasonings and spices. You can mix your own if you like, or use all corn meal for a crunchier coating.
Dip the pieces of catfish in a dish cold water, then lift each piece over until one or two drops of water drip off each second 9 yes- I count one-thousand one- one-thousand two), then dredge the fish in the seasoned corn meal until completley coated, then put it in the hot oil. Fry two or three pieces at a time until golden brown, then drain on paper towels. Keep the fried pieces of catfish in a warm oven until you have finished frying all of it.
Gribiche
Mix into 1 cup mayonnaise:
1/2 hard boiled egg, chopped

1 shallot, minced

2 teaspoons minced capers (drain and rinse the capers before mincing)

2 teaspoons cornichons

2 teaspoons fines herbes*

Freshly ground white pepper to taste
*a mixture of parsley, tarragon, chives and chervil – chervil, a wonderfully delicate herb, is easiest to find in springtime, although even then it can sometimes be hard to find. If you can't find it case just  make it up with more of the other 3 herbs.
Gribiche benefits from a day or two for the flavors to marry, and it's good with all sorts of things- boiled shrimp, cold steamed mussels, poached salmon. I even ate at a little Frenchy type bistro place in Scottsdale, Arizona last spring where it was served on a great burger in place of mayonnaise.