Fish Friday- Crawfish Etoufée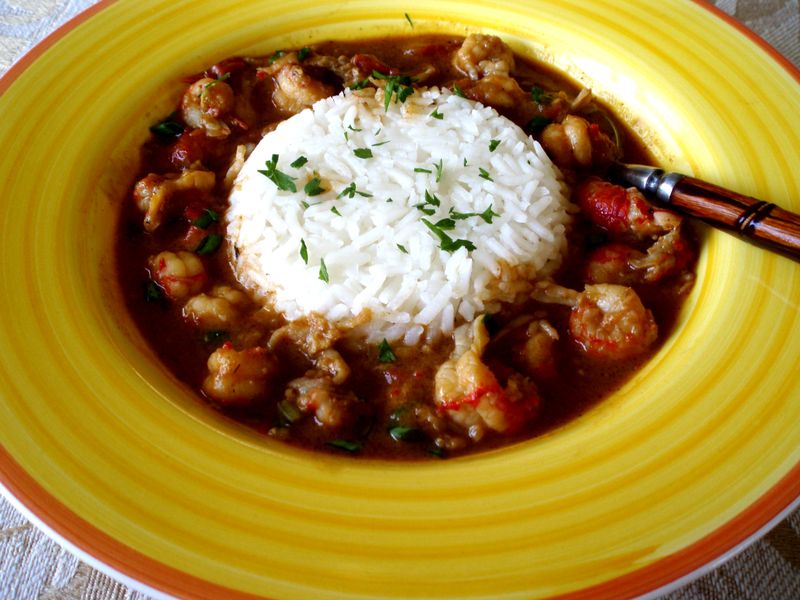 Crawfish Etoufée
Fish Friday- Yep, it's crawfish again- lucky me, Kelly brought me several pounds.
Crawfish was not something we ate in my household growing up.  Yes, I did taste it, (most notably in a crawfish bisque we had at a friend's holiday backyard barbecue- a country cousin had brought it. It was a taste I never forgot!!). It wasn't primarily a New Orleans Creole thing, but a Cajun country delicacy. And yeah- there was a time when there was a distinction.
In fact, I remember being at Jazz Fest a few years back, and upon seeing the plethora of crawfish dishes, I thought to myself, when did the crawfish become King in Louisiana? In a bit of synchronicity, there was an article in the New Orleans Times Picayune food section that very week, discussing the issue. Crawfish were once considered declassé by New Orleanians. If one did eat them, you did it hiding out in the backyard where presumably no one would see you. They were a country thing, peasant food. Never mind that my mother likes to say now that all their food was peasant food. (I would add those peasant were blessed with some of the greatest bounty this continent has to offer.)
But I digress… the article said that when soldiers who had fought in World War II came back from Europe, where they saw crayfish (as the Europeans would say) eaten in sophisticated restaurants by the classy folks, well they figured they could openly eat them, too, and they began making their way onto New Orleans menus. Whether it's true or not, I can't say for sure, but one thing is for sure- you'll find crawfish etoufée (and other crawfish dishes) all over New Orleans now, served from home kitchens as well as classy restaurant and hotel kitchens.
For this recipe, I consulted a few sources. I took what I liked best from both Chef Paul Prudhomme's Louisiana Kitchen
, and  John Besh's My New Orleans: The Cookbook
, to make mine.
I hope you'll give it a try. BTW, once you have the roux and shrimp stock down, you're more than halfway towards making a good gumbo.
Crawfish Etoufée
1 – 1/2 teaspoon kosher salt

1/4 teaspoon each white pepper, black pepper, cayenne and dried thyme

1/4 cup vegetable oil

1/4 cup flour

1/3 cup chopped onion

1/3 cup chopped celery

2 tablespoons red bell pepper, finely diced

1/3 cup chopped tomatoes (I used Muir Glen's Organic Fired Roasted Tomatoes)

2 1/2 cups shrimp stock

1 pound crawfish tails

4-6 tablespoons butter

2-3 green onions
Mix together salt, peppers and thyme. Heat oil in a cast iron pan until very hot- @ 4 minutes. Then stir in flour whisking continually.  Continue whisking until it is a medium to deep golden brown.

 Add the onions to the roux and cook stirring continually with a wooden spoon until onions are soft, about 3-4 minutes. Be careful- it may spit up at you when you add the onions and it's a bit of a nasty burn. Add the celery and peppers, and 1 teaspoon of the seasoning mix stirring and cooking for another 4-5 minutes until the vegetables are soft. Reduce the heat, and/or remove pan from heat at times, if necessary, to insure your roux doesn't burn.

When the vegetables are soft, add the tomatoes. Then add 2 cups of the stock 1/2 cup or so at a time, whisking continually. Bring to a boil, then reduce heat to gently simmer for about 5-6 minutes, until floury taste is gone.

Meanwhile, saute the crawfish tails in 2-3 tablespoons of butter. You may have to do it in batches if your pan isn't big enough. Add the crawfish tails to the sauce, deglazing the crawfish pan with a bit more of the stock.  Add a bit more of the seasoning, if you like, and add a little more stock if you think the sauce needs thinning out, but this is purely a matter of taste. I've seen both thick and thin crawfish etoufées.


Stir in another 2-3 tablespoons of butter before serving. Snip green onions tops into the etoufée, and serve it over steamed rice.
John Besh says this amount will serve 6. Well, maybe if it is served as a first course, as it often is, but I was licking my fingers and dipping in for a second bowl, so I'm not so sure about that 😉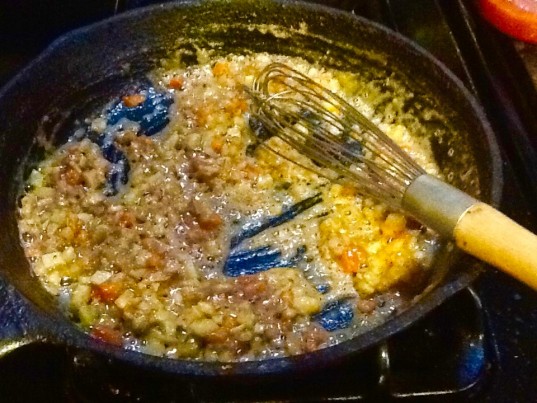 Save
Save
Save
Save
Save
Save