Fish Friday-Crawfish Mashed Potatoes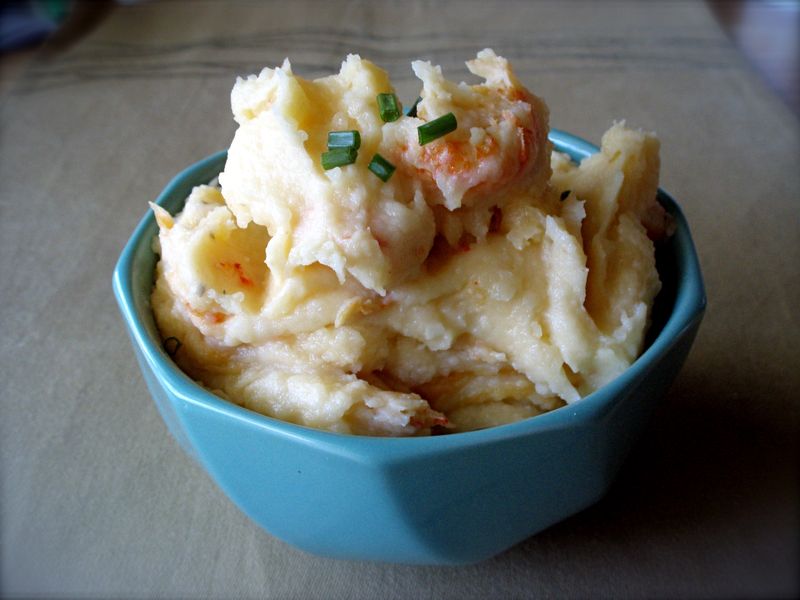 Last week I got an e-mail from my fellow food lovers and vendors at ILoveBlueSea.com stating that they were taking a page from the Catholic Lenten calendar and declaring Fish Fridays.
Now, that's a tradition I can join in, and yes, I realize it's now Saturday-I got lazy yesterday, okay? But you get the general idea, so here's my first Lenten Fish Friday. 
I first tasted – and fell in love with – Crawfish Mashed Potatoes at Ralph Brennan's Jazz Kitchen at  the Downtown Disney District in Anaheim. I called my uncle the next day to tell him of my great discovery. "Yes, I had them a few years back at The Palace Café." The restaurant on Canal Street-another Ralph Brennan restaurant in New Orleans-is a spot where Uncle loves dining because it's housed in the old Werlein music store where he spent many an afternoon as a child browsing and daydreaming. And I'm just going to leave aside the issue of why he held out on me re:the potatoes, and share this wonderful recipe with you today.
As luck would have it, my young cousin Kelley, who I kid as having joined the ranks of many LA to LA expats before her who've carried packages of seafood on the plane with them from New Orleans back to their new homes in Los Angeles, brought me a few pounds of Louisiana crawfish tails this January (last year she brought me pounds of Gulf shrimp and oysters). Yes, they are available to order on the Internet, but the LA to LA express is so much cheaper. Oh-and a word of caution for those who are ordering them online, make sure you get Louisiana crawfish. The imported ones from China are just not worth it.
I first had Crawfish Mashed Potatoes served with Catfish topped with a Pecan Butter Sauce-really tasty, but they'd  also be great with something like Blackened Steak. Heck, I'd just eat a big bowl of them all by themselves.
Bon Appetit!
And please visit my small pleasures catering blog, too. Recipe follows: