Welcome to Wedding Season-Celebrate your Engagement with a Spring Cocktail Party
The period between Thanksgiving and Valentine's Day is the busiest season for marriage proposals. That means we're now right smack in the midst of engagement party and wedding planning season.
So today, I am beginning an occasional series of posts on how to's- suggestions for parties and receptions, and tips on how to find, select and work with a caterer for all the festivities coming up, starting with the engagement party.
Early Spring is a great time for a cocktail party-okay, so really, I think anytime is a great time for a cocktail party-but featuring the produce of early Spring at a cocktail party, after the doldrums of winter, is a lovely theme to signify the beginning of your new life together.
Serve asparagus spears that are just beginning to push through the cold earth with a luscious creamy dip, delicate smoked salmon canapés topped with salmon roe, (recipe below), garnish a crostini of herbed English pea purée with tender pea tendrils. Morels are a truly special treat, if you can find them at your local farmer's market. Sauté them with early green garlic and herbs, and top a stuffed new potato with them. Splurge (after all- you are getting married!) on spring baby lamb chops with a minty salse verde. Garnish platters with delicate sweet pea flowers, and sprigs of herbs (chive blossoms are delightfully springy). Hint- notice the pink, lavender and green color theme emerging.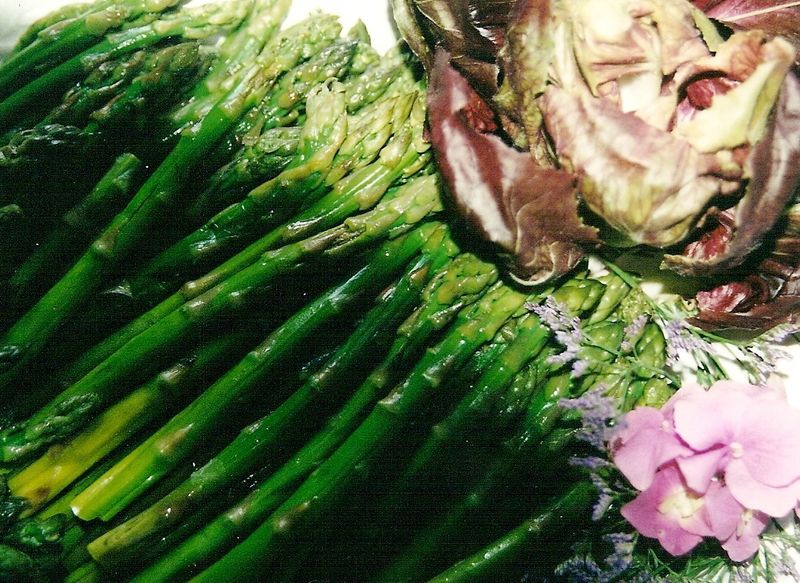 ]BTW, if you're getting married in early spring, a spring cocktail party happens to make for a great wedding reception, too.
Come back next time when I'll share important tips for ensuring a successful cocktail party.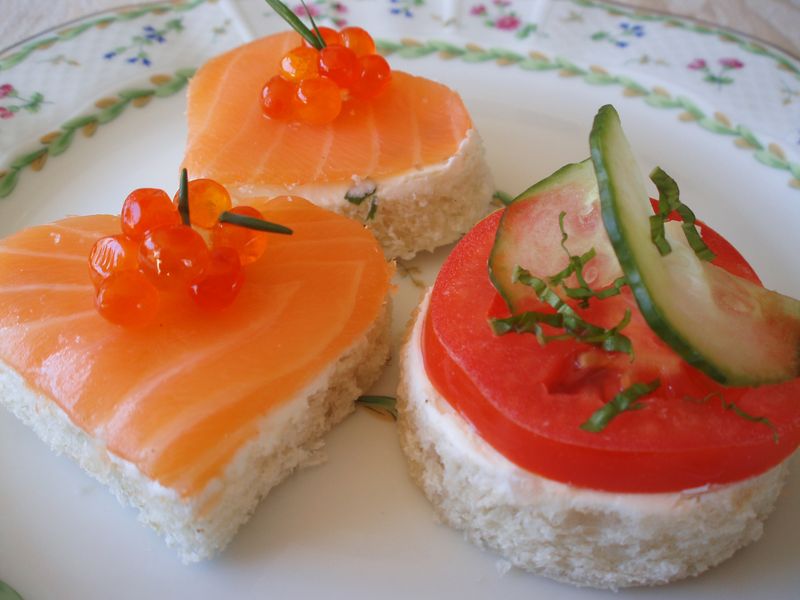 Smoked Salmon Canapés
Yield @ 24 heart shaped canapés

@ 6 ounces  Smoked Salmon

@ 3 ounces salmon roe

8 ounces Snofrisk, a lovely Norwegian cream cheese made of goat cheese and cow's milk cream, softened*

2 teaspoons shallots, minced

1-2 teaspoons chives, snipped

1-2 teaspoons dill, chopped-plus additional chives for garnish

Freshly ground white pepper to taste

12 slices of good sturdy white sandwich bread **
* As wonderful as Snofriks is, it is hard to find in stores. If you can't find it, use 8 ounces of regular cream cheese, softened by mixing in 1 tablespoon of heavy cream
** I know good sturdy white sandwich breads have become harder and harder to find, but hopefully you'll have a local bakery that makes one, like the pain de mie we are fortunate, in L.A., to have at La Brea Bakery.
 Whip the cream cheese, adding the tablespoon of cream, if desired, to soften it. Stir in the minced shallots, chives, dill and white pepper.

Spread about 1 tablespoon for the cream cheese mixture on each slice of bread, then cover the slice with slices of smoked salmon.

Cut two canapés with a heart shaped cookie cutter from each prepared slice. Pipe a dot of the cream cheese mixture into the cneter of each heart canapé, then top the dot of mixture with about a half teaspoon of the salmon roe. Finish with snipped chives to garnish.
Yield: 24 canapés