Welcome, Halima- and the Very Best Sour Cream Coffee Cake
A little over one year ago, we gathered to celebrate my mother's birthday while watching the Saints win their first ever Super Bowl title. It was a special day for us, as it was for all New Orleanians. It was particularly joyful day for my family, not only because it was my mother's (the matriarch of our clan) 84th birthday, but because my young cousin, Ayana, announced that she was pregnant with the first of our next generation.
Halima was born on August 29th, the fifth year anniversary of Hurricane Katrina. How's that for irony. When I let my brother in New Orleans know of her birth that night, he responded "and we had a rainbow across the sky this afternoon!" I have faith that Halima will continue to redeem the date for us. She's as delightful a child as anyone could hope to welcome into their family.
I wrote a post then called A Special Cake for a Special Day. Recently our family met for Halima's christening, when I made another special cake, although of a different sort, to bring to the post-baptism brunch. I had been searching for the ultimate sour cream coffee cake recipe for a long time, and after consuming the last piece, Halima's father, Ian, (he sent a note afterwards to say he was sad to eat that last piece) concurred that this cake was, indeed, it.
The original recipe has no berries in it, but the first time I made it, I folded mixed berries into the batter. As the cake sat on a rack to cool, I went upstairs and puttered around the house. At one point, I was stopped short as I caught a whiff of the delicious aromas of intermingled sour cream, berries, butter and vanilla wafting up the stairs. I knew then I was on to a keeper.
Since our celebration in honor of Halima was at the end of December, I mixed cranberries and orange zest into the cake. Feel free to add whatever strikes your fancy.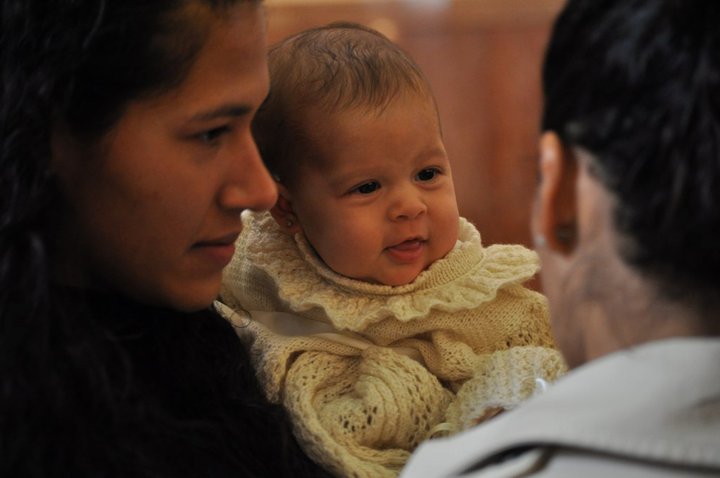 Halima, her mother, and her Aunty Aida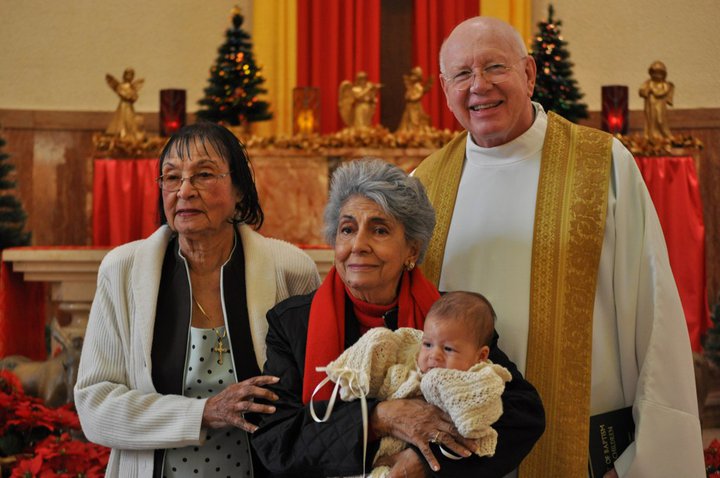 My mother doing her best not to burst into tears as she holds Halima, along with our family friend, Margaret, and Fr. Shelton, who has essentially become our family priest.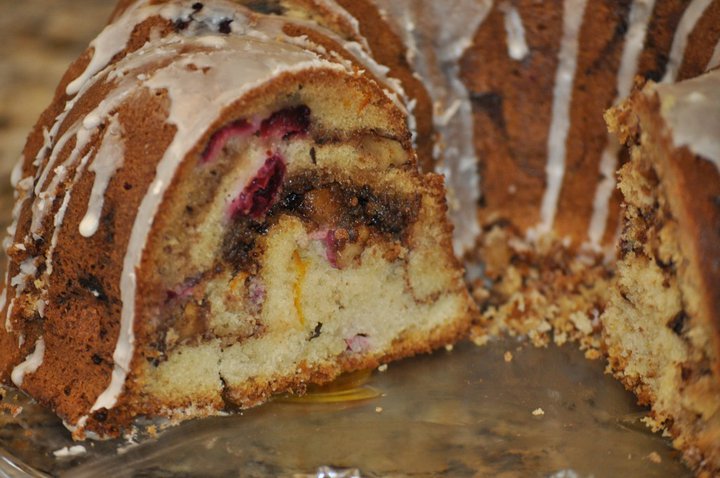 Cranberry Sour Cream Streusel Coffee Cake
Adapted from a recipe of Cafe Zenon's in Eugene, Oregon, that appeared in Bon Appétit in December 1998
For the streusel:
3/4 cup coarsely chopped walnuts

3/4 cup golden brown sugar, packed

2 teaspoons ground cinnamon

2 teaspoons unsweetened cocoa powder
For the cake:
3 cups cake flour

1 1/2 teaspoons baking soda

1 1/2 teaspoons baking powder

3/4 teaspoon salt

3/4 cup (1 1/2 sticks) unsalted butter, room temperature

1 1/2 cups sugar

3 large eggs

1 tablespoon vanilla extract

Grated zest of 1 orange

16 ounces sour cream

1 1/4 cup cranberries
To make the icing:
1 cup powdered sugar

1 tablespoon milk
Preheat oven to 350°F. Butter 12-cup Bundt pan. Mix first 4 ingredients in a small bowl to make the nut streusel mixture, then set it aside.

Sift flour, baking soda, baking powder and salt into medium bowl. Cream together the butter and sugar in the bowl of an electric stand mixer, until light and fluffy.

Beat in the eggs 1 at a time, then add the orange zest and vanilla. Mix dry ingredients and sour cream alternately into butter mixture in 3 additions, beating for about 20 seconds after each addition. Beat batter on high 1 minute. Fold in the cranberries.

Pour 1/2 of batter into prepared pan. Sprinkle with half of nut streusel, then spoon the rest of the batter over it.

Bake cake until tester inserted near center comes out clean, about 1 hour. Cool cake in pan on rack 10 minutes. Cut around pan sides to loosen cake. Turn cake out onto rack and cool 1 hour. Transfer to platter.

Whisk powdered sugar and milk in small bowl until smooth. Drizzle over coffee cake. The cake may be prepared 1 day ahead.
Yield: 14-16 servings
See what people are saying about this on Facebook:
/>