Winter at the Santa Monica Farmer's Market- and a Recipe for Braised Leeks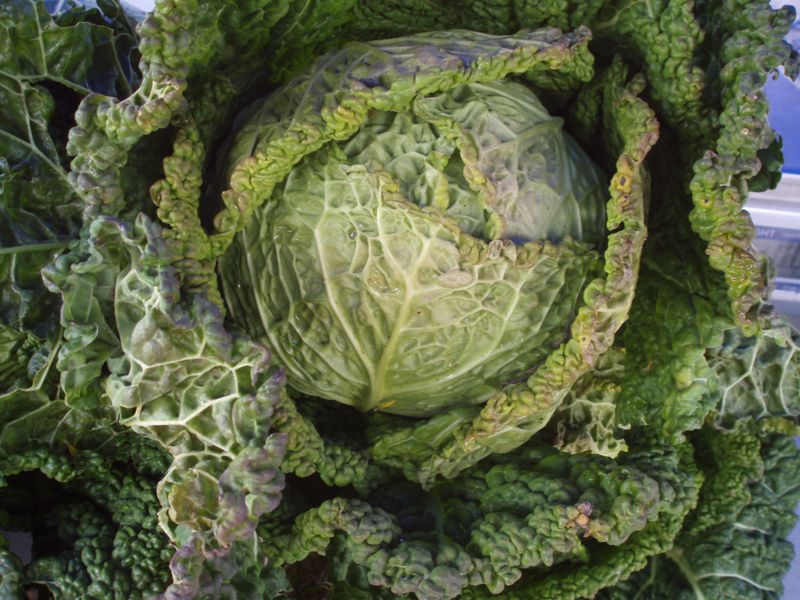 Savoy Cabbage
It was a chilly, fog bound morning along the coast. Although we tend to think of summer and fall being the abundant times, there are winter joys at the farmer's market, too. The stalls display monochromatic tones of green, some tinged with deep red, and winter white, along with the earthy browns and tans of wild mushrooms. The offerings include big showy Savoy cabbages and cauliflowers, as well as baby versions of vegetables-cauliflowers (both white and green) and bok choy.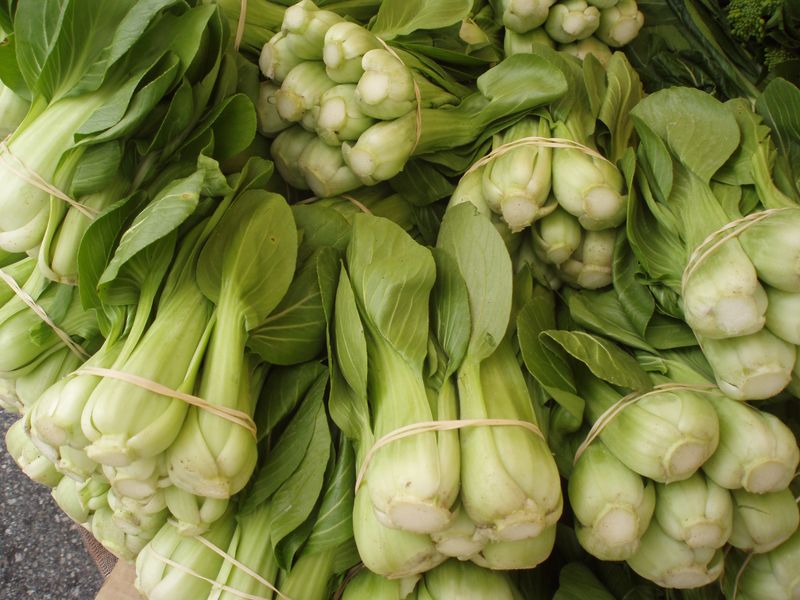 Baby Bok Choy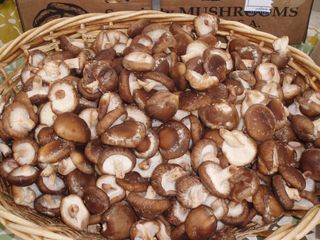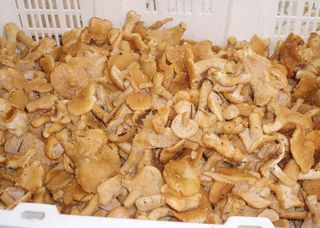 Shiitake and Hedgehog Mushrooms
Preparing winter vegetable dishes may take a little more time and imagination than the quick sauté of summer squash, or tender green beans, or a drizzle of balsamic and olive oil on heirloom tomatoes, but the cooking is often long, slow cooking that can be left on its own, and rewards are just as wonderful.
This versatile recipe for Braised Leeks (braising-there's that long slow cooking) is from Suzanne Goin's Sunday Suppers at Lucques: Seasonal Recipes from Market to Table
. Ms Goin uses them as a bed for roasting Deviled Chicken Thighs with Dijon Mustard. She adds that they also may be served cold, dressed with a mustard vinaigrette and served with sliced prosciutto and chopped herbs. To add to her suggestions, slice the cooked leeks thinly crosswise and cook them with a bit of cream until the cream reduces, to make a sauce for a meaty white fish. If you have some of that leftover, toss the creamed leeks into mashed potatoes for a real treat.
And btw, check back next week, as we'll be featuring an interview with Ms. Goin, one of L.A.'s premiere chefs. Recipe below:
Braised Leeks 
I've kept Ms. Goin's directions pretty much word for word, as she is so precise. She has written the sort of cookbook, where if you follow her directions carefully, you will learn the finer points of cooking well.
6 large leeks
@ 3/4 cups extra virgin olive oil
1 cup sliced shallots
1 tablespoon thyme leaves
1/2 cup dry white wine
1 1/2 to 2 cups chicken or vegetable stock
Kosher or sea salt and freshly ground black pepper
Preheat the oven t0 400 degrees F.
Remove any outer bruised layers from the looks, trimming off to the root, but leaving the root end intact. Trim the top of the leeks on the diagonal, leaving about 2 inches of the green.
Cut the leeks in half lengthwise, and submerge them into a large bowl of cold water (I fill up the sink to do this) to clean them. Shake the leeks well to dislodge any dirt stuck inside. Let them sit for several minutes allowing any grit inside to sink to the bottom of the bowl. Repeat until the water is clean, then place the leeks, cut side down, on a towel and pat them dry.
Turn the leeks over, so their cut sides are facing up, and season with 2 teaspoons of the salt, and a few grindings of black pepper.
Heat a large sauté pan over medium heat for 2 minutes. Pour in 1/4 cup olive oil, and wait 1 minute. Place the leeks in the pan, cut side down, being careful not to crowd them. They may need to be sautéed in batches. Add more olive oil to the pan as needed. Sear then 4-5 minutes, until they are golden brown. Season the leeks with salt and pepper, and t urn them over to cook another 3-4 minutes. Transfer them to a large gratin dish, lining them up, cut sides facing up.
Pour 1/2 cup of olive oil into the sauté pan and heat over medium heat. Add the shallots, thyme, 1/4 teaspoon of salt, and a pinch of pepper. Cook about 5 minutes, until the shallots are just beginning to color. Ad the white wine and reduce by half. Add 1 1/2 cups stock, and bring to a boil over high heat.
Pour the liquid over the leeks. The stock should not quite cover them. Add more stock if necessary.
Braise in the oven 30 minutes, until the leeks are tender when pierced.