Sweet Potato Purée with Pecan Praline Topping- Part 1 in a Series on Sweet Potatoes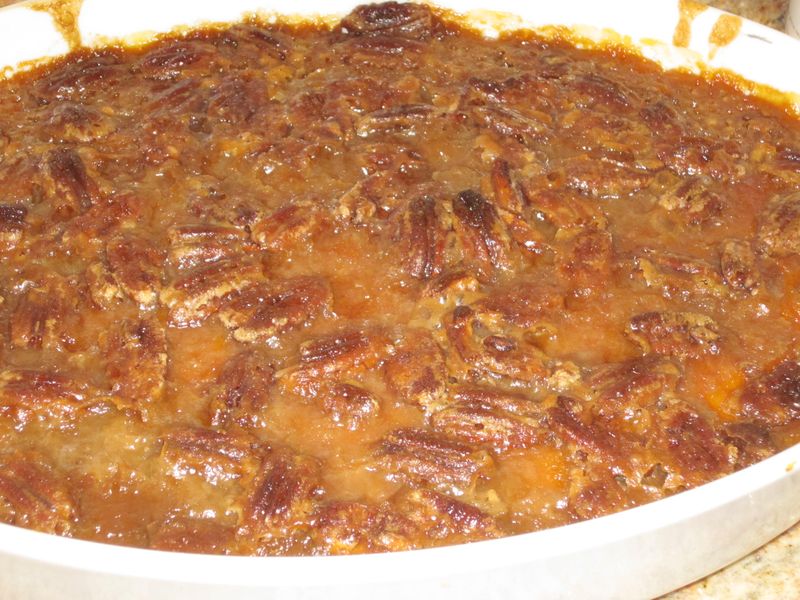 Sweet Potato Purée with Pecan Praline Topping
I'm not one who's much into food trends. I believe in eating and serving the dishes you love, whether they happen to be "in" or "out", but when quickly browsing Epicurious' Top 10 Food Trends for 2011 , I noticed sweet potatoes made their list. The author states  "this sweet root vegetable is finally getting the love it so deserves." Hey – people have to write about something, right? I say, Sweet potatoes have always gotten the love they deserve in the South. They're not trends here – they're a beloved tradition.

Well, some of us have always loved sweet potatoes, and to show my love, right here, right now, I am beginning this series of recipes showing my sweet potato love, starting with this fantastic Sweet Potato Purée with Pecan Praline Topping. And please, come back here throughout the week, to check out other favorite sweet potato recipes I'll be sharing. Oh- and while we're at it, why not revisit  Sweet Potato Pound Cake, an earlier shared favorite.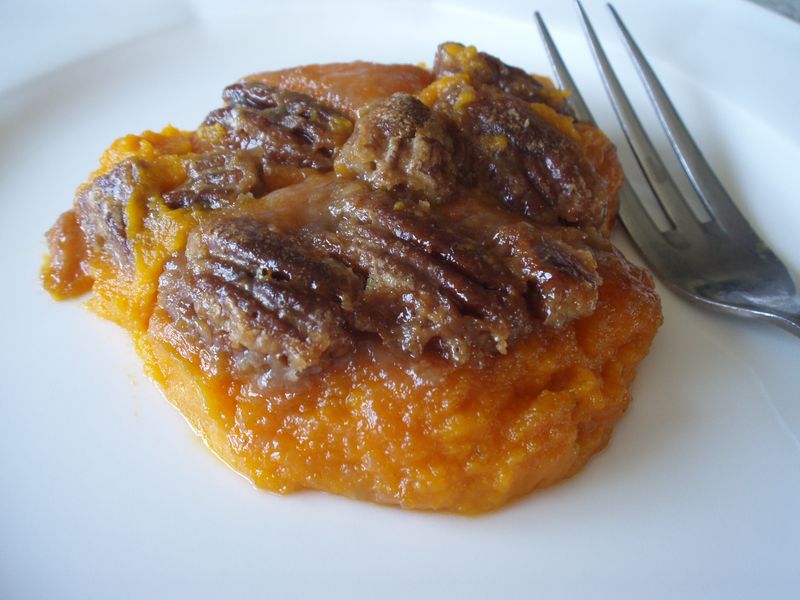 Sweet Potato Purée with Pecan Praline Topping
6 pounds sweet potatoes @ 8-9 large 

1 cup  dark brown sugar

6 ounces butter

@ 1 1/2 teaspoon freshly grated nutmeg
1. Rinse the sweet potatoes and and prick with a fork in several places. Then roast at 375 degrees until  tender, about 50 minutes.
2. Allow the sweet potatoes to cool slightly, then puree then in a food processor with butter and brown sugar. I do this in several stages. Stir in the nutmeg.
3. Pour the sweet potato mixture into a baking dish (I use a 2 quart capacity oval baker) and smooth the top.
4. Pour the Pecan Praline Topping (recipe below) over the potatoes and bake until the top is brown and bubbly, about 30 minutes). If you would like a browner top, you may run the potato casserole under broiler for a minute or two, but keep a close eye in them, as pecans burn quickly!
Pecan Praline Topping
1/2 cup white sugar

1/2 cup brown sugar

3/4 cup heavy cream

1 1/4 cup pecans
Combine the sugars and cream in a saucepan, and stir over heat just until the sugars are dissolved. Add the pecans.
 Yield: Serves 10
Save
Save
Save