Sweet Potato Brioche- Part 2 in a Series on Sweet Potatoes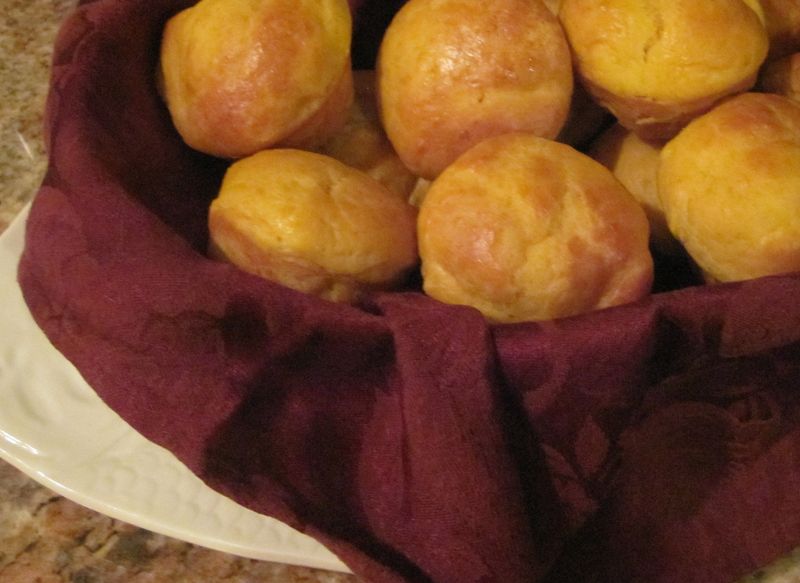 Sweet Potato Brioche
In February of 2006, I traveled to New Orleans only a few months after the devastating floods precipitated by Hurricane Katrina. My brother, Eric, had returned to his home there at the end of November after a couple of months of being a refugee in various places on the East Coast. He declared that this Mardi Gras season was historic, and to celebrate sent out this invite to-as he wrote it "all my far flung friends, relatives and associates":
"You are all invited to my home at Music Street…for breakfast on Carnival Day. We will nourish ourselves on grits and grillades, pain perdu, coffee and Mimosas. We will spend the entire day celebrating… we will meet the Zulu King, and King Rex will toast his Queen. Our tears will flow. They will be tears of joy."
Why not? I was game.
I spent a week and half as a volunteer cooking in a ragtag camp where students and others had come from all over the U.S. to help clean and gut homes in the Lower Ninth Ward. It was certainly an interesting experience-I often refer to it as the catering job from hell, although it certainly had its gratifying moments. People from all over the world dropped in to encourage us, to film what was going on, to bring supplies, and just generally do whatever they could to help.
Of course, it wasn't all work. I was fortunate enough not to have to sleep in a dark and empty school auditorium, or camped in an outdoor tent as some did. I went home in the late afternoons to my brother's shabby chic Victorian sidehall home (mostly unharmed) on the border of two historic New Orleans neighborhoods- the Faubourg Marginy and the Bywater, and it was that historic Carnival season, so we went out to the French Quarter in the evenings. Many restaurants and clubs had not yet reopened, but the ones that were, kept very busy. They were without great phone service (so making reservations was tricky- along with credit card payments), and understaffed, but the people of New Orleans were anxious to get back out to support their hotspots.
One of the early chefs to return to her restaurant was Susan Spicer of Bayona. You may remember me mentioning her before, and recommending her wonderful cookbook Crescent City Cooking: Unforgettable Recipes from Susan Spicer's New Orleans
. Ms. Spicer was busier than a one-armed paper hanger, getting the restaurant back up and running, working the line and expediting in her kitchen, ordering at night after the guests were fed, all while commuting on her weekends to Jackson, Mississippi where she and her family were living with her in-laws, as their home in the Lakeview neighborhood of New Orleans had been destroyed.
Eric and I had a great meal at Bayona, starting with a complimentary amuse bouche sent out by the kitchen of a Crawfish Turnover in a Curried Cream Sauce, an appetizer of Asparagus Flan with Salmon, Lamb Loin with Goat Cheese and Zinfandel Sauce, Salmon with Choucroute and Gewurztraminer Sauce, ending with a Chocolate Chunk Bread Pudding. But before those hit the table, a bread basket containing little rolls of Sweet Potato Brioche appeared. I devoured the brioche right away, and fortunately (I guess) for me, no more were forthcoming, since I probably would have stuffed myself with those and not had room for the rest of the meal. I never forgot those wonderful little rolls, though, so was very happy to see that Ms. Spicer's cookbook included the recipe for them. Luckily for you, I'm sharing it with you now.

Sweet Potato Brioche
1 envelope active dry yeast

1 teaspoon plus 2 tablespoons sugar

1 cup roasted sweet potato, mashed (@ 1 large or 2 small sweet potatoes)

5 eggs plus 1 beaten egg for egg wash

1/4 cup whole milk

3 1/2 cups all purpose flour

1 teaspoon salt

1/2 pound cold butter, cut into small pieces
In a small bowl, dissolve the yeast and 1 teaspoon of the sugar in 2 tablespoons of warm water.

Place the mashed sweet potato in the bowl of an electric stand mixer. Using the paddle attachment, beat 1 minute at medium speed, then add the 5 eggs (one at a time), the milk and the yeast mixture and beat for 1 minute. Add the flour, the remaining sugar and the salt, and mix for about 5 minutes at medium speed.

Let the mixture rest for 10 minutes, then beat in the cold butter, a third at a time. Remove the bowl from the stand, cover it lightly with plastic wrap, and allow it to rise at room temperature until doubled in size.

When it has doubled in size, gently punch down the dough to release the air pockets. Cover the dough and put it in the refrigerator to rise overnight, or at least 6 hours.

Remove the dough from the refrigerator, and scoop it into buttered muffin tins (alternatively you may use a 6 cup brioche mold, or a 9″ x 5″ loaf pan). Allow the dough to rise at room temperature until doubled in size. While the dough is rising, preheat the oven to 400 degrees.

Brush the surface of the dough with the egg wash, and prick it gently in several places with a toothpick. Bake for 10 minutes, then lower the temperature to 325 degrees, and continue baking until golden brown, about 10 more minutes for individual rolls, and 20 minues for a large mold. Cool for 10 minutes in the maolds, then invert and cool completly on a wire rack.
Yield: @ 20 rolls
Enjoy!

Save