Sweet Potato and Shrimp Cakes- Part 4 in a Series on Sweet Potatoes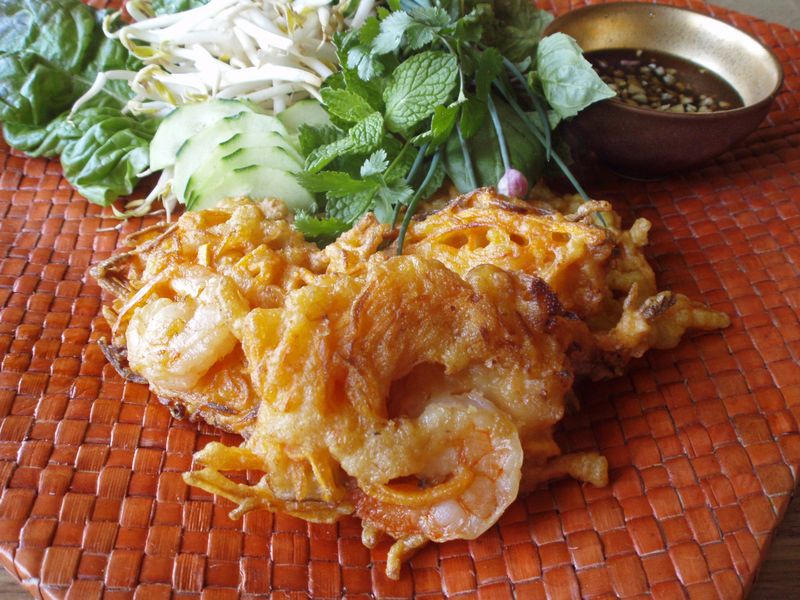 Vietnamese Sweet Potato and Shrimp Cakes
Okay, these Sweet Potato and Shrimp Cakes have their roots in another marshy land, although it's in Southeast Asia, rather than the American South, as the other recipes in this series do. They do feature two favorite ingredients of the South, though, and there's a good chance you'd find them along our Gulf Coast now, where there is a vibrant Vietnamese community.
The Gulf Coast was a perfect spot for Vietnamese refugees to settle in the aftermath of the fall of Saigon in the spring of 1975. Like Louisiana, Vietnam had been a French colony for many years. Many of those who came to the Gulf Coast from Vietnam were Roman Catholic, and of course, the countries shared a very similar terrain, consisting of river delta regions and coastal lowlands.
The similarities in colonial masters and topography allowed for some similarities in food tastes, as well. The Vietnamese make up a large part of the shrimping and fishing  community along the Gulf Coast. Their diet is rice based, as is the diet of Louisianans, and I wrote a few years back that the Vietnamese had become the best fryers, and now, often the most favored French bread bakers, in New Orleans, too.
There are large Vietnamese communities in California and New York, also, the other places I've spent my life, so I've had ample opportunity to fall in love with Vietnamese cuisine. I probably don't have to tell you that I love shrimp and crab. I love good fried food, and I love the use of all those fragrant herbs that are used as a counterpoint and complement to Vietnamese dishes.
I hope you'll enjoy these shrimp and sweet potato cakes. Recipe follows: