Making Shrimp Stock and Remembering Momí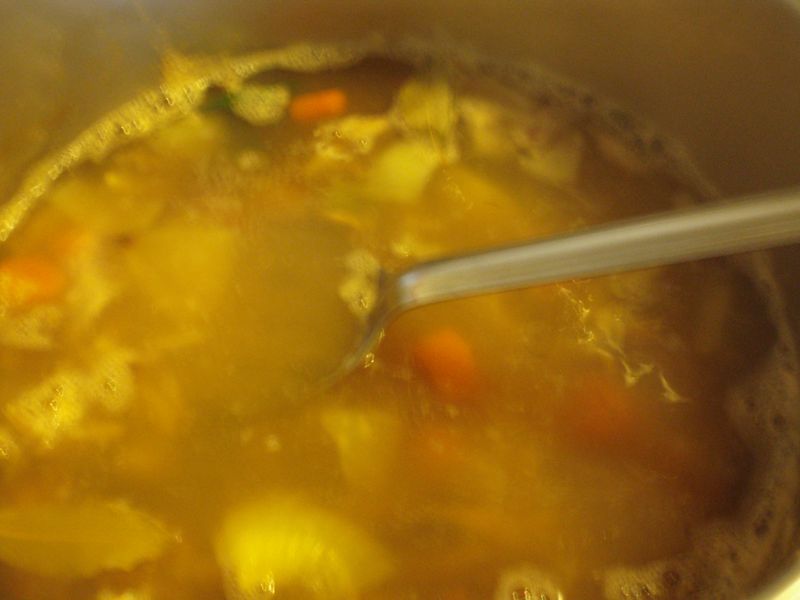 I always have a quart or two of shrimp stock in my freezer, ready for paella or the occasional jambalaya or gumbo I make. Just this week, I made a fantastic Mediterranean style fish soup for a client's dinner party, and was very happy that I knew the secret of having an excellent shrimp stock on hand.
I don't remember exactly when it was I started reserving and freezing the shells of shrimp I peeled until I had enough to make shrimp stock. I do know that it's been at least 20 years since my father started dropping bits of information to me about how Momí, his mother and my grandmother, cooked as he watched me begin my journey of becoming a professional culinarian. He watched so intently one day, as I made mayonnaise, that I asked him what was wrong.
"Don't you like home made mayonnaise?" 
That's when he let me know that Momí made all the mayonnaise they ate as children.
One of the subsequent tidbits he dropped was that she always boiled her shrimp shells after peeling shrimp to use as a stock in her gumbos. This also had the added advantage, he told me, of not smelling up the garbage as much – important in the warm and humid climate of New Orleans, since all the juice was cooked out of them, and into the stock, before they were dumped
Momí lived her whole life never leaving her Creole neighborhood of New Orleans – her only journey outside of that neighborhood was to see my father graduate from dental school. She went from her father's house to her husband's at a very young age, and spent most of her life after that in the kitchen.  Momí raised 5 children, cooking for them and her husband, everyday. And she loved and cherished 3 times that number of children, in her grandchildren, for as long as she was with us.
All my memories of her are in the kitchen. I have vivid memories of her standing at her cutting board, smiling down at me, her eyes crinkling behind wire rimmed glasses, patiently answering every question a curious and chatty 4 year old presented her.  In my early days of learning to cook, I often thought of her, so many years later, as I stood at my own cutting board, it pleased me so to know that my cooking heritage began with a family where making roux, mayonnaise and stocks were part of everyday life in the kitchen.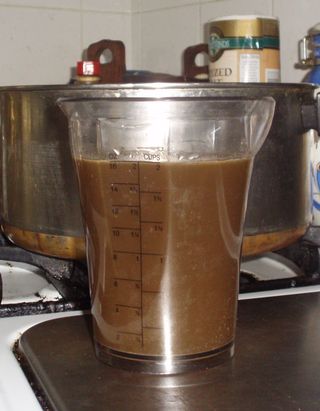 Shrimp Stock
1 1/2 -2 pounds of shrimp shells and heads (if you're lucky enough to find shrimp with the heads still on)

1 medium onion, coarsely chopped

1 large carrot, sliced

1-2 celery ribs, sliced

1 healthy pinch of dried thyme

1 large bay leaf

1 teaspoon of black peppercorns

1 tablespoon of Amore Tomato Paste, 4.5oz (127g) Double Concentrated Tube


1-2 cloves of garlic

1-2 tablespoons of vegetable oil

@ 3 quarts cold water

, enough to cover the other ingredients.
In a large pot, sauté shrimp shells and chopped and sliced vegetables for about 5 minutes, until shells are pink and vegetables begin to brown slightly. Whisk in tomato paste, add the herbs and peppercorns. Then add the water and simmer uncovered at least 2-3 hours, and Paul Prudhomme recommends up to 8 hours. Skim any foam that rises off the top with a slotted spoon.
Let the stock cool, then strain it through a wire strainer lined with damp double thick cheesecloth.
To get a really rich and tasty stock, I often simmer the stock for 2-3 hours, put it away or freeze it, then use it (thawed, of course) as the basis for a second stock (i.e. add more shrimp shells and vegetables to the first stock and simmer for another 2-3 hours). It should have a nice deep color and flavor.
Save
Save
Save