A Bruschetta Bar (with Fig and Onion Marmalade Recipe)-an Economical Party Menu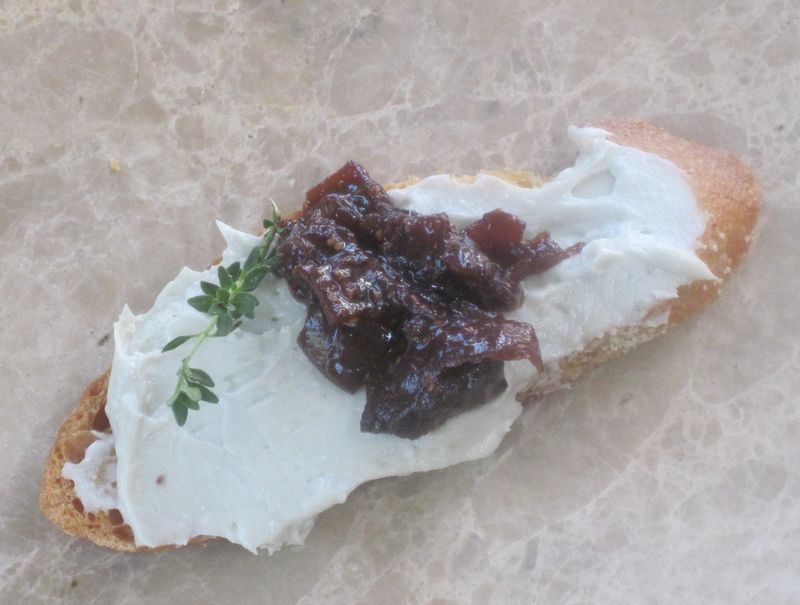 Fig and Onion Marmalade with Gorgonzola Spread on Crostini
Fig and Onion Marmalade
Figs:

1 cup FIGS, BLACK MISSION, DRIED 1 lb. , coarsely diced (available at Trader Joe's or Amazon.com

1 cup boiling water

1/2 cup red wine

1/4 cup balsamic vinegar

2 tablespoons fig balsamic vinegar

1/8 kosher salt
Pour boiling water over the dried figs in a stainless steel bowl, and let sit for about 30-40 minutes to reconstitute. Drain the figs and place in a small saucepan. Add the wine, and the two vinegars and simmer until the liquid is syrupy.  Add salt.
Onions:
1 medium onion, large dice

1 teaspoon butter

1 teaspoon olive oil

1/2 teaspoon sugar

1 teaspoon fresh thyme leaves (or more to taste)

freshly ground black pepper to taste

Heat butter and oil and a sauté pan. Add the diced onions and sprinkle the sugar evenly over them. Sauté the onions slowly, stirring occasionally, and adjusting the heat as needed, until they are soft and brown. Stir in the thyme and black pepper. When the onions are caramelized, stir them into the figs.